WINTER HAVEN – Area residents may have an opportunity to enjoy at least two new nature parks in the coming years, according to City of Winter Haven staff.
The first new nature park in Winter Haven will be built on what is now dehydrated wetlands on the south side of Lake Conine, near the Florence Villa neighborhood and Lucerne Park Road. City staff awarded a $3.4 million contract to the Wauchula firm of Cobb Site Development, Inc. on Sept. 15 to build the South Lake Conine Wetland Restoration/Stormwater Treatment Project.
Back in the 1980s, Lake Conine was one of the dirtiest lakes in the county due to wastewater plant discharge and untreated storm water. Staff are hoping that restoring wetlands on the south side of the lake will help treat dirty storm water before it reaches the lake, similar to nature parks on Lake Howard and Lake Hartridge.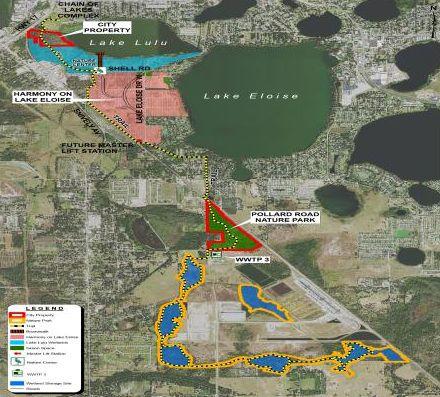 A few months ago Winter Haven Utilities Director MJ Carnevale said the park, which will include trails, could be completed in 2020.
The latest proposed nature parks don't even have names yet. During a Winter Haven City Commission meeting Sept. 23, Utilities Services Director Gary Hubbard and Water Conservation Specialist Keeli Carlton gave a presentation about what could become multiple additional nature parks.
Unlike the other three nature parks, which all primarily focus on cleaning storm water before it reaches the Winter Haven Chain of Lakes, the unnamed nature parks proposed Sept. 23 will serve primarily as a way of recharging the Upper Floridan Aquifer.
Experts say the aquifer is running dry due to excessive pumping and that harvesting summer storm water, as opposed to allowing it to flow down the Peace River and into the Gulf of Mexico, could help insure there is enough water for future development.
The yet to be named nature parks would be part of the new Winter Haven One Water Initiative, described as "a plan to grow and develop in such a way that your environment benefits long term," according to a city presentation.
City staff say an average of four million gallons of treated wastewater flows down the Peace River every day. During summer rain season, the amount flowing downstream toward the Gulf almost doubles.
City leaders are teaming up with developer Jim Lentz on what appears to be an ambitious, cost-effective and environmentally-friendly plan to keep most of that water in Winter Haven.
Lentz has proposed building around 1,500 units of residential housing on vacant land on the west side of Lake Eloise, south of Lake Lulu. Called "Harmony at Lake Eloise," the project would be like no other development in Winter Haven.
"The goal is zero net water impact," Lentz said. "That's the goal."
Lentz said orange groves on his property are currently irrigated with wells that pump 120 million gallons of water from the aquifer per year. Once those are torn down, that much water would be saved. Once houses start getting built there, city staff say they want to divert treated wastewater and pump some directly into the ground on the property, further reducing the utilities impact of building new homes.
Solar arrays on the property would offset power used in the new homes. Lentz said he is also donating some of his land for a public nature center, somewhat close to the south side of Lake Lulu, which is low lying wetlands.
City staff and Lentz are also working together to build a trail from the Chain of Lakes Fieldhouse, south through Harmony at Lake Eloise, to several dried out lakes west of Wahneta where additional storm water and treated waste water could bring those dried up lakes west of Wahneta back to life.
Lentz said he has a timeline in place for when construction would start at Harmony at Lake Eloise but he was not prepared to release that information to the public yet. Lentz said he is hoping other developers will learn from his experience.
"Everybody wins," Lentz said.
———
Contact Charles A. Baker III at cbaker@d-r.media.