POLK COUNTY – During the 2019 Polk Vision Mayor's Roundtable Sept. 25 at the Polk State College Center for Public Safety, mayors from most of the county municipalities and the chairman of the Polk County Board of County Commissioners discussed a wide range of topics to inform those in attendance on current affairs.
Polk Vision supporters are currently celebrating 15 years of bringing together community leaders to serve on action-focused teams that work toward solving various county challenges. Polk Vision staff have been hosting public meetings, forums and roundtable discussions over the years as part of that process.
This year, the mayors of Auburndale, Bartow, Davenport, Dundee, Fort Meade, Lake Alfred, Lake Hamilton, Lake Wales, Lakeland, Haines City, Mulberry, Polk City and Winter Haven participated.
This was the ninth consecutive year that the mayor's roundtable event has been hosted by Polk Vision. Master of ceremony and Greater Winter Haven Chamber of Commerce President Katie Worthington Decker started the event with a question about how the mayors collaborate to solve local problems.
Auburndale Mayor Tim Pospichal said Central Florida Development Council staff helped create a partnership between Auburndale, Lakeland and Florida Polytechnic University to create an "innovation district" around the university.
Pospichal and Lakeland Mayor Bill Mutz said that a new autonomous vehicle industry could develop around the university and the SunTrax autonomous vehicle track in the coming years.
"It's a job-creating opportunity," Mutz said. "We can't waste it."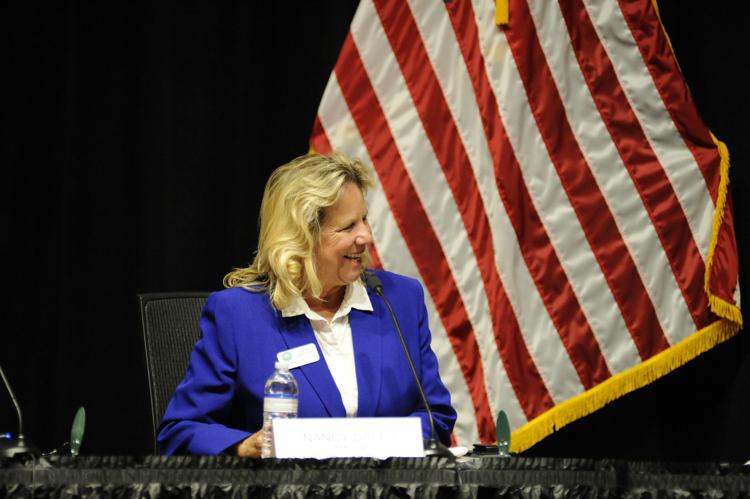 Pospichal said another example of county mayors and commissioners working together to solve problems was the Polk Regional Water Cooperative, a partnership involving almost every municipality in the county to address future water supply concerns.
Polk County Board of County Commissioners Chair George Lindsey said collaboration between elected county leaders has been good in the past but has been better over the last few years.
"We realize we are stronger together than we are apart," Lindsey said.
Haines City Mayor Morris West said another example of increased collaboration is efforts that went into convincing Carvana to invest in Polk County. West said the county commissioners were instrumental in helping that development become a reality by providing tax breaks. Carvana is an online used car business. Carvana staff recently announced plans to hire several hundred area residents to work in a proposed maintenance facility in Haines City.
On the subject of transportation, Mutz said commercial flights may be flying out of Lakeland by 2022.
Multiple mayors referenced Citrus Connection new bus services between Lake Wales and Interstate 4, along U.S. 27, as well as the possibility that a SunRail commuter train line may get stops in Polk County in the coming years — as may a Virgin Trains USA high-speed rail stop in Lakeland.
"It's all about working together to make things happen," Dundee Mayor Sam Pennant said.
The event also featured discussions on affordable housing, infrastructure, future water supplies and economic development.
———
Contact Charles A. Baker III at cbaker@d-r.media.