When the old Social Security building downtown reopens as North Arcade once renovations are complete, one of the businesses that will open within will be unique to Polk County.
Union Tap Room will feature 40 self serve beer and wine taps.
On April 2, the Winter Haven Planning Commission unanimously voted to recommend that the city commission approve the plan in the coming weeks.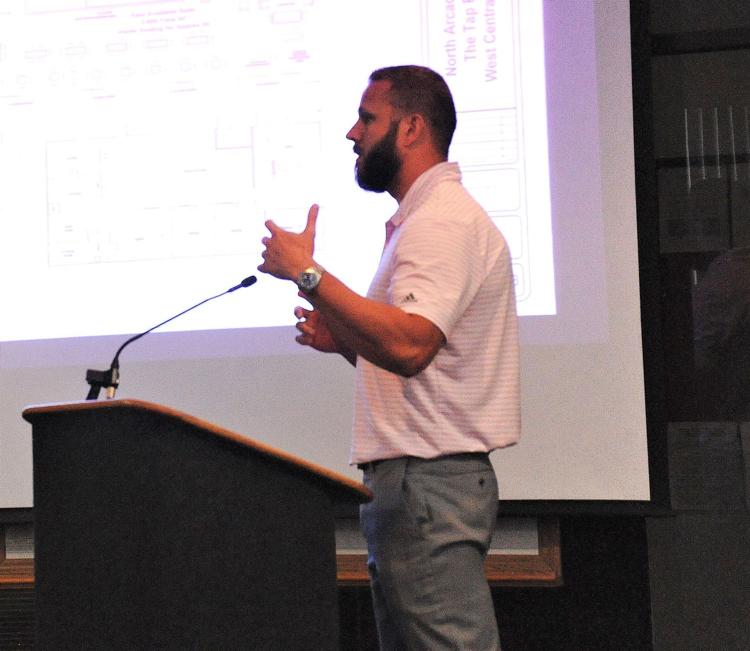 This will be the first "brick and mortar" business venture for Winter Haven residents Colin and Meagan Wells. Colin Wells said he works for a global corporation and that he will be resigning soon to try and make it as a local business owner.
Union Tap Room will be located in the eastern half of North Arcade, in between the Ritz Theatre and El Olivo Restaurant, and is being developed by Six/Ten LLC staff. Six/Ten President Kerry Wilson said the building may be open by summer, possibly by July.
Wilson said the building is mostly rented out already, but added there is still room for a new restaurant. Six/Ten staff are currently in negotiation with possible restaurant owners, but no deals have been made.
Wells told the planning commission that Union Tap Room customers would present an ID, start a tab with a credit card and be given a bracelet. Customers would then "swipe" their bracelet on an iPad attached to each of the 40 taps and then a computer would measure the amount of beer poured and charge the credit card accordingly.
After 32 ounces, the computer would block any future sales and a staff person would have to determine if the customer could handle more before activating the bracelet again.
Wells said there would be four wine taps, two domestic beer taps and the 34 other taps would dispense craft beers.
Based on the floor plan submitted, Union Tap Room would feature multiple couches, comfy chairs and more than a dozen tables with chairs. An outdoor atrium would be open in the back.
The North Arcade, once built, will feature a 22-foot high, 12-foot wide walk through with skylights that will open a pedestrian path from the parking garage to Central Avenue. The tap room would be on the east side of the building and other vendors would be on the west side of the walk through.
"There is nothing quite like it in all of Polk County," Wells said. "We will be the first, the cutting edge."
No food will be served. Wells said customers will be able to have food delivered.
"We want to support the restaurants downtown," Wells said.
The planning commission also unanimously approved a plan to build approximately 37 more homes in Winter Haven off MLK Boulevard, in between Lake Buckeye and Lake Fannie, west of the bend at Country Club Road. The subdivision, if approved later by the city commission, would be called Willowbrook.
One of the concept drawings attached to this subdivision proposal showed that the developer may have future plans to build homes around Willowbrook Golf Course and build a road between MLK Boulevard and Lucerne Park Road.