WINTER HAVEN – Over the past few years, City of Winter Haven staff worked to secure grant funding and to bid work out to make needed changes at the Winter Haven Senior Adult Center.
On Wednesday, March 6, many of those involved in the project attended a dedication event celebrating its completion.
Federal Community Development Block Grant funds were used to build an outdoor fitness zone, resurface the shuffleboard courts, improve sidewalks around the facility, make an entrance more suitably accessible for seniors, build a bus bench out front, remodel the auditorium and make the restrooms more accessible.
"We are working to make Winter Haven age-friendly, meaning a great place for all ages from birth to seniors," Winter Haven City Manager Mike Herr said. "These improvements that you see here today are a great example of our efforts."
Herr thanked Congressman Darren Soto (D – Winter Haven) for helping to secure the federal grant money.
Inside the Senior Center, there is a large indoor exercise room, a small auditorium with a stage, a shaded outdoor exercise area and a large shuffleboard court. The facility offers daily classes and an indoor farmer's market.
As the ceremony was about to start, several residents were sweating to a Richard Simmons video. The auditorium was packed with what looked like at least 100 residents, many of whom eat free lunch at the center daily, courtesy of Mid Florida Community Services.
Last Wednesday lunch was completed with a celebratory cake.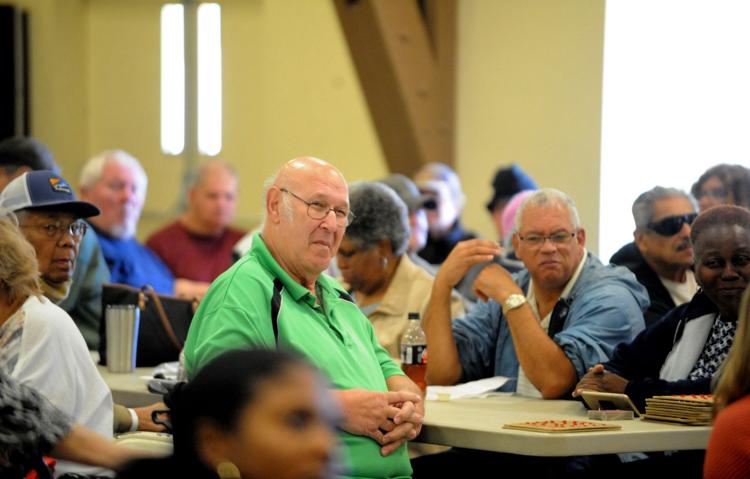 City staff, city leaders and city commissioners are in the process of adopting an AARP action plan to make Winter Haven more "age friendly" to senior residents. This renovation was the first of what may be multiple changes in the city over the next few years.
The "Age Friendly Winter Haven" concept is an AARP action plan pitched by city leaders over the past several years. The city commission is in the process of transforming the plan into city policy. All About Aging founder Barbara Herrington and her business manager and daughter Cari Leigh Herrington are two of the many leaders who spearheaded this effort.
Last Wednesday, the mother-daughter team were all smiles trying out the new outdoor fitness zone equipment.
"My mom saw one of these senior playgrounds once," Cari Leigh Herrington said. "This new senior playground was our first Age Friendly Winter Haven idea."
Mayor Brad Dantzler even cracked a joke during the festivities, telling the crowd last Wednesday that City Manager Herr recently got into a fender bender.
"I want to sign City Manager Herr up for the new AARP driving class (at the Winter Haven Senior Center)," Dantzler joked.
A bingo game commenced immediately after the dedication event. On Friday mornings, the new outdoor fitness zone will be home to a new Low Impact Boot Camp. On March 19, senior singles and couples alike are invited to a dance social.
There are regular events for chair yoga, pinochle, painting, quilting, chess, tai chi, dancing in various forms, dominoes, card games and many more events. Check out the senior center events calendar online for a complete list of activities.