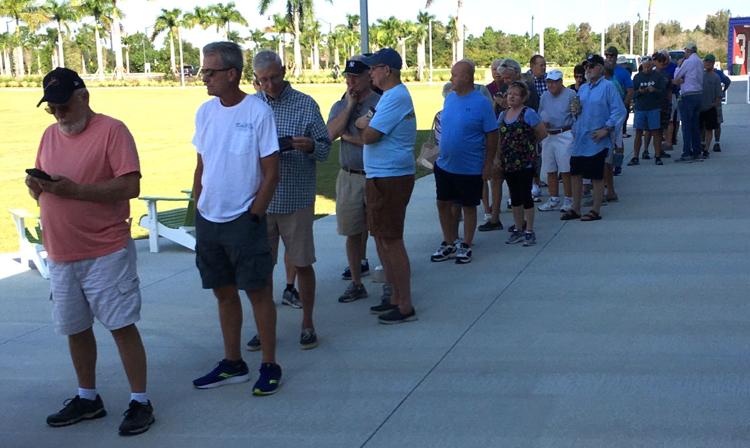 WEST VILLAGES — They came from Venice, North Port, Nokomis and points beyond to get their tickets for the Atlanta Braves' first-ever full Spring Training season at CoolToday Park.
Tuesday was the first day to buy individual game tickets for the Braves' 2020 Spring Training season that begins with a home game at 1:05 p.m. Feb. 22. Atlanta is scheduled to play 17 of its 33 Spring Training games at the new state-of-the-art ballfield.
As it is in baseball, though, not everyone in the line for tickets was a Braves fan, loyalties being what they are.
"We are here to see the Phillies," said JoAnn Regan of Nokomis, who was there with her friend, fellow Phillies backer Carol Hogan of Venice. "I am from Bucks County, Pennsylvania when I am living up north."
Steve Nill, of Venice, was waiting for tickets to see his Boston Red Sox.
"The website was slow and I thought it will be faster to just come over here," he said.
Several of those in line said the Braves' ticket site was either slow or down, so they ventured over to the stadium to buy them in person.
The wait for tickets averaged an hour. Braves officials estimated there were 200 people in line at 10:30 a.m.
Pete Peterson, of Venice, also a Red Sox fan, said the club should have provided chairs or benches for those waiting.
"This is hard for some of these people," he said.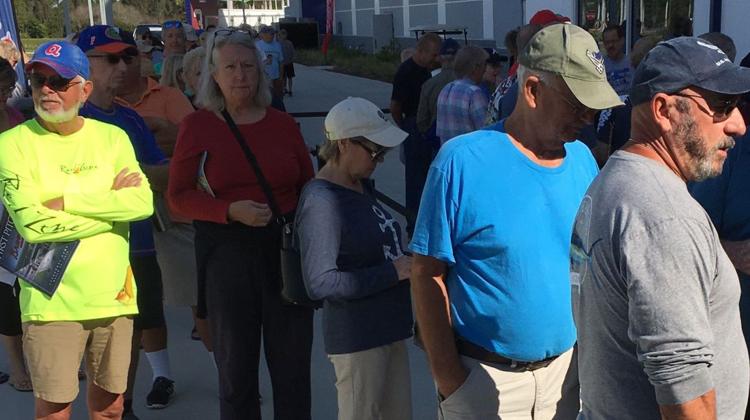 As people walked away from the ticket office with tickets in hand, more cars were coming in to the parking lot.
Braves pitchers and catchers will report Feb. 12 to the organization's new Spring Training facility, with their first workout scheduled for Feb. 13. Position players report Feb. 17, and the Braves will have their first full-squad workout on Feb. 18.
The Braves will host four night games, which have become rare for Spring Training schedules. They are March 2 against the Phillies, March 9 versus the Red Sox, March 14 with the Baltimore Orioles and March 21 with the Pittsburgh Pirates. They will also play night road games against the Orioles in Sarasota and the Tampa Bay Rays in Port Charlotte. Note: This story has been corrected to reflect the actual number of night home games.
For more information about tickets, call 941-413-5000 or visit the box office from 10 a.m. to 4 p.m. Monday through Friday at CoolToday Park, 18800 South West Villages Parkway, North Port.
Email: tom.harmening@yoursun.com