NORTH PORT — Sudden flooding confronted those in the North Port Estates on Thursday, prompting measures to secure the neighborhood and to protect those living in that section of town.
The flooding could get worse and last for days, said city spokesman Josh Taylor.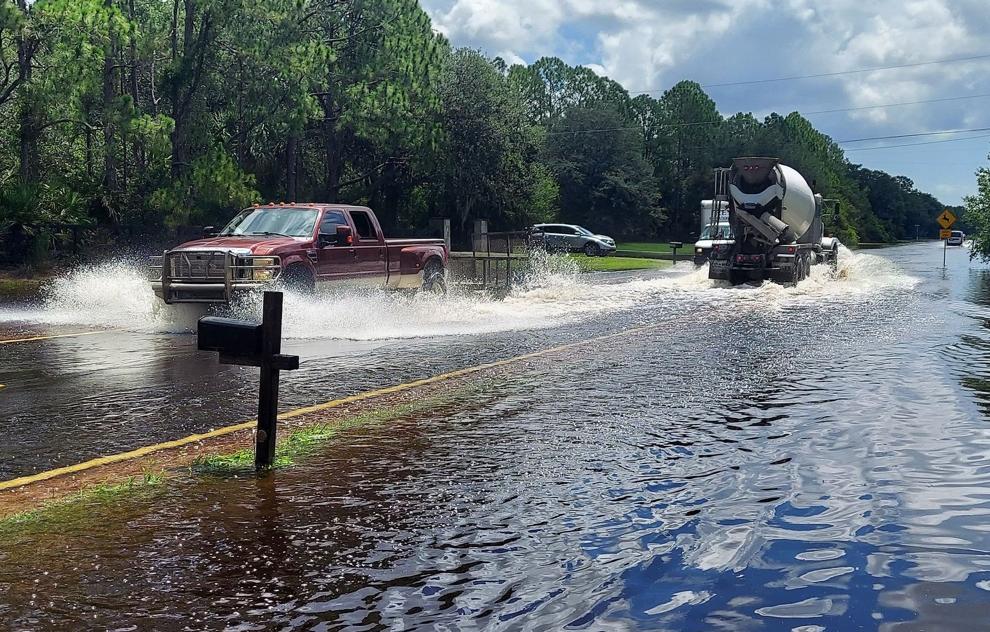 "The water could come at a level not seen here in the city in decades," Taylor said. "Already water in some areas has come up 2 feet overnight. Some roads have nearly 4 feet of water on top of them."
The city's emergency response included opening the Morgan Family Community Center on West Price Boulevard as a shelter late Thursday. It also meant retrieving residents trapped by floodwaters with a city airboat, fire and brush-hauling trucks. The Morgan Center shelter was to accommodate pets, as well.
"We will have a roof, A/C, showers and cots," city Taylor said.
But even as emergency measures were imposed — which included notifying the American Red Cross and reactivating the Emergency Operations Center — residents in North Port Estates and outlying rural areas were caught off-guard by flooding that started late Wednesday, gained steam through Thursday.
In pockets, floodwater was waist deep, surging in sheets like a riptide. Tropicare Boulevard was like a boat channel, drivers tiptoeing their vehicles or outright plowed through brackish waters about mid-tire deep. Side streets were closed, a city airboat surveying neighborhoods and plucking residents to safety.
Depending on weather, that surge could run through the weekend, Taylor said. Weather conditions following heavy rains and the glancing blow of Hurricane Elsa had returned life to normalcy, those caught unaware on Thursday said.
"It has risen a lot in the last hours," said Melissa Philbrick, who was rescued by friends in a tall Ford pickup with mud tires. "You could see the water rushing in."
WHERE THE WATER COMES FROM
What happened Wednesday and into Thursday, and likely into the weekend, wasn't a shock, according to those with knowledge of North Port's freshwater drainage system.
A storm sweeps though Southwest Florida, dumping water and shredding vegetation, which gets blown into culverts, ponds and canals. Within days or even hours, so-called sheeting rainwater from DeSoto and Manasota counties, in a watershed that covers some 195 square miles, slides billions of gallons flowing south into North Port on its way to creeks and rivers leading to Charlotte Harbor.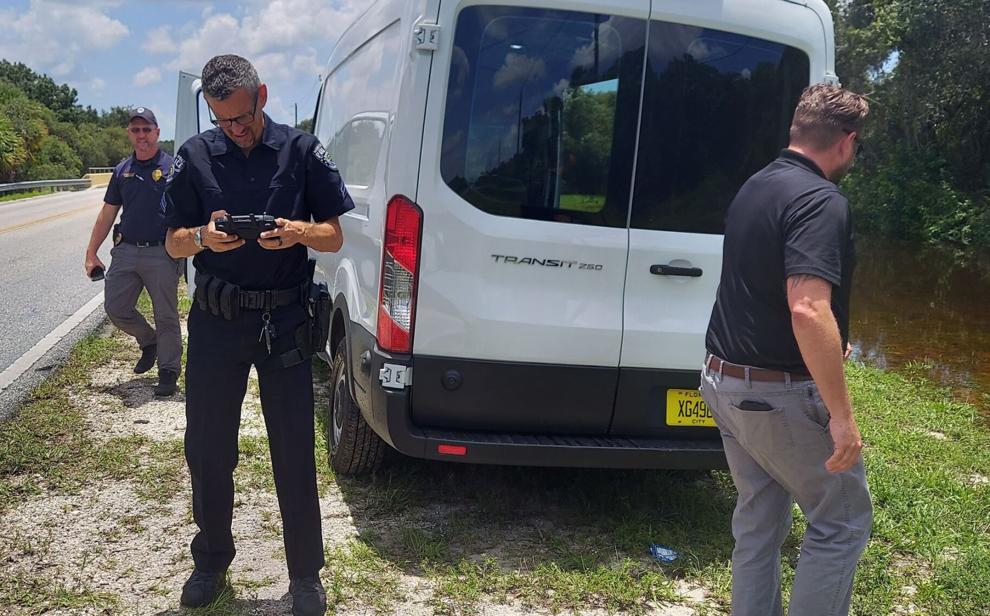 The primary conduit is the Myakkahatchee Creek, which in deluging rain feeds North Port's system of culverts and canals.
But if that drainage system is already engorged, as it was this week with Elsa's passing and up to 10 inches of quick rainfall, that sheeting water runs into North Port's streets, into yards and ditches, any low- lying area that on Thursday included dozens of side streets.
Viewed from the air, as North Port police did with a survey drone, that section of town was a patchwork of dry zones and glistening water pulled by gravity toward the Gulf of Mexico.
Pulling the drain plug on such events is what North port plans for, as its system of locks, canals and culverts are designed to do. But when the sponge is full, as is what waterlogged land becomes, there's no exit other than streets and neighborhoods for millions of gallons of excess water.
Crystal Howett in an SUV on Thursday was navigating a flooded Tropicare Boulevard, for instance, running emergency supplies to stranded family. She had reached only so far before surging water ran to the SUV's mid-door panel. In desperation, Howett considered walking those supplies forward, killing that plan as an alligator in mid-road swam nearby.
"I knew that tail swoosh," Howett said of the submerged alligator. "It is surreal out here … in my opinion, it's worse than (Hurricane) Irma."