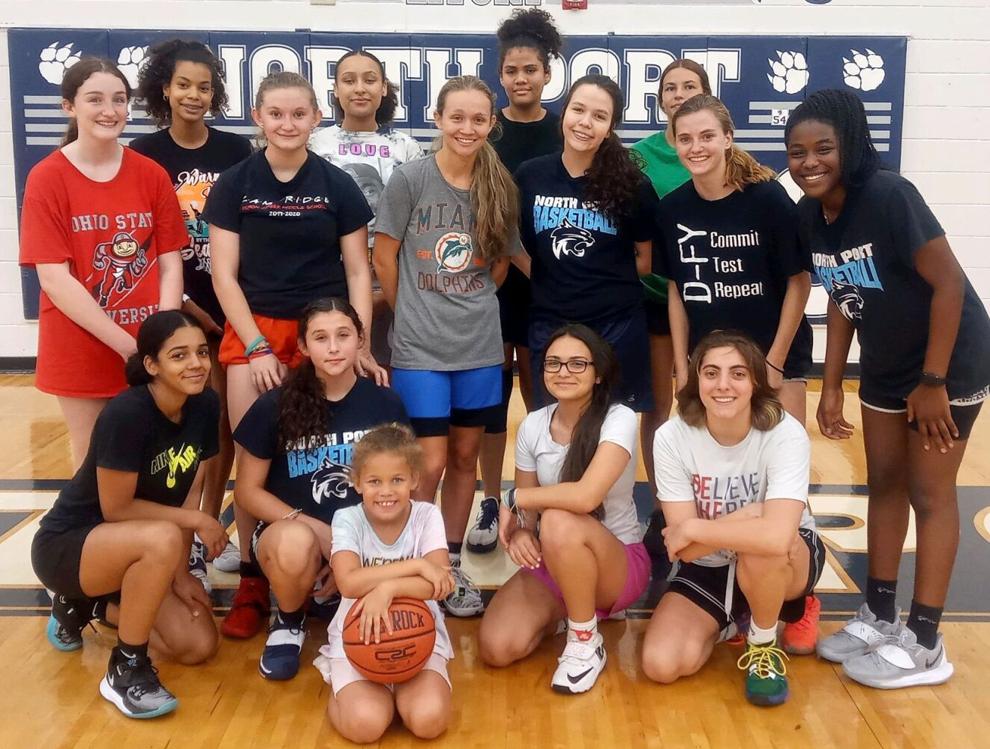 NORTH PORT — When she learned about a need for financial help, Brenda VanSalisbury took it upon herself to create a fundraiser for the North Port High School girls basketball team.
Her daughter, Mya, will be a freshman at NPHS in August, and the team is already doing strength and conditioning training four days a week. Games will start in November.
VanSalisbury is the owner of Freedom Rehab Aquatic Therapy and Balance Center in North Port.
She is offering a free private aquatic therapy session for all new clients in exchange for a donation to the team.
During the one-hour session, clients will meet with a skilled therapist in a therapeutic 91-degree saltwater pool in return for a $30 donation to the girls' basketball program.
"Everyone has a unique economic background," VanSalisbury said. "Some of the girls cannot afford new uniforms and new shoes."
Mya is 14 and is also on a traveling basketball team.
"She's a baller — she plays seven days a week just about all year long," her mom said.
VanSalisbury met North Port High School girls basketball coach Curtis Tillman last year. He also coaches the girl's traveling team.
"We fell in love with coach Tillman," VanSalisbury said. "The travel team is all about skills training. It's not about winning or competition. I sponsored a girl, and that's and that's how we ended up getting to know each other."
When Tillman learned about the offer to help, he was thrilled.
"What an awesome idea," he said. "We're trying to raise money for travel bags and equipment. Because of the pandemic, finances are tight for many of our families."
So far, many of the regular clients at Freedom Rehab have made donations as well as several new ones.
"They've been very generous," VanSalisbury said. "Some have given more than $30 and said to keep the rest for the girls."
The goal is to raise $4,000 by the end of August.
Tillman has been coaching at NPHS for six years, two as head coach.
VanSalisbury said Tillman is nurturing Mya to be on his team when the competition starts in November. Right now, the team is training for two hours, four days a week.
"He's such an amazing coach — he truly inspires the girls to try their best."
VanSalisbury is a licensed occupational therapist and started doing therapy sessions out of the pool at her home five years ago. She was getting so many clients, the city of North Port shut down her business.
Clients are mostly from word-of-mouth recommendations.
"Every year we had repeat patients, and they would tell their friends about us. There are people in the pool today who have been with me for five years."
She opened Freedom Rehab Aquatic Therapy in October on Toledo Blade Boulevard, and she currently has 70 clients and several therapists on staff.
"The pool is so relaxing and therapeutic — people absolutely love it," she said. "We help people who have balance issues or have had surgeries or strokes. We also have a visual reality therapy room which helps people who have Parkinson's disease or who have had stroke."
A second pool is being constructed at the location right now.
"All the properties of water just make people feel better, and it makes them stronger," the occupational therapist said.
Tillman said he hopes the community will come out to catch a few games this fall and support the girls.
"We have some really good players, and they deserve some fans," the coach said. "It will make them feel good and make them play harder."
The schedule will be posted on the school website as the season gets closer.
Freedom Rehab Aquatic Therapy is at 17162 Toledo Blade Blvd. For more information, call 941-400-1505.