NORTH PORT — A woman was arrested in North Port for allegedly attacking someone with a shovel and threatening a police officer, according to reports released Friday.
Sarah Joan Boley, 44, of Englewood was charged by North Port Police Department with one count each of aggravated battery with a deadly weapon without intent to kill, threatening an officer with death or serious bodily harm, and resisting arrest without violence.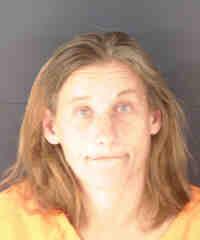 Officers responded to an "abandoned" 911 call just before 3 a.m. Thursday from near Tamiami Trail and Tuscola Boulevard. When they arrived, according to the arrest report, they heard a woman "screaming."
Witnesses told police Boley was socializing with them when she started "making comments that did not make sense."
A man said Boley had accused him of abusing her and of "rearranging her limbs and organs."
The man and another witness said they tried to calm Boley down; however, she allegedly took a shovel and smacked the man on the hand, giving him a small cut.
The man's name and identifying information was redacted on the copy of the arrest report provided to The Daily Sun, per Marsy's Law.
Boley dialed 911; the man said he initially wanted to leave, but decided to stay and wait for the police to arrive.
When the police did arrive, according to the arrest report, Boley was "extremely uncooperative" and made several shouting statements that were "all over the place." Several of the statements were redacted in the report; in one section, the officer asks her why she allegedly chased the complainant, and she is recorded as not giving a "clear answer."
Boley was eventually placed in handcuffs, but tried to pull away from the officers. Officers eventually pulled her to the ground to prevent her from leaving, and she invoked her right to an attorney.
According to the arresting officers, Boley began to kick the door of the police car she was placed in and made threats against the officers. The content of those threats was redacted on the arrest report.
Boley was booked into the Sarasota County Jail on a total bond of $11,000, where she remained Friday. She is scheduled to be arraigned on Feb. 18.