GULF COVE — Gulf Cove residents will have a shorter drive to dunk their doughnuts.
Charlotte County is hammering out details with Tampa-based Paragon Property Group and Blackstock Engineering to build a 2,050-square-foot Dunkin' doughnut shop on nearly three acres just off South McCall Road.
It's the property between McDonald's and Bandito's Bar, the former home of the Lakeview Restaurant, which has been closed for years.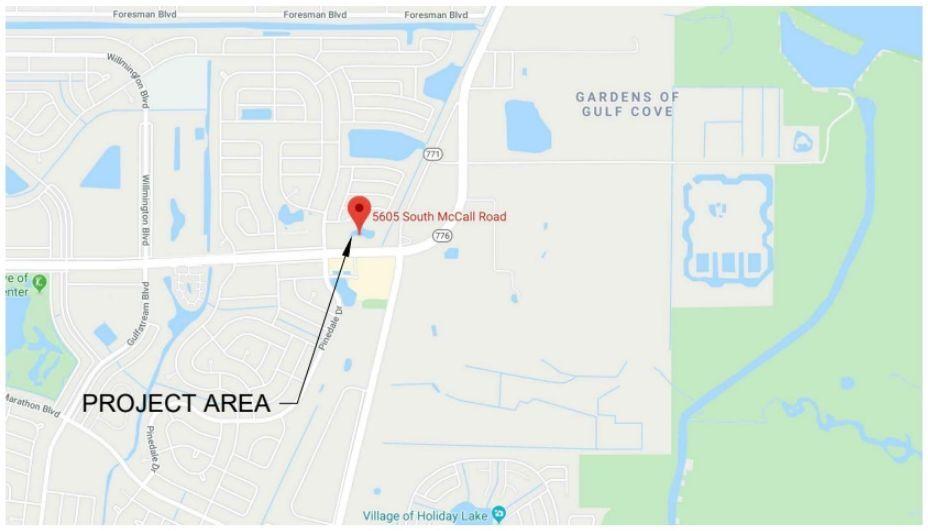 Preliminary plans have already been reviewed and approved by county staff for three businesses on the property, a Dunkin', a dentist's office and a third business.
The Dunkin' will be in one building with about half of it available for a tenant, taking about 2,600 square feet each. A separately standing, 4,085-square-foot Heartland Dental is planned for closer to the lake on the property. A retention pond is also planned.
There's no timetable for the groundbreaking or opening, as plans are not yet finalized.
Locally, there is no shortage of Dunkin' Donuts. The Gulf Cove location will be the third serving Englewood. One recently renovated Dunkin' is at 2495 S. McCall Road near San Casa Drive. A second is at 151 S. Indiana Ave., a few blocks from West Dearborn Street.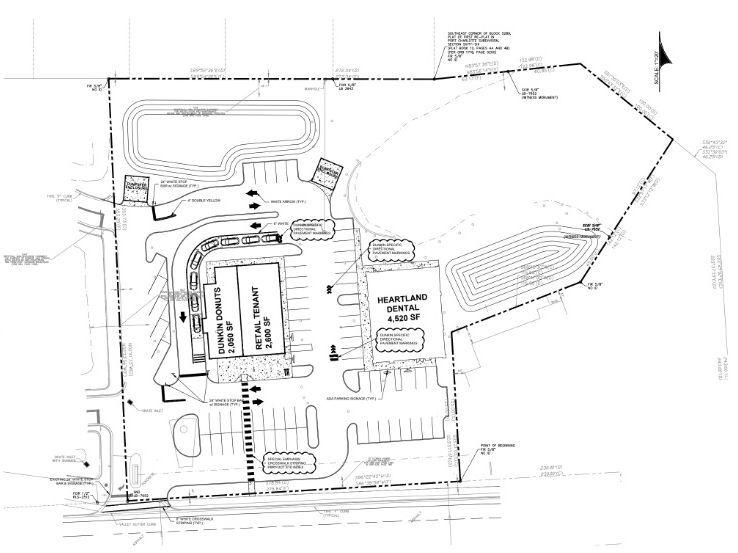 Englewood is well caffeinated.
Besides the two Dunkin' in Englewood, two independent coffee shops on West Dearborn Street — Culture Coffee and Joe Maxx Coffee Company — serve their customers a myriad of hot and cold coffee drinks and other treats.
The Dunkin's company grew in 1948 from The Open Kettle, a coffee and doughnut shop in Quincy, Massachusetts.
The company's goal now is to open more than 17,000 coffee shops stateside, according to dunkindonuts.com. The company serves up doughnuts and coffee in 45 countries worldwide.
Dunkin' can also be found at 4915 White Ibis Drive, North Port. In Port Charlotte, Dunkin' Donuts serves customers in the Shell filling station at 829 Tamiami Trail, and in the Town & Country shopping plaza, 4233 Tamiami Trail.
In Venice, Dunkin' serves its customers at 121 Mercado Drive and at 2983 Executive Drive, and another at 1801 S. Tamiami Trail, and a Dunkin' can be found at 563 U.S. 41 Bypass North.
Construction continues on what will be a 2,500-square-foot Starbucks coffee shop. It's going in at the west end of the Walmart parking lot, fronting on South McCall Road in Englewood. The coffee shop with a drive-thru will also feature a covered patio.
Starbucks representatives told the Daily Sun 10 months ago the Englewood coffee shop was anticipated to open this fall. Starbucks could not be reached Monday to confirm that timetable.
Englewood appears to be the last local community to see its own Starbucks.
Venice has two, one at 1500 U.S. 41 Bypass and Center Road (across from Perkins) and a second inside the Target at 4271 S. Tamiami Trail. North Port's Starbucks is in the Cocoplum Village Shops, 17739 Tamiami Trail.
Port Charlotte has two Starbucks locations — one in Target at 1400 Tamiami Trail, and a standalone location in the Peachland Promenades, 925 Kings Highway.