NORTH PORT — Gabby Petito's death has officially been ruled a homicide, with the cause of death being "death by strangulation."
Dr. Brent Blue, the coroner of Teton County, Wyoming announced a ruling on Gabby Petito's autopsy.
Blue stated that investigators estimated that Petito's body was outside and exposed to the wilderness and environment for between three to four weeks.
Reporters on the Zoom conference repeatedly asked for further details about the autopsy findings. The coroner declined to answer, citing Wyoming statute.
"We are only tasked with the determination of the cause or manner of death," Blue said on Tuesday.
However, Pei-Sze Cheng from News 4 WNBC-TV in New York City obtained this document from Teton County, Wyoming, showing Dr. Brent Blue's conclusion that Gabrielle Petito died of manual strangulation-throttling, meaning she was strangled by someone's hands, rather than an object like a rope or cord.
After a preliminary examination, Blue ruled Petito's death a homicide on Sept. 21, but did not reveal the manner of her death.
Media personality John Walsh asked twice about Brian Laundrie, a person of interest in the case and Gabby Petito's boyfriend at the time of her disappearance.
"I can't make any comment about any suspect because we are not involved in that part of the investigation," Blue said in response.
When asked by local media in Teton County about how he responded to the national focus on the case, Blue replied by highlighting what he felt was inordinate attention compared to other cases.
"Well, it was quite the media circus and continues to be," said Blue. He added that many other women and men are victimized and killed due to "domestic violence."
"It is unfortunate that others do not receive the same coverage."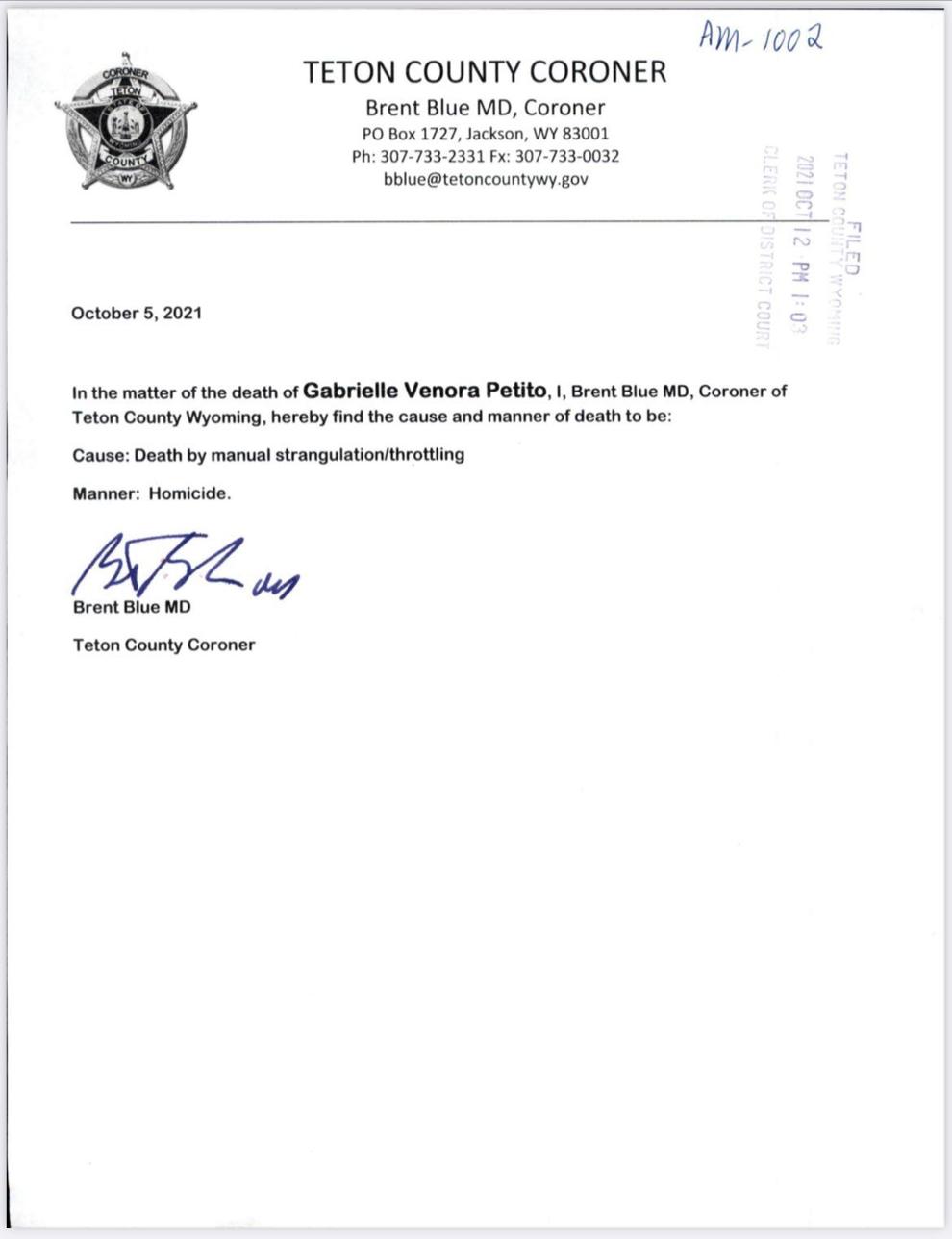 Federal Bureau of Investigation confirmed on Sept. 19 that human remains found near Grand Teton National Park matched the missing 22-year-old North Port woman's description.
The FBI said at that time investigators had not completed a full forensic identification.
Gabby Petito was reported missing Sept. 11. The North Port resident had been on a months-long journey with her boyfriend, Laundrie, 23.
The couple had dated for years and were, at one point, engaged. They lived with his parents in the 4300 block of Wabasso Avenue.
Laundrie returned from the trip on Sept. 1, driving Petito's Ford van.
Her body was discovered Sept. 19 in the Spreading Creek area of Bridger-Teton National Forest in Wyoming.
Laundrie has been deemed a "person of interest" in her disappearance.
He is also the subject of an FBI wanted poster, charged with bank fraud, according to FBI Denver authorities. A grand jury indicted Laundrie for "use of unauthorized access devices" after she died, according to FBI statements.
The warrant is "related to Mr. Laundrie's activities following the death of Gabrielle Petito," the FBI stated.
Gabby Petito and Brian Laundrie were involved in an incident Aug. 12 near Arches National Park.
Body camera footage from Moab City Police, and the subsequent release of the 911 call, suggest different situations were considered.
A 911 caller said Laundrie had been slapping Petito. A Moab City Police officer pulled over the couple just outside Arches National Park and said on the video he had seen her slapping him.
How much of the call information was given to on-scene police has led to questions about the reality of what was taking place.
The couple was told to sleep separately that night; no arrests were made.
Moab City Police is now launching an investigation into how that situation was handled.
As authorities continue their nationwide search for Brian Laundrie, more details are emerging about his activities before or around the time of her death.
The Laundrie family confirmed that Laundrie flew out of Salt Lake City to Tampa on Aug. 17, five days after he and Petito encountered police in Moab, Utah, on their van journey out west.
Laundrie then spent six days in Florida, and returned to Utah to join Petito, his attorney said.
"Brian flew home to Tampa from SLC (Salt Lake City Airport) on 08/17 and returned to SLC on 08/23 to rejoin Gabby," Steve Bertolino said in a statement. "To my knowledge, Brian and Gabby paid for the flights as they were sharing expenses. Brian flew home to obtain some items and empty and close the storage unit to save money as they contemplated extending the road trip."
Petito spoke to her mother on Aug. 24, a day after Laundrie's attorney says he went back to Utah. The following day, Gabby Petito was "last known to be in Grand Teton, Wyoming" and "heading to Yellowstone National Park," according to a GoFundMe page set up to raise money to help search for her.
Laundrie's parents then reported the 23-year-old missing on Sept. 17, saying they hadn't seen him since Sept. 14. The FBI and law enforcement agencies around the country have sought him ever since. They later amended that time frame through their attorney, saying he actually left Sept. 13.
They said he drove a Ford Mustang out to Myakkahatchee Creek Environmental Park to go for a hike. Authorities towed that car away Sept. 20 and returned it Sept. 23.
Wabasso Avenue neighbors, Charlene and William Guthrie, told Fox News they saw Laundrie and his parents, Chris and Roberta Laundrie, leave for a short trip on Sept. 11 — the day Petito's family reported her missing.
It is unknown if he returned with them.
The Laundries have not spoken to the media.
Brian Laundrie is 23 years old and known for hiking. He is described standing about 5-foot 8-inches tall and weighing 160 pounds. He has short brown hair, trimmed facial hair and brown eyes. He was last seen wearing a hiking bag which had a waist strap, the news release said.
Anyone with information on Brian Laundrie should contact the FBI at 1-800-CALL FBI or tips.fbi.gov.