NORTH PORT — A tipster told police they saw a person's hand coming out of the soil in a flower bed behind Brian Laundrie's parents' home in North Port.
They had seen a video taken from a drone flying over the home, and though they saw the "hand." That led to the theory that Brian Laundrie, among America's most sought-after people, was right there — living in an underground bunker and passing a note to his mother.
People also shared the video — and the bunker theory — online. Thousands watched it, many adding their own comments to the debate over whether or not it was legitimate.
North Port police checked out the tip, like hundreds of others they've received the past month.
"What it looked like was somebody digging in the dirt," North Port Police Department Public Information Officer Josh Taylor said of the bogus tip. "The drone was high up in the air, so you could see digging. Drone footage, videos and photos can be manipulated."
Police and the FBI have asked people to give them tips that could help them find Brian Laundrie.
"And that's what you get sometimes," Taylor said. "We see all aspects of them from psychics and mediums, to people with gut feelings, or TikTok videos of Brian Laundrie sightings."
He noted Laundrie has a similar look to a lot of people.
"He's a balding, male who is skinny and white. These are just the tips we see. The FBI tipline gets a lot of them, too."
Taylor said at least 100 tips have come in each week via social media, calls and emails since Laundrie's parents reported him missing a month ago.
"All tips we get are forwarded to the FBI analysts who prioritize the tips that are worth looking into," Taylor said.
It's been a month since Brian Laundrie's parents say they last saw him. Christopher and Roberta Laundrie reported him missing on Sept. 17, saying he went to the 25,000-acre J. Mabry Carlton Reserve, which has a North Port entrance near the city's Myakkahatchee Creek Environmental Park.
Brian Laundrie is a person of interest in the disappearance of his girlfriend, Gabrielle Petito. Her remains were found Sept. 19 in a remote national forest in Wyoming, and this week a medical examiner said she had been strangled to death three to four weeks before that date, her body left outdoors.
The North Port Police Department is one of several law enforcement agencies assisting the FBI since Petito's parents reported her missing Sept. 11. Petito and Laundrie were traveling together out west. She was last seen around Aug. 24. Brian Laundrie returned home Sept. 1 to his parent's North Port home where he had lived with Petito.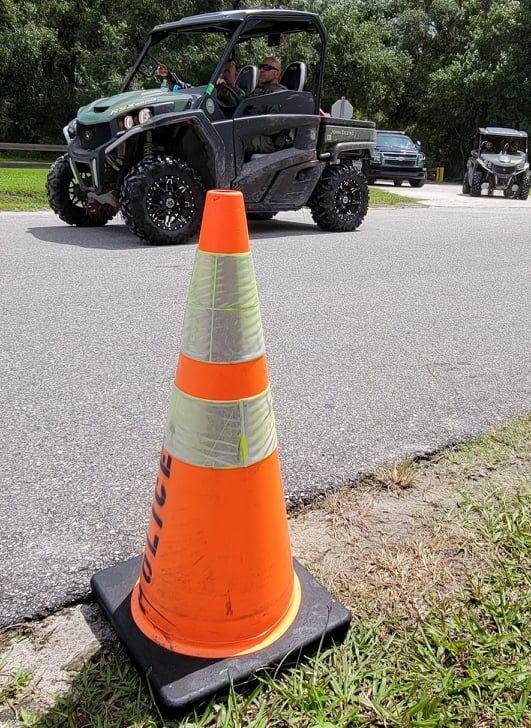 The FBI is the primary agency looking for Laundrie.
The FBI wants to talk to the 23-year-old about Petito, 22. They also have a federal warrant to arrest him on a related bank fraud charge. No other charges have been filed against Laundrie.
North Port police began its investigation Sept. 11, the night the Petito family reported Gabrielle missing, and they were still looking for clues to her whereabouts. The case amped up the following week when Brian Laundrie went missing.
North Port police have responded to the Laundrie's home on Wabasso Avenue more than 50 times. They've been called to keep protesters and media out of the Laundries' yard. Neighbors have called, asking them to quiet protesters with bullhorns. When Duane Chapman, known as "Dog the Bounty Hunter" on reality television, knocked on the Laundrie's front door, he got no answer from the Laundries, but someone called the police.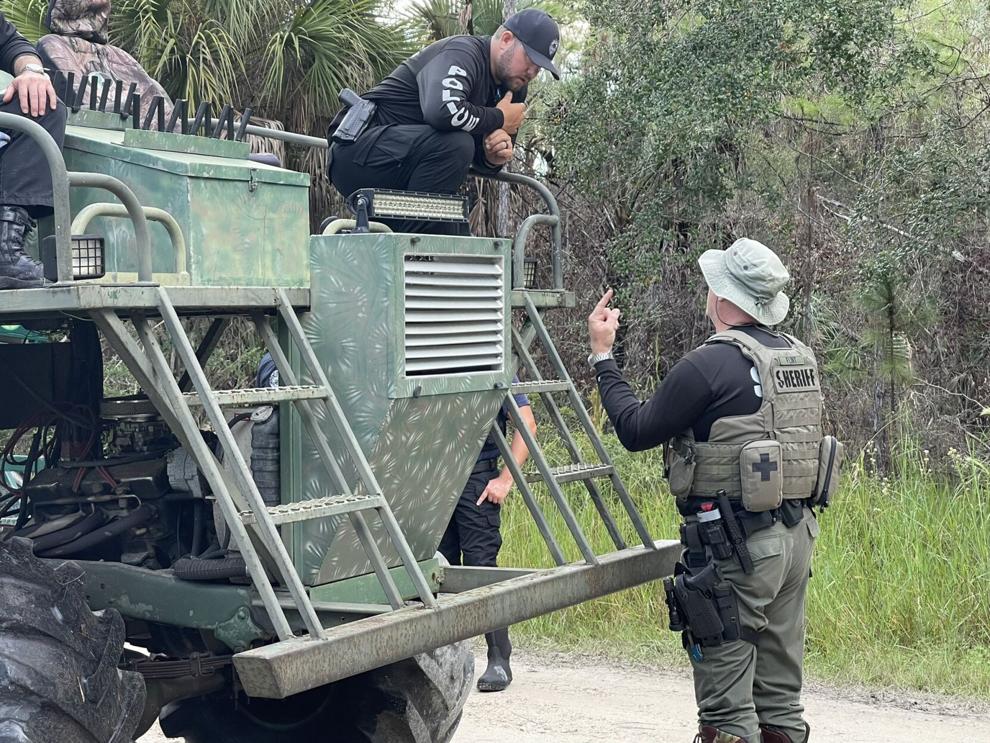 With Brian Laundrie missing for one month now, how much is it costing the North Port Police Department to look for him?
"The short answer is we have no documentation added up so far in what's been spent by the city in the search," Taylor said. "When it first happened, we had at least 12 detectives working on it. We had a war room set up and were working with FBI and all of our resources. There's been no shortage of us all taking it seriously."
Taylor said there are other costs including fuel, wear and tear on the police department's ATVs and some overtime.
"For the most part, officers who are on the schedule to work are doing that (searching) instead of other things like patrolling," he said. "So there's not as much additional personnel costs, but there's certainly there's a cost."
Taylor said North Port Police Department has consumer-grade drones, but Lee County Sheriff Carmine Marceno sent more sophisticated Dragonfish drone with a two-hour flight time to help search the Carlton Reserve.
"What Lee County has is unbelievable," Taylor said. "FHP and the FBI, also had pretty good drones and heat-sensing technology, too. These were like $100,000 drones."
According to Marceno, the drone is an efficient cost-saving tool for law enforcement. While a helicopter needs a pilot, a spotter and fuel, it costs around $2,000 an hour to fly. The Lee County drone is about 75 cents an hour.
Like a helicopter, the Dragonfish has infrared and the FLIR/heat seeking capabilities. It can fly at 67 mph and has an 18.6-mile range for sending back videos. It can get above hard-to-access areas and allow the operator to look down into ponds, and get low enough to peer between trees and other debris.
"The Dragonfish Drone helped us scan large areas such as waterways, nature preserves and roadways," Marceno said.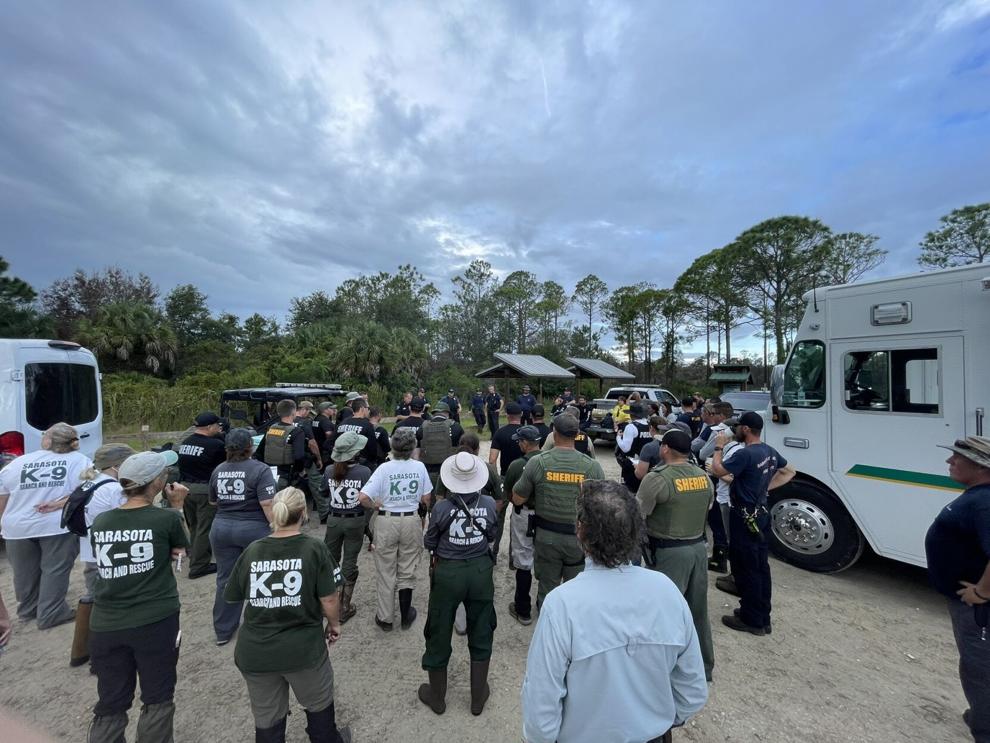 Taylor said he doesn't know how much other agencies are spending on mutual aid resources.
"The Sarasota County Sheriff's Office helped in the search by sending its Sheriff's Underwater Recovery Force, Air 1, Emergency Response Team, patrol and agricultural unit," said Kaitlyn R. Perez, spokesperson for the Sarasota County Sheriff.
The sheriff's helicopters are equipped with a Wescam MX-10 Multi sensor system, AeroComputers equipment and a Churchill Navigation moving map system, plus Infrared Searchlight and night vision goggles.
The Emergency Response Team responds to large-scale emergency situations and critical incidents and search and rescue operations, that would over-tax the normal resources of the agency. The highly trained dive team is on call at all times, she said.
"I don't have the costs of fuel or personnel added up from the search, it would take some time to compile," Perez said. "The sheriff's office has resources that smaller agencies in the county don't have like a helicopter. The sheriff's office is pleased to work mutually with the North Port Port Police Department when they ask for help."
In addition to air units, ATVs, drones, swamp buggies, air boats and about 24 law enforcement agencies, North Port also gotten help K-9s to search for Laundrie. These four-legged searchers can get through the murky water, muddy roads and thick vegetation in the 25,000-acre Carlton Reserve.
Judy Starbuck, vice president of the Peace River K9 Search and Rescue, said bloodhounds are trained to track a specific person by the scent of a personal item like clothing.
"They are excellent dogs for tracking," she said. "K-9s can do a variety of tracking. We train in the wilderness to find any human being without a scent article (clothing). Their job is to find human odor."
They use other specialized canines as well.
"The cadaver dog is trained to find human remains. We train in places where a person can get lost as well as in urban areas," she said. "We train with the dogs 20 hours even after the dog is certified."
Starbuck said the Peace River K9 Search and Rescue are "never paid for any search work."
"We rely on donations and grants to keep us going," she said.
The FBI seeks any information on the homicide of Gabby Petito or the whereabouts of Brian Laundrie.
Anyone with information can call 1-800-225-5324 or submit a tip online at fbi.gov/tips.