FORT DESOTO — The Pinellas County park — where Duane Chapman says Brian Laundrie recently spent time — was suffering a split-personality on Tuesday. 
Campers and workers there said they noticed one thing; authorities said that perception was incorrect. 
Chapman, known by his reality television moniker "Dog the Bounty Hunter" said late Monday he believed the Fort DeSoto Park was a recent stomping ground for Brian Laundrie, a person of interest in the disappearance of Gabrielle "Gabby" Petito.
The Laundrie family attorney confirmed a piece of that, saying the family was there from Sept. 6-7.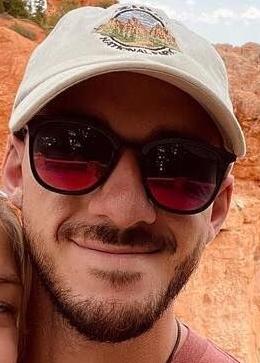 Laundrie, 23, was reported missing Sept. 17 by his parents, who said they'd last seen him Sept. 14 when he was supposedly on his way to the T. Mabry Carlton Jr. Memorial Reserve near North Port and Venice. 
But Chapman claims he has different information — telling Fox News Laundrie stayed at Fort DeSoto Park near St. Petersburg twice with his parents since coming back to Florida on Sept. 1. 
Pinellas County Sheriff's Office Public Information Officer Travis Sibley said it is business as usual at the park. 
"There are no searches going on at Fort DeSoto," he said. "There's no confirmed sightings of Brian Laundrie."
Sibley said helicopters seen in the area were doing standard patrols. 
However, in the world of reality television, Chapman said Laundrie's parents have been in the park twice, Sept. 1-3 and Sept. 6-8, saying they registered to camp. Chapman said they were seen on video.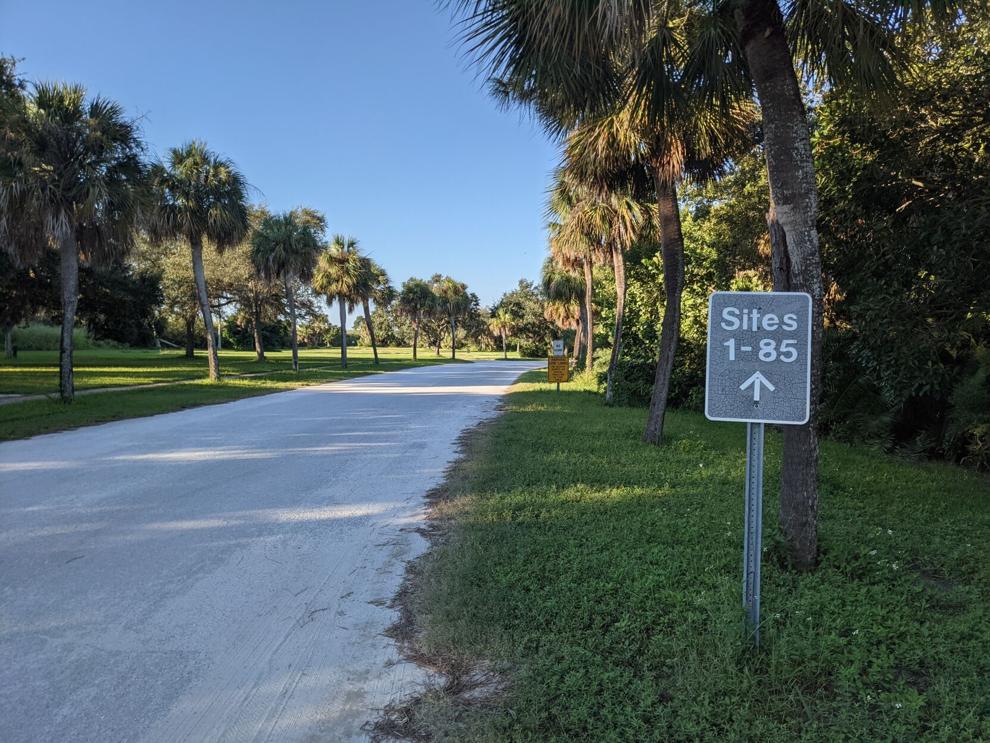 Steven Bertolino, the attorney for the Laundries, said to WFLA on Tuesday that the parents and son all left together.
Petito and Laundrie, both of North Port, had been on a months-long trip west when she disappeared. Her family reported her missing Sept. 11; Laundrie, driving her van, had already returned to Florida on Sept. 1.
Her body was found in a national forest in Wyoming on Sept. 19; On Sept. 21, an autopsy declared her death was caused by homicide. 
But Chapman is questioning the Laundrie timeline.
"What we're hearing, is three people came in on the (Sept. 6) and two people left on (Sept. 8). I think he's been here for sure," Chapman told Fox News on Monday night. 
On Tuesday morning, gates at the Fort DeSoto campground, where the family reportedly stayed weeks ago, were closed about 9 a.m. — after initially being open.
Camping at Spot 26 and enjoying Fort DeSoto Park for a first time, Bill and Fonda Haynes said there was activity Tuesday morning.
"We did hear helicopters this morning," Fonda Haynes said.
"It was looking, it was searching," Bill Haynes added.
The couple, from Eatonton, Georgia, were camping at the site for the first time. They hadn't heard too much about the case. 
"I've seen pictures of her … and I heard that they hadn't found him, which I thought was kind of strange," Fonda Haynes said. "If he was a person of interest, certainly to goodness, they would have kept up with his whereabouts."
Nearby, Joshua Waggoner and Jonda Bright, of Nashville, are also camping.
The Nashville duo had an encounter Monday with Chapman and about five men who were with him, Waggoner said.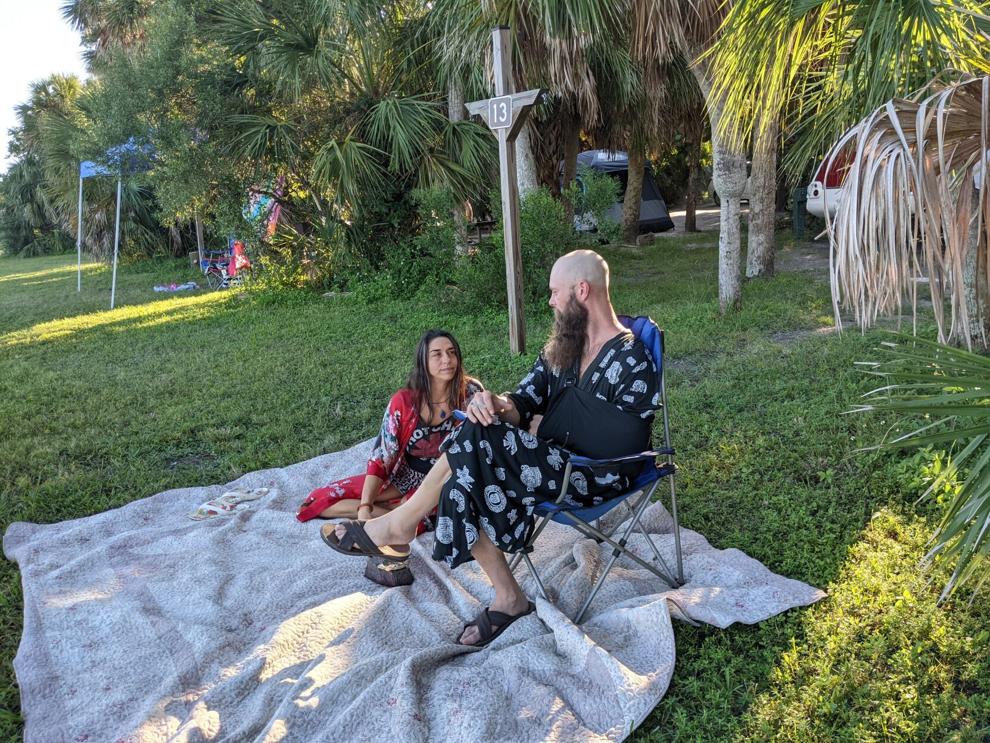 "We have had this blanket out here since the day we got out here," Waggoner said, sitting on the blanket that looked out at Mullet Key Bayou on Tuesday morning. 
On Monday evening, the blanket became the object of curiosity. 
"I noticed there were these five guys out here, meandering around and looking at it. I don't know if they thought (Laundrie) had been sleeping here; I don't know what they thought," Waggoner said.
Eventually, he spoke with Chapman, he said, and Waggoner explained the blanket.
Waggoner and Bright have been camping since Sunday. They didn't know anything about a Fort DeSoto Park connection to Laundrie. 
"At that point, I had no idea what was happening," Waggoner said, saying that's when he recognized the TV personality. 
Waggoner offered to help, but Chapman declined. Waggoner said Chapman's goal was to talk to people who had been camping longer in the area. Waggoner said he had heard about the Petito case but didn't know of the local connection. People at an adjacent campsite told Waggoner and Bright about what was going on.
Bright wondered if Laundrie may have been hanging out at the nearby historic fort, since people aren't there all the time and it has rooms more comfortable than being in woods all the time.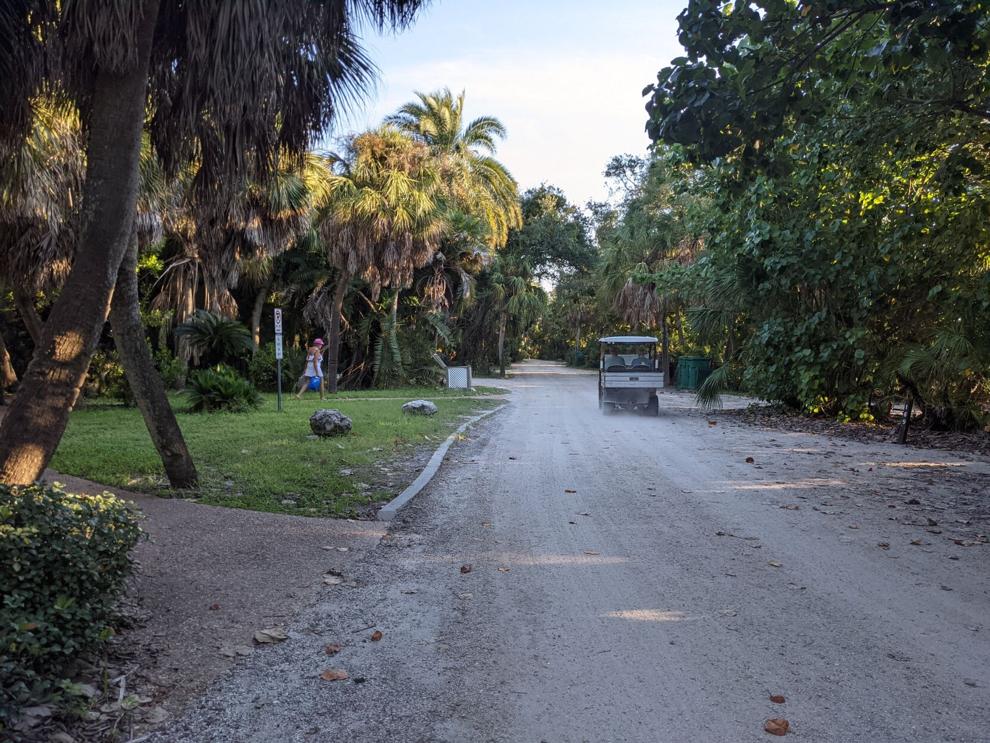 "Well, why not?" she asked. "But I have no idea," Bright added.
She wondered if Laundrie put law enforcement on a wild goose chase with the search in Carlton Reserve near Venice and North Port.
Top Water Kayak manager Eric Cooper, which is among the concession operations at the park, said he didn't know much about the case. He said it was odd that the campground gate was closed Tuesday and said he thought he saw a heavier police presence on the highways coming into the park.
And while some of the area's islands may seem like a good hiding place, he said they are pretty well regulated as to who goes where. He said Shell Key, nearby, may be a place that someone could take shelter from people and weather, but even that wasn't a great idea.
"This wouldn't be a very good place to disappear," Cooper said.
Sibley said the FBI is handling the case and iterated nothing indicated Fort DeSoto Park is a key part of the investigation at this time. 
Laundrie is being sought by authorities in the disappearance of Petito, 22. Petito was later found dead in Wyoming and Laundrie returned to North Port.
Fort DeSoto is a Pinellas County Park sitting on Tampa Bay and the Gulf of Mexico with several small islands nearby. 
"I think he's been here for sure. … there's a lot of little islands around the area where we're at that he could get to on a canoe," Chapman said.
Laundrie and Petito had dated for years and were, at one point, engaged. They lived with his parents in the 4300 block of Wabasso Avenue. 
The investigation continues in Utah, Wyoming and other areas where Brian Laundrie and Gabby Petito spent August. 
The FBI is charging Laundrie with bank fraud, according to FBI Denver authorities. A grand jury indicted Laundrie for "use of unauthorized access devices" after Petito died, according to FBI statements.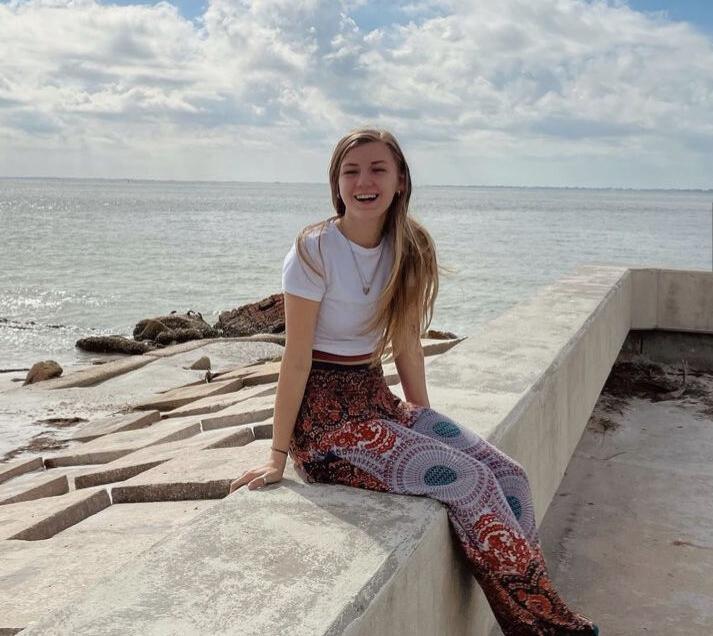 The warrant is "related to Mr. Laundrie's activities following the death of Gabrielle Petito," the FBI stated.
Brian Laundrie is known for hiking. He is described standing about 5-foot 8-inches tall and weighing 160 pounds. He has short brown hair, trimmed facial hair and brown eyes. He was last seen wearing a hiking bag which had a waist strap, the news release said.
Anyone with information on Laundrie should contact the FBI at 1-800-CALL FBI or tips.fbi.gov.