Sandwiched between date night photos of Jay-Z and Beyoncé and nearly nude photos of Britney Spears is the tragic story from North Port covered in the glossy pages of In Touch magazine.
Gabrielle "Gabby" Petito, her boyfriend Brian Laundrie and his parents Christopher and Roberta Laundrie, shared the majority of the recent magazine cover with a smaller teaser to the story of the break-up of "Fifty Shades of Grey" actress Dakota Johnson and Coldplay frontman Chris Martin.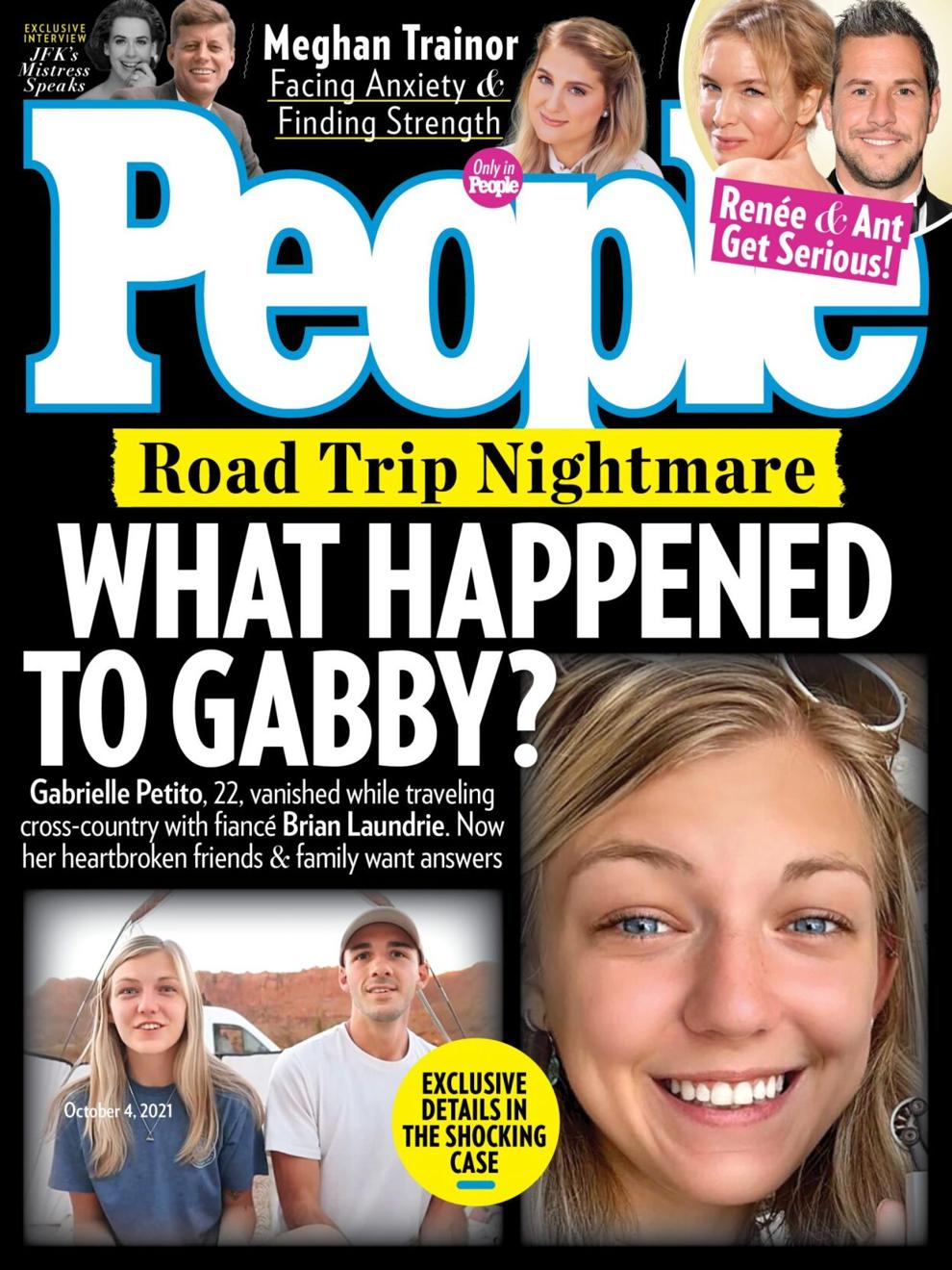 On the same magazine rack, the North Port story is featured on the cover of People magazine with celebrities like Prince Harry and his wife Meghan Markle, Katie Couric, President John F. Kennedy and singer Meghan Trainor.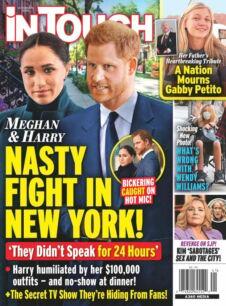 At 22, Petito, moved to North Port two years ago with the Laundrie family, and while working at the pharmacy at Publix, she developed a small social media following.
The following grew as she and Brian set out on a cross-country trip which began on July 2, the one-year anniversary of their engagement. The pair documented their "van life" travels with short videos and photographs of their adventure on several social media platforms. She even poked fun at herself, saying "Gabby Petito never goes outside" while throwing up a peace sign and smiling at Laundrie.
That video would later go viral after her parents reported her missing and Brian returned to North Port without her.
In August, after the couple fought in Moab, Utah, and witnesses said Laundrie slapped Petito, the social media posts stopped. Petito told police Laundrie didn't believe in her social media project goals.
Then Laundrie left Wyoming without Petito and showed up in North Port with her van on Sept. 1. He went camping in Fort DeSoto Park with his parents and sister, Cassie.
Distraught that Gabby Petito sent an odd text referring to helping her grandpa as Stan and another saying "no cell service in Yosemite," Nichole Schmidt reported her daughter missing to her local police department in New York on Sept. 11. They notified North Port Police.
The Laundrie family hired a longtime friend and New York attorney Steven Bertolino and didn't speak to local detectives. That week, they told the FBI that Brian never returned from a hike after leaving the home the week of Sept. 17. Brian became a missing person and a person of interest in Petito's disappearance and later her death.
Petito's dad Joe came to North Port for a press conference with the police asking for help in finding his daughter.
Hour-long footage of the couple's interaction with Moab police was released publicly, sending Gabby Petito's followers into overdrive sharing her missing posters thousands of times online. It drew out others in the van life community in Wyoming and a TikTok user claimed Laundrie was hitchhiking alone and she gave him a ride.
A woman shared her video spotting Gabby's white van at Grand Teton National Park. Gabby's remains were found shortly after by investigators already searching in the park.
Soon social media swirled with cyber sleuths about what happened to Petito and where is Laundrie?
Protesters showed up at the Wabasso Avenue home of Christopher and Roberta Laundrie even before Brian was reported missing. Using bull horns, microphones and loud speakers, agitators yelled in front of the home.
When the FBI and North Port Police officers arrived, reporters and Petito supporters stormed onto the front lawn. They had to be cleared off by law enforcement. Meanwhile, nearby a vigil for Petito was held at City Center Green on city property.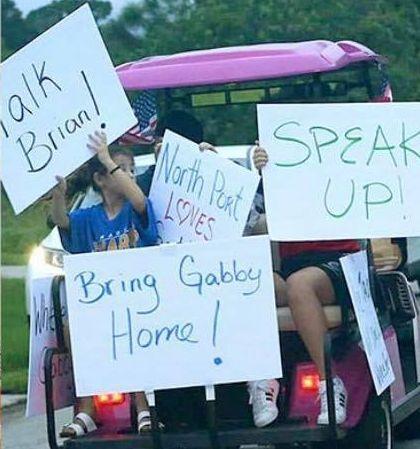 Another was held with supporters leaving cards, drawings, flowers and a wooden cross near a tree on the green.
Everyday people from all over the country came to pay respect to Petito and her family. Some drove by the nearby Laundrie home. Others stopped long enough to take selfies in front of the home.
Anytime the Laundries left their home to shop, go to the bank or run errands, they were trailed by reporters including when meeting their attorney friend who flew in from New York at an Orlando library. They were captured with drone footage gardening in their backyard. The family attorney said the Laundries are "being tortured."
Chanting outside their home sometimes goes until sundown and protests are planned on weekends.
Christopher is photographed while checking his mail, mowing the grass, collecting a delivery left at the front door and in the middle of the night when he and his wife removed 15 empty laundry baskets from their front yard. Christopher also ripped the sign from near his yard that said "What if it were Cassie?" referring to if his daughter was missing.
Wabasso Avenue has become recognizable in North Port now that news crews rented space on neighbors' lawns. According to TMZ, some news outlets are paying as much as $3,500 or more to use small corners of neighbors' front yards and driveways.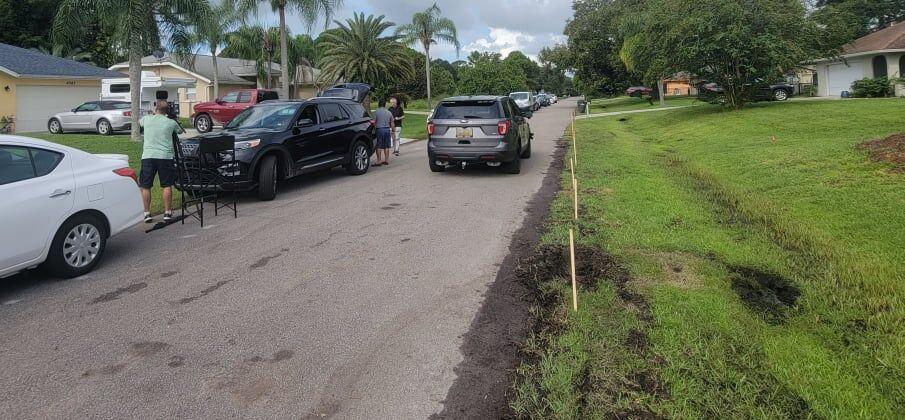 The nearby city's right of way is filled with muddy ruts from vehicles constantly parking there to get a closer look at the activity in front of the Laundrie home. The road is temporarily closed but open to "thru traffic." When hundreds of vehicles were gathering, police had to make the traffic only flow in one direction. Onlookers were hitting mailboxes, other cars and created dozens of near misses with pedestrians the week Petito was reported missing.
After Duane Chapman, a reality television show host known as Dog the Bounty Hunter knocked on the Laundries' door, the police were called. They've been out to the home more than 60 times since Petito was reported missing. A caricature showing Chapman holding Brian Laundrie in a headlock also showed up near the Laundries' side yard along with a makeshift memorial for Petito.
John Walsh, former "America's Most Wanted" host and "Crime Stories" host Nancy Grace, Fox and CNN all did specials.
The North Port police chief was interviewed by George Stephanopoulos on "Good Morning America."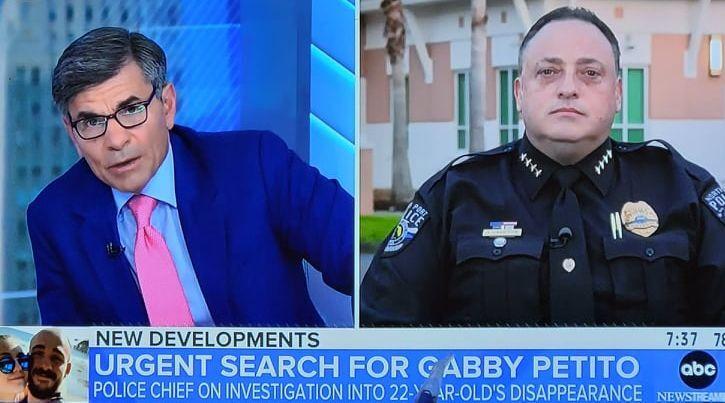 The city removed items from the memorial and gave them to Petito's family. However, last week, about 20 new Petito-related signs appeared at City Center Green.
The city also had to close Myakkahatchee Creek Environmental Park to the public for a month while searching for Brian Laundrie. Dozens of reporters lined Estates Drive numerous times during the search including last week when his remains were found. Gawkers drove by taking photos and videos. Others stopped and pulled out chairs and waited to possibly be interviewed by the press.
Last week, Josh Taylor, spokesperson for the North Port Police Department said he received 300 emails regarding Petito and Laundrie in just one morning. He said the $180,000 reward for information in finding Brian Laundrie didn't hurt either.
"We asked for leads and information," he said. "There's worldwide interest in this case. It's just different than others … We asked for cooperation from the Laundrie family since Sept. 11. There's still more left to the case."
Taylor said police are called and sometimes sent to the Laundrie home to help with crowd control. He said officers enforce the local noise and traffic ordinances and settle disputes and give warning or tickets to violators. A neighbor was arrested after an altercation with a protester. The street is disrupted that a local Realtor spent Friday morning asking neighbors if they were ready to move and if so, he would list their home for them. The Realtor's business card was left in the Laundries' door too.
Petito's family has also been greatly impacted. They quickly created a foundation to help find missing persons and fight against domestic violence. Dr. Phil McGraw donated $10,000 after Petito's parents and step-parents appeared on his two-part show featuring her life. Petito's mother Nichole also recently did an interview with "60 Minutes Australia."
Today, Petito's families' social media following is in the millions. On TikTok hashtags with "Gabby Petito" have been viewed more than 1.3 billion times.
Many domestic violence victims are reaching out to the Petito and Schmidt families sharing their stories. They sometimes post updates. Other followers are sharing their missing relatives in hopes of helping with additional media attention. In contrast, some victims go to the Laundries' home and hold signs.
"This is the new normal," said protester Andra Griffin who recently sued the Laundries for removing the "Gabby" sign. "I've tracked this family every day since the week I learned Gabby was missing. This has been a real circus. We've made the Laundries' lives a living hell. It could all stop if they apologize publicly to Gabby's family. It's the least they could do in showing Justice for Gabby, the girl who lived with them for two years and was going to marry their son."