NORTH PORT - Law enforcement continued its exhaustive search of the Carlton Reserve near North Port, looking for Brian Laundrie, bringing in new officers and more help, with the number totaling 75 on Thursday.
"We're covering many, many acres, so we need all the manpower and all the staff we can grab," North Port Police Cmdr. Joe Fussell said in a video released Thursday afternoon.
He said when the search began Thursday morning, supervisors broken them into different groups, some doing a line search and while others did a grid search.
A line search sweeps through a large area with a line of searchers close together, nearly at arms length. The grid search focuses on specific squares on a map grid for an intensive search.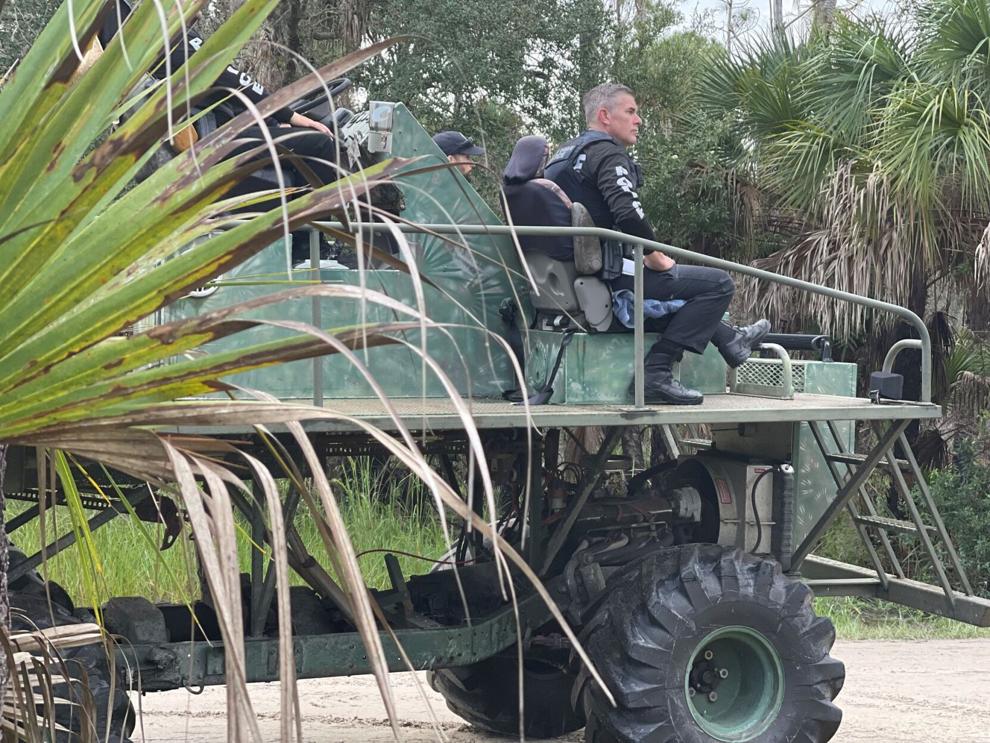 Laundrie, 23, is the boyfriend of Gabrielle Petito, 22. The two North Port residents were traveling west in a van trip, but Petito's parents reported her missing Sept. 11 after she had stopped communicating. Her body was found Sunday in Wyoming, and her death was ruled a homicide.
Police say Laundrie's parents called them Friday night to report Brian was missing. Police said they thought he was in the area of Myakkahatchee Creek Environmental Park in North Port or the sprawling T. Mabry Carlton Reserve across a drainage canal in South Sarasota County.
They were areas where he liked to hike, and he took a backpack with him, his parents told police.
On Thursday morning, law officers returned to the Carlton Reserve for the fifth day in the past six.
"Other agencies with new officers who haven't been here this week have joined us," Fussell said.
He said the fresh eyes help, as does the equipment they bring, including swamp buggies.
The swamp buggies are hearty vehicles, which are usually seating platforms mounted on frames of large-wheeled construction tractors. The large wheels, which can hold five-foot tires or bigger, allow them to operate in high water, while keeping the engine and exhaust systems — and passengers — from getting wet.
They also give the searchers a better perspective from the height, from 7 feet or higher, and that allows to see more in the swamp, Fussell said. 
"The swamp buggies are important to us," he said.
Tips are also important in the investigation, law enforcement has said.
Anyone with information on Brian Laundrie should contact the FBI at 1-800-CALL FBI or tips.fbi.gov.