NORTH PORT — When Evan Thurber joined the marching band at North Port High School when he was 14, he never dreamed it would lead to pursuing a career in music.
After losing an important figure in his life when he was 13, Thurber used music as a coping mechanism.
"I felt isolated and unable to relate to my peers," Thurber said. "I've always loved music. I asked my mom if I could take drum lessons, and she agreed to it."
He found it to be a very positive and healthy outlet to express himself.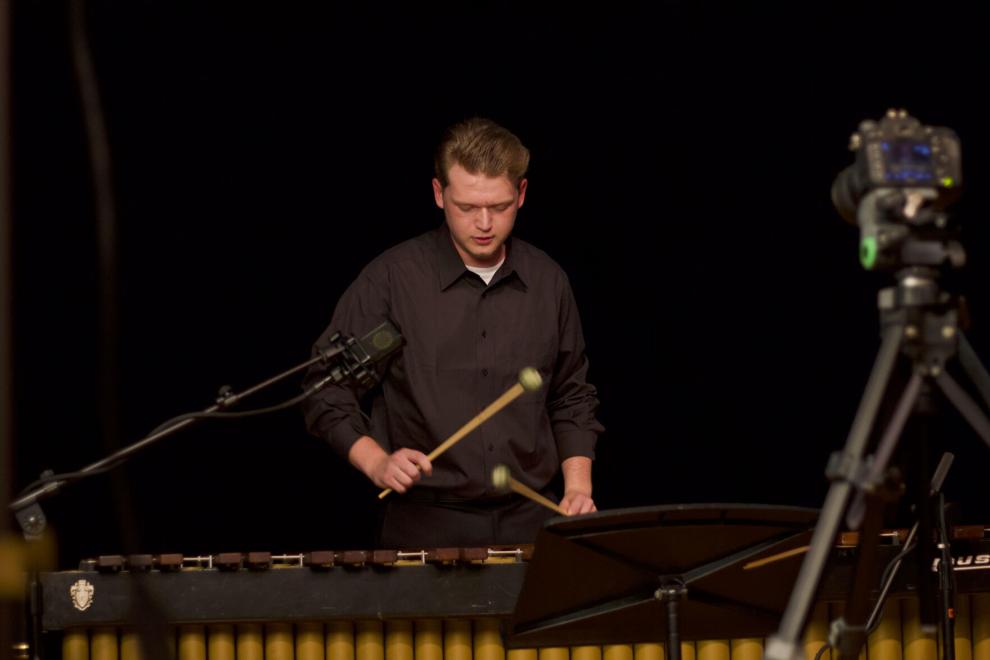 "I picked it up just to occupy my time, and I've stuck with it ever since."
The honor student plays just about anything related to percussion, including drums, congas and the marimba — which is like a big xylophone.
"I'm the drum captain for the drum line at NPHS, and I've competed in state and national levels," he said.
Thurber is heading to Nashville in July, where he will play on Sundays at the Church of Lockeland Springs. He'll also be working with John Salaway, an Englewood native, at his studio in Murfreesboro, Tennessee. Thurber will perform alongside Salaway at shows all over downtown Nashville.
"Even as a freshman, he definitely had a spark of passion," said Lorianne Alegria, director of music at North Port High School. "His talent has just multiplied since then. He's a natural performer."
At 15, The North Port high School sophomore auditioned as a percussion independent for the Florida Federation Color Guard Circuit, and was invited to perform throughout Florida, Mississippi and Ohio.
Upon returning to North Port, he was invited to perform with members of the Grammy award-winning Zac Brown Band, representing DayGlow music, a nonprofit organization that brings education and cultural enrichment to youth. He was also invited to perform in the New Year's Day parade in 2019 in Rome, Italy with the Alliance Marching Band.
"The school was offered the opportunity to go over there, and I went and performed and represented North Port."
Thurber performs at Edgewater Church in Port Charlotte weekly for the Sunday services as well as the church's Celebrate Recovery program, which helps those struggling with addiction.
"I've been told that my music at the meetings has helped others with their own battles," he said.
Thurber, 18, was recently notified that he has been admitted to Middle Tennessee State University, where he will be majoring in music education and performance.
"I applied there because my teacher (Lorianne Alegria) is an alumni from there and she recommended it — it was the only school I applied to — and it's really close to Nashville."
Alegria usually brings in Professor Lalo Davila, director of Percussion Studies at Middle Tennessee State University, to perform at the school each spring, but she hasn't been able to arrange that last year or this year due to COVID-19.
"Evan has known Mr. Davila for the past four years, and they've been communicating regularly," Alegria said. "I expect Evan to be famous one day. I have no doubt. It's a rough road, but I have always encouraged each of my students to keep on trying and never give up."
Thurber received The Florida High School Athletic Association "Heart of the Arts" scholarship award earlier this month. Before COVID-19, he would volunteer to assist the band director at Heron Creek Middle School.
To hear Thurber play in person, head to the North Port Performing Arts Center at 7 p.m. May 4 for the NPHS percussion concert. For a list of upcoming performances, visit www.sarasotacountyschools.net/domain/1432.