NORTH PORT — A dog leaves a gift.
While most of us would pick up after our pet, some don't. There's that mess, but the environment suffers, too, as pet waste pollutes waterways.
That is why North Port has launched a campaign reminding owners to correctly dispose of dog waste. The city has 16 pet-friendly parks, miles of sidewalks and rights of way. That campaign began in April, then recognized "International Pooper Scooper Week," then shifted to social media.
The city's "Scoop Scoop Baby" music video is a fun spin on caring for pets. Its performers in the 1-hour, 40-minute film are kids from the city's The Rock Box Musical School & Stage. Others in the video are pet owners, city Parks and Recreation division staffers and some canine mascots.
The points of the video include tidying up after dogs, the responsibility of pet ownership and how dog poo affects health and safety. The lyrics are a parody of the "Ice Ice Baby" song and video by the performer Vanilla Ice.
And now North Port may get recognized for that work. The Florida Recreation & Park Association has placed North Port on a contender list for a public service award. The event is in September in Orlando. For North Port, it's like an Oscar nomination.
The video, produced by Parks and Recreation, "helped spread the word … in a fun way," division spokesperson Laura Ansel said.
Dog waste had become a problem in North Port. The city spends untold hours and manpower to clean up after pets in parks. So in February, Parks and Rec set out to create a campaign, Ansel said. First, sharing the message why waste disposal is important, she added, then signs, literature, public events such as Woofstock and other tactics to help educate. Then the idea came for "Scoop Scoop Baby."
The video was shot at The Rock Box, students recording vocal tracks and the visuals, said Angel Bartolotta, co-owner.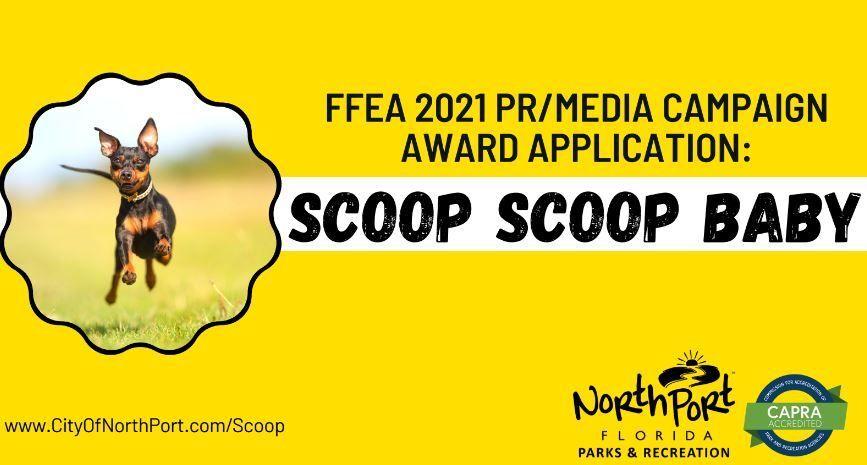 "The kids had a blast, and we are all super excited about it," he said.
Placed on North Port's several social media platforms, the public appeared super excited, as well, as so-called impressions or views spiked to 4,000 in the first seven days, Ansel said. It had since been watched or shared 20,000 times.
"Make it fun and involve the community … with a little humor," Ansel said of the formula for a successful marketing effort.