NORTH PORT — A North Port man was arrested on 40 charges of possession of child pornography, police reported Tuesday.
Douglas Ben Sanders, 57, of the 7500 block of Joppa Street, was booked Monday into the Sarasota County Jail where he remained Tuesday on a $300,000 bond.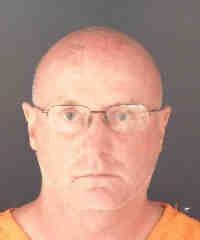 Police began investigating Sanders after a woman called, saying she found pornographic photos of children on Sanders' phone along with more photos, computer hard drives, and a gallon-sized plastic bag of blue, diamond-shaped pills "believed to be Viagra" in a safe inside the closet of his home, arrest reports state.
Police obtained a search warrant and searched Sanders' home, where they found the two safes with 300 printout photos of children in sex acts, and also found "multiple hard drives" in Sanders' closet, states the report.
A preview of one of the hard drives by an evidence tech "located 30,000 images of child pornography," court documents show.
Sanders was arrested after police questioned him about the items in his home.
Sanders said he wanted to speak to an attorney, ending the interview with investigators.
He will be arraigned on the charges Nov. 12.