NORTH PORT — Donations flooded the North Port Police Department.
So much stuff, in fact, that a second truck was scrounged to ferry things to Terrebonne Parish in Louisiana.
Loaded with tons of wipes, pet food, pallets of water and non-perishables, a truck convoy and a North Port patrol car hit the road Friday, heading west to relieve Terrebonne Parish Sheriff's deputies who hadn't washed or had time to help their families following Hurricane Ida.
The Sheriff's Office reported that 200 of its 300 staff members either lost a home or had one harshly damaged, said North Port police Commander Joe Fussell, president of the North Port Officer's Association, the agency in charge.
Ida came ashore Aug. 29, its winds of up to 150 mph leveling much of the 112,000-person parish, which in Florida is like county government.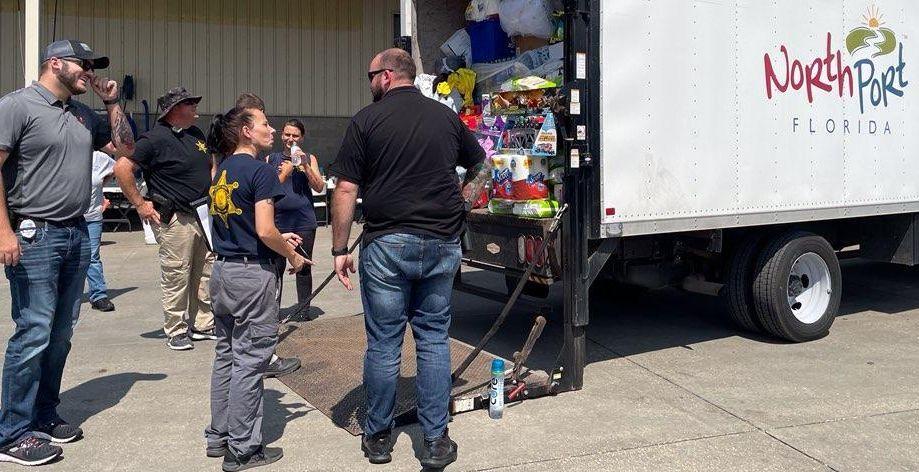 North Port officers, the community and businesses answered the call, donating supplies and nearly $7,000. That cash bought generators, fans and hard goods. The Pasco County Sheriff's Office also donated boots and supplies as the North Port caravan worked its way north Friday. Others gave along the way with the help of social media, Fussell said. And a Heron Creek group, Sistas of Gratitude, had given $300 for gas and lodgings for the North Port police and staff volunteers making the 12-hour haul east.
North Port "absolutely loves helping others," Mayor Jill Luke said.
In Terrebonne Parish on Saturday, Fussell said, the North Port team saw Ida's damage. That provided a better understanding of why so many in Florida had helped, he said.
"Obviously, parish townspeople and deputies were grateful," he said. "They said if ever there was a similar situation, to count on them."
The North Port's three officers and two police staffers unloaded, ate, rested and reversed direction. All costs and time were donated.
"Not enough trucks," Fussell said of Friday's effort because so much was given. "But that's a good problem to have."