NORTH PORT — The city's portion of Sarasota County's Legacy Trail breaks ground Monday.
North Port's Legacy Trail Connector will be nearly 4 miles of paved trails. Two other routes in North Port are planned: The South Powerline, which is an improved shell-packed road, and a more natural trail surface through Deer Prairie Creek Preserve.
The North Port package of trails is part of Sarasota County's Legacy Trail, a $65 million project funded in a 2018 voter referendum. Some 400,000 annual users reportedly use the Legacy Trail that connects Sarasota, Osprey, Nokomis, Venice and South Venice.
The trail is a wide, smoothly paved path for walkers/joggers, rollerbladers and bicyclists. There are trailheads, parking areas and seating along differing route distances.
North Port's Connector is "one of the most exciting things as a parks director," said Nicole Rissler, executive director with Sarasota County Parks, Recreation and Natural Resources.
The bigger picture is linking Florida in a so-called rails-to-trails movement of walking and biking trails. Many of those trails are converted rail lines, hundreds of miles criss-crossing the state, linking cities, providing transportation alternatives, drawing visitors and boosting eco-tourism.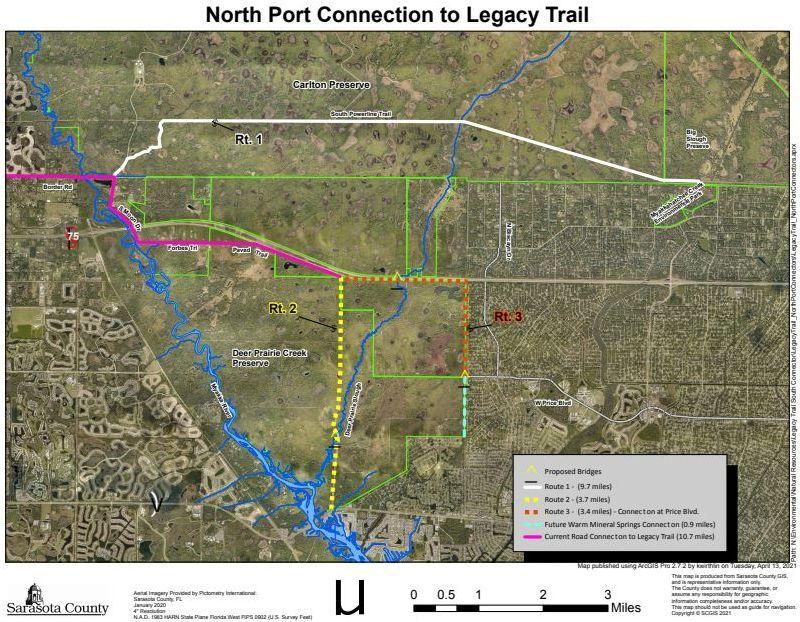 A North Port Connector will run nearly 4 miles of paved pathways along the Deer Prairie Creek Preserve, "where one can go to experience native habitats, including pine flatwoods, prairie hammocks, and seasonal wetlands," according to information on the Friends of Legacy Trail website. That nonprofit was started in 2016 to further The Legacy Trail, a Sarasota County park.
"Once the connector gets to North Port, it'll be a wonderful asset to our community here," Friends of the Legacy Trail-North Port coordinator Sharon Donovan had said.
Those three connections are:
• Powerline Trail, connecting Border Road through the Carlton Reserve and Big Slough Preserves to Myakkahatchee Creek Environmental Park.
• Deer Prairie Creek Route, connecting the east end of Forbes Trail to the south entrance of Deer Prairie Creek. That starts Monday.
• Schewe Route running along Interstate 75 before turning south and eventually connecting with Warm Mineral Springs. North Port city commissioners this month approved a $9.2 million upgrade package at the Springs with the Legacy Trail as a future component.
"A different experience in different parts" of the Trail, Rissler said. "Everybody's super excited."
Sarasota County's original Legacy Trail dates to around 2004. The county bought a former railroad corridor for about $12 million. That 12.5-mile project runs from Sarasota to Venice. It is popular with walkers, bikers, inline skaters and others; so popular, in fact, that devices had been added along the trail to count daily users.
Trail use in the last year had exploded, Donovan said, "indicating a great interest in outdoor recreation, especially during the pandemic, when people are looking for safe things to do."
North Port's mayor had long pushed for a connecting trail to the city, in her time having covered "every inch" of the Legacy Trail, riding, rollerblading and walking it, Mayor Jill Luke said.
"It's outdoors, it's nature," she said. "I love it."
North Port Connector ground-breaking is scheduled for 9 a.m. Monday at 1045 Calera St., at the end of West Price Boulevard.