NORTH PORT — A North Port man is facing multiple felony charges that involve "blackmailing" a New Jersey teen into performing and photographing sex acts over a two-year period.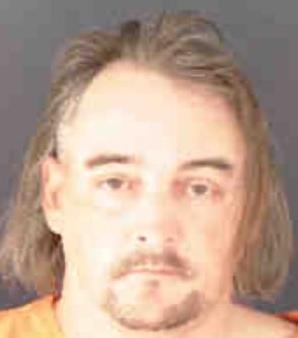 Shane Penczak, 45, posed as a teenage girl and communicated with the teen through an online video game platform, the North Port Police Department said Wednesday.
He convinced the teen to send a nude photo of himself in exchange for gift cards, then threatened to post the photo in public if the teen didn't "do what 'she' wanted," court records show.
"The details of this case are heinous," city spokesperson Josh Taylor stated in an email. "Mr. Penczak portrayed himself as a young female on gaming platforms, enticing his victim to perform sexual acts and then blackmailing him into performing more egregious acts. Our dedicated detectives, including our digital forensic team, have worked for months to make sure evidence was properly collected and Mr. Penczak is placed behind bars."
The seven felony charges include lewd and lascivious battery on a child, allowing a child to engage in sexual activity, directly promoting a child to engage in sexual performance, viewing a child in the performance of sexual performance, using a computer to lure and seduce a child, reports show.
Investigators from the Department of Homeland Security's investigators notified North Port police about the case in February 2021. It originated in Cherry Hill in Camden County, New Jersey. The communication between Penczak and the teen began June 1, 2018.
North Port detectives, working with officers with the Sarasota County Sheriff's Office, the Tampa office of Homeland Security and in New Jersey, were able to track a username to Penczak's home on the 2000 block of Jasmine Way, North Port.
They found evidence on his computer and gaming systems of parts of the online conversation, even though Penczak had deleted his own comments.
The fragments of evidence are comparable to "DNA, fingerprints or hair fibers left at a crime scene," Detective Lee Wallace reported.
North Port police are also working with the Department of Homeland Security Investigations.
"There are likely other victims of Mr. Penczak out there," Taylor said in a statement.
As of Wednesday, Penczak was being held in the Sarasota County Jail on no bond.
"This arrest … has made our local communities safer for everyone," said Jennifer Silliman acting Assistant Special Agent in Charge for Homeland Security Investigations. "HSI will continue to investigate this case, working to identify victims of this child predator and ensure they get the needed support."
North Port Police Chief Todd Garrison said all crimes are taken seriously in the city, "but especially those involving children."
"Those who commit these types of crimes prey on those who cannot fully protect themselves," Garrison stated. "We will work night and day to protect our kids and hold those accountable who are looking to hurt them."