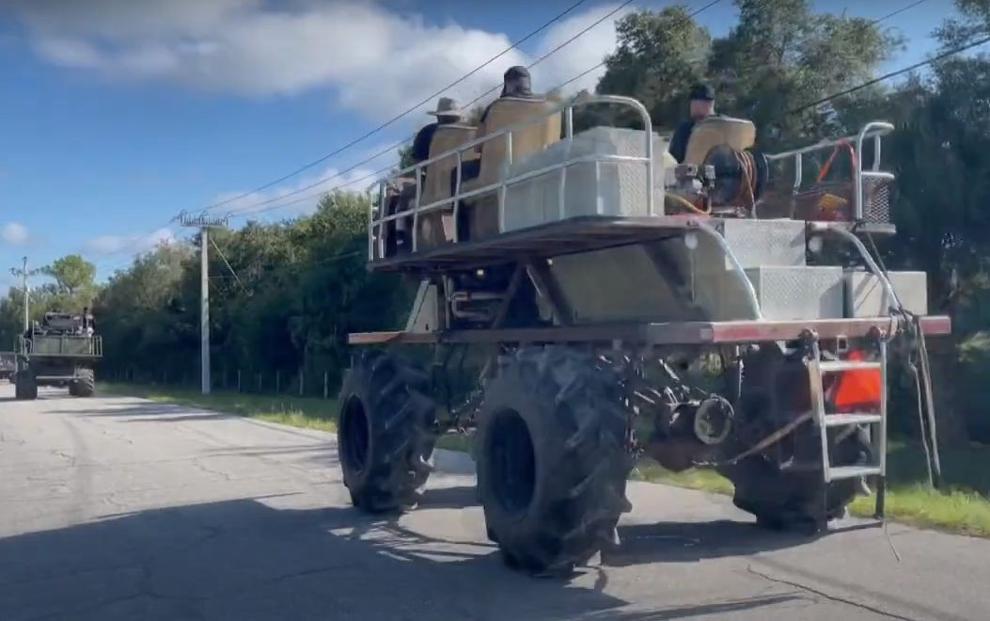 NORTH PORT — It was another hot, soggy day in the swamp for law enforcement searching for Brian Laundrie on Friday, one week after his family reported him missing.
"We're covering this area as well as we can," North Port Police Cmdr. Joe Fussell said in a video released Friday afternoon. It was recorded in the T. Mabry Carlton Jr. Memorial Reserve in eastern Sarasota County.
"These guys are working really hard. They come back every day fresh, ready to go and it's hot and it's wet out there, but they're working really hard," he said.
Laundrie, 23, of North Port, has been deemed a "person of interest" in the disappearance of his girlfriend, Gabriella Petito, 22. Her body was discovered Sept. 19 in the Spreading Creek area of Bridger-Teton National Forest in Wyoming. An autopsy in Teton County, Wyoming, concluded she died in a homicide.
Laundrie returned from the trip on Sept. 1, driving Petito's Ford van. His parents reported him missing Sept. 17, but said he had been missing for a few days and that he may be in the Carlton Reserve, an area where he liked to hike. A car that he was known to drive had been parked near the entrance to the park for a couple of days until the family retrieved it.
Fussell said the fact that the FBI now has an arrest warrant for Laundrie doesn't affect the search in the swamp. A grand jury indicted Laundrie on fraud charges this week for unauthorized use of a bank card, and a judge issued a federal warrant for his arrest, the FBI said Thursday.
"The warrant doesn't change anything for us; we are working as hard as we can to find him now as we did on Day One," Fussell said. "We are deploying all the resources we have available to us, all the staff.
He said the members of the search team, which can be from 50 to 75 people, are exhausted each day.
"The only break they have during the day is to get something to eat, and they go back out into the wilderness and hit it hard again. They go home, they shower and wash off the dirt for the day, then that's probably the (extent of the) energy they have ... This is wearing on everybody. Everybody has a level of stress everybody, but they have the drive, and that's what's carrying us through: to try to find Brian and try to put closure to this investigation," he said.
The job has taken searchers through woods, ponds, swamps, down dirt roads and remote trails.
"We're deploying every resource we have to go through any terrain we encounter," he said.
That includes air units, drones, swamp buggies, all-terrain vehicles and people on foot.
He made a point to say the search in the Carlton Reserve wasn't the only thing law enforcement was doing to try to find Laundrie.
"There are many, many more resources we are deploying other than what you are seeing out here today," he said. "We have investigative means, we have technology, other agencies are issuing search warrants for data, whether it be social media or some other investigative means," he said. "We are not wasting our time out here. We are doing our due diligence to find Brian in an area that intelligence led to where he could possibly be. It's up to us to to make sure we search this area as best as we can, as massive as it is, with our resources to try to find Brian."