NORTH PORT — Deputies announced the arrest of a second suspect Tuesday in a 30-mile car chase from Sarasota to North Port.
Michael Christopher Barone, 37, of the 880 block of Cluebra Avenue, North Port, faces several charges in connection with the chase, that began Monday afternoon at a Home Depot store off Clark and Cattlemen Road in Sarasota and ended in a North Port neighborhood.
He was arrested Tuesday and booked into the Sarasota County Jail.
Iris Amalia Rivera, 41, of the same address on Culebra Avenue, North Port, was also arrested Monday, reports show.
The chase started in Sarasota around 4:30 p.m. Monday, after a reported theft from Home Depot, according to Sarasota County Sheriff's Office.
Deputies arrived to find the loss prevention manager struggling with Barone, who was wearing a red had and red shorts, reports show.
A deputy tried to use a stun gun on Barone, hitting him with it once, but he ran into a red Nissan Xterra, jumping into the passenger side with Rivera at the wheel.
The deputy stood in front of the Xterra, holding his hand up and yelling "stop," the report states.
"Rivera … accelerated forward striking in the right leg causing a large hash mark on his pants. (The deputy) was treated and released for injuries sustained from the car striking his leg at Doctors Hospital," reports show.
With Rivera driving, the Xterra headed onto Interstate 75
Deputies chasing the Xterra backed off when the driver skirted heavy traffic by driving on the shoulder of the highway at high speeds, which deputies estimated to be up to 100 mph.
At one point, "The female driver intentionally swerved at vehicle causing him to make an evasive move to avoid an eminent collision," the Sheriff's office reported. "The female driver repeated the same act a second time nearly causing a collision at approximately 50 mph."
A sheriff's helicopter followed the Xterra and relayed information to patrol deputies as the Xterra left the interstate at River Road, headed south. The driver turned into a West Villages neighborhood, then back onto River Road.
The Xterra weaved through heavy traffic, and the driver turned left at U.S. 41, headed south in the northbound lanes of the busy highway.
At some point, Barone and Rivera switched seats, putting Barone at the wheel.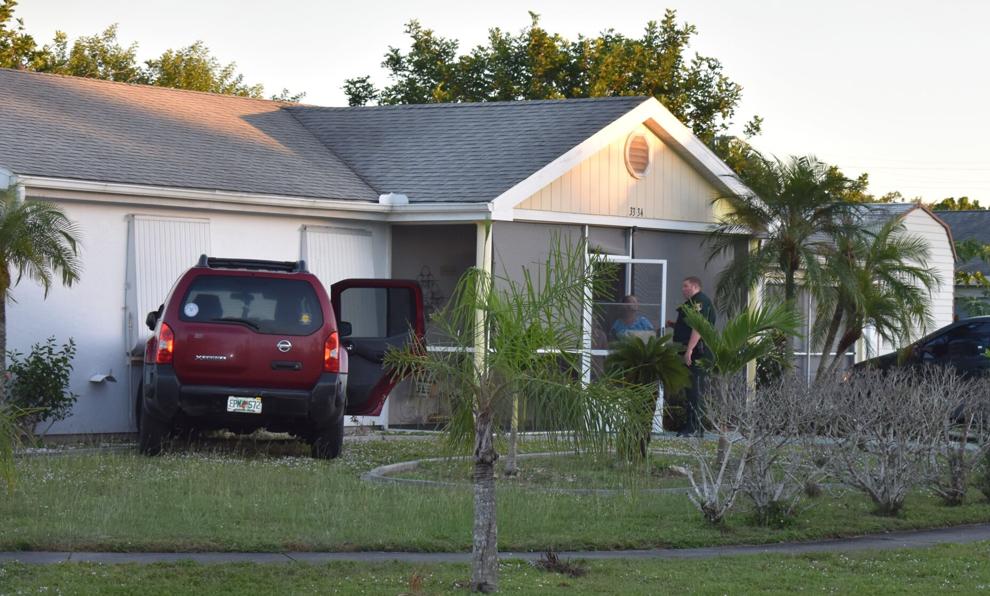 The Xterra went left again, this time onto Oritz Boulevard at Warm Mineral Springs, and then side streets to Culebra Avenue where deputies and North Port police converged on the scene.
It struck a Chevrolet pickup parked at a home on Gatun Street, and crashed into a home at Gatun and Galliard Avenue.
Deputies and police apprehended Rivera, who was in the passenger seat, but did not catch the driver.
Barone is charged with second-degree petty theft, resisting arrest during recovery of property, resisting arrest without violence, and fleeing to elude.
Rivera is charged with aggravated battery on a law enforcement officer, aggravated assault on a law enforcement officer, fleeing to elude and possession of a controlled substance. Deputies at the jail found a Clozepam pill in her pants.
Both were also cited for numerous traffic violations related to the chase, including driving the wrong way on a road and running a stop sign.
Rivera later said she did remember "seeing the deputy standing in front of her car, to her left side, and she heard him say 'stop.' The defendant did not know if she struck or not," her arrest report states. "She stated she was scared, and she was driving home as she fled. The defendant stated she saw pursing deputies with their lights and sirens activated as she made evasive moves around slow traffic."
She denied swerving intentionally to hit the patrol car.
Barone has been arrested in Sarasota County before. In November, 2020, he was adjudicated guilty of possession of narcotics equipment, and he was ruled in violation of his probation on that charge this year.
He also has an extensive record in St. Lucie County on Florida's east coast, with charges of DUI, dealing in stolen property, giving false information to a pawnbroker, dating back to 2011.