Editor's note: To read the report for yourself, read this story at www.yoursun.com.
NORTH PORT — Detailed costs — future and past — and North Port's "broad discretion" in its future with Wellen Park communities underscore a long-awaited report filed this week with the city's Planning Division.
The Contraction of City Boundaries Feasibility Study was commissioned by North Port to evaluate the history, status and future relationship between the city and what was West Villages.
The subdivision is a series of western communities under what is now called Wellen Park. A first draft of the report was filed with North Port on Monday.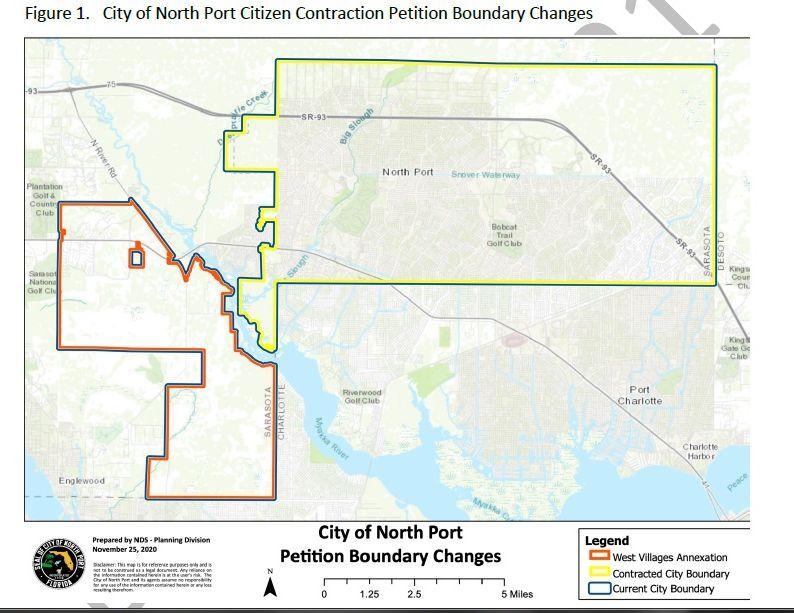 A homeowner group within Wellen Park had petitioned North Port for contraction or de-annexation west of the Myakka River. Some deem it a divorce, the sides arguing over custody and assets.
Support among the residents of Wellen Park communities, however, remains unclear.
And its builders had filed lawsuits to end the matter.
Courts so far have decided in favor of petitioners, West Villagers for Responsible Government, indicating it was a civil rights issue. The group had filed contraction petitions in November.
State rules obligated a feasibility report. A draft was delivered this week; the findings compiled by a Fort Lauderdale firm, Munilytics.
The bottom line in 60-plus pages were incurred costs and anticipated expenses of de-annexation. A first step to a final decision begins April 29 before the North Port City Commission. Those five members hear testimony from those directly impacted by de-annexation, builders, homeowners, the city.
That hearing runs in a court-like quasi-judicial setting. The feasibility study is the foundation of the public hearing. Commissioners vote to accept de-annexation. Courts could otherwise settle the matter.
The contraction report analyzes de-annexation costs, from public safety to roads, then provides financial impacts to North Port.
The city could expect, for example, a net loss in the first six years of some $16.3 million in lost revenue; figures based expansion estimates in Wellen Park during that period, according to the report.
The report also confirmed an assertion by the West Villagers group that Wellen Park homeowners in de-annexation would save $1,000 per year in taxes upon leaving North Port. That figure was based on a Wellen Park home of 2,100 square feet and valued at $248,000.
But if those figures hold up, Wellen Park homeowners will incur greater costs in duplicating North Port services, even a likely Municipal Services Taxing Unit administered by Sarasota County, into which Wellen Park would be absorbed should de-annextion occur, according the report.
The city at contraction would also lose parts of a commission district, which meant redistricting.
"Uncertainty and delay for future development within the contracted area would negatively impact North Port businesses and employees," report authors asserted. "As well as the entities owning developable lands within the contracted area."
North Port, however, would have the "right to expect reimbursement" for cost outlays in the last decades, the report's authors added.
The study also stressed building permits were "an area where you can almost certainly expect an initial disruption of services and serious complaints," according to Munilytics, as North Port and Sarasota County toggle between projects planned or under construction.
Impact fees would also be affected, the report stated. Impact fees are typically paid at building occupancy, then passed along to tenants or owners.
The report argued North Port has discretion in interpreting state rules for land contraction. Sarasota County had sued North Port over annexing land around 2000, ultimately negotiated a settlement in 2002, for instance. What arose was West Villages, then Wellen Park, one of the country's fastest-growing planned communities.
At buildout, it could encompass 20,000 homes and 50,000 residents.
And Munilytics asserted what's left of North Port following a contraction would cost those who remain — in property tax hikes.
Munilytics collected its data from Sarasota County tax records and city financial reports filed with the state. It is also the firm's first contraction study, meaning its findings would be open to legal debate.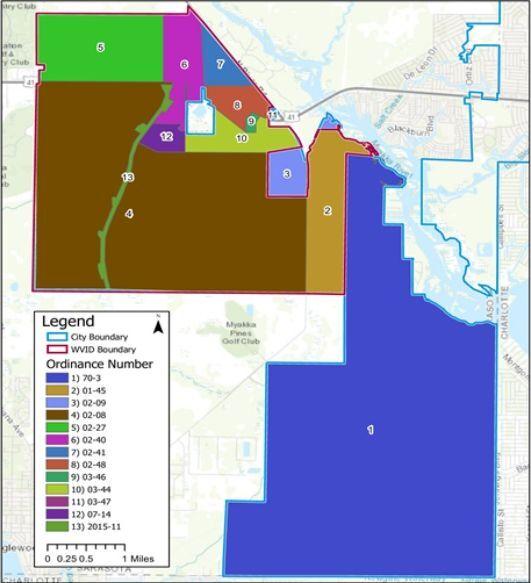 Its authors added the Florida Attorney General's Office had concluded that following state contraction procedures "a municipal governing body would appear to have broad discretion ... to reject such any such petition, so long as it specifically states its reasons therefor."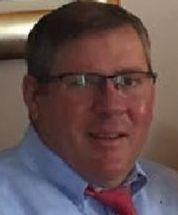 The feasibility draft "is what we expected it to be," said John Meisel, West Villagers for Responsible Government's president. "And we look forward to addressing the findings at a quasi-judicial hearing on April 29."
North Port officials withheld comment due to the testimonial format.