NORTH PORT — His flight lasted only a few short minutes. His fame for clinging onto a hang glider may last decades.
Chris Gursky, of North Port, isn't assessing blame onto anyone. The facts that led to his life-and-death situation are in the past. He's focused on the future.
But, OK, watching the video is what millions of people are doing this week. The video is from his personal GoPro video camera.
And that video is almost one that nobody would have ever seen.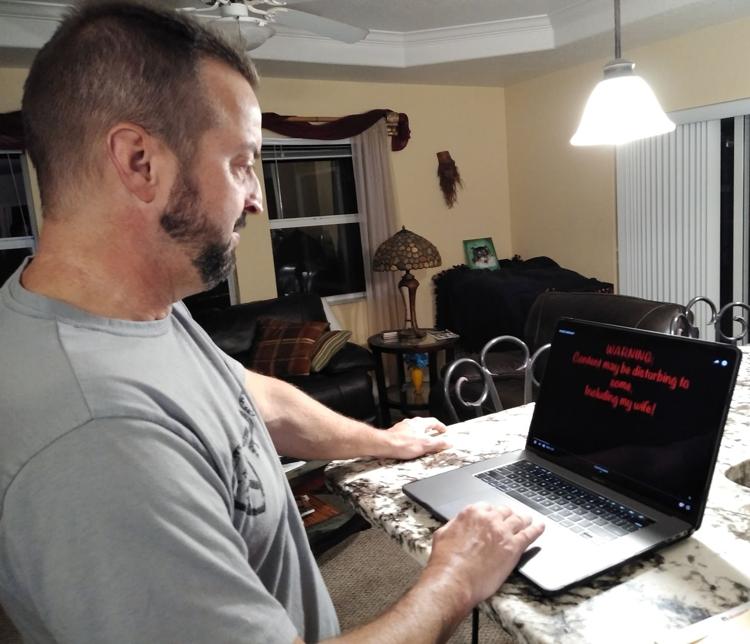 Gursky, 54, was in Switzerland on Oct. 13 when he and his wife, Gail, decided they'd go hang gliding. It was on his wife's bucket list and she'd taken off with her pilot just moments before Chris Gursky's flight began.
But as soon as it began, it was obvious something was drastically, nearly tragically, wrong.
He wasn't connected to his pilot nor the hang glider by anything except his left hand.
"When I originally went off, it took me a few seconds to realize what the hell was going on. Within a couple seconds, I was pretty much over a barn," he told the Sun this week.
"I did go into survival mode. I just tried to stay calm. My left hand, I just locked," Gursky said.
For the harrowing flight of about 3 minutes, he held on with his left hand, his right hand fishing for something to hold onto — at one point, the pilot's pantleg.
It's estimated he was thousands of feet in the air during portions of the incident with "cars looking like sugar cubes" below him.
The landing was rough, his body ripped from the hang glider's bar when his feet hit the ground. But, obviously, it could have been worse had the wind kept the glider higher for a longer time.
"Another five seconds and my left hand would have slipped off," he said.
VACATION
Chris and Gail Gursky make a hobby out of their travel, and often engage in activities others might consider hazardous — although they don't see it that way.
They've gone up in a hot air balloon; walked on a glacier — and then into an ice cave — in Iceland; and enjoy zip-lining.
"Ziplining is relatively safe," Gail Gursky said.
"We're not adrenaline junkies ... When we go on a trip, we'll do something different," Chris Gursky said. "Something out of the ordinary," Gail chimed in.
"We're young," Chris explained. "We're young enough," Gail clarified, followed by a laugh.
"Life's too short to be afraid to do anything," Chris said. And Gail called hang gliding a "bucket-list thing."
Her flight, that lasted for 15 minutes, was amazing, she said.
"It was pure bliss. It was so awesome. It's hard to describe but it's really, really cool."
SAFETY MISSTEP
The errors may have been in how the safety checks were completed.
Gail Gursky noted her pilot verbally spoke all safety checks in their preflight training and as they actually connected. While Chris Gursky's pilot did the same in the preflight training, he said that didn't happen when they got to the hang glider.
"When he got to the glider, he spun around and got himself clipped on. I figured he was doing what he's supposed to be doing," Chris Gursky said.
Gursky said his pilot had been flying for years and was registered to do tandems — which requires a lot of extra training.
"He was a good pilot, he just made a bad mistake," he said.
According to European news agencies, that pilot is now under investigation by Switzerland's civil aviation authority.
THE FLIGHT
Chris Gursky figured out, nearly immediately, how much trouble he was in.
The video shows the pilot talking to his passenger. "Are you ready? ... 3, 2, 1..."
And they start running. It takes about 10 steps before the air lifts the glider into the sky.
"Before you go off, you practice running side-by-side," Chris Gursky recalled. "As soon as my feet left the ground, all my body weight went straight down."
The trouble was obvious.
"I quickly figured out that, yeah, I wasn't attached. He was trying to grab me, I was trying to grab onto anything. We started getting further out," Gursky said.
And once the wind lifts a hang glider, it's not easy to land it immediately. It takes time, and skill, to bring it down safely.
For about a minute, Gursky is able to grasp the back of the pilot with his right hand, but the video shows it as it slips down the pilot's shoulder and ultimately, for a moment, to nothing before the pilot drops his right leg down so Gursky can try to hook to that.
"For one second, I thought this is absolutely beautiful; I'm going to fall to my death," he recalled.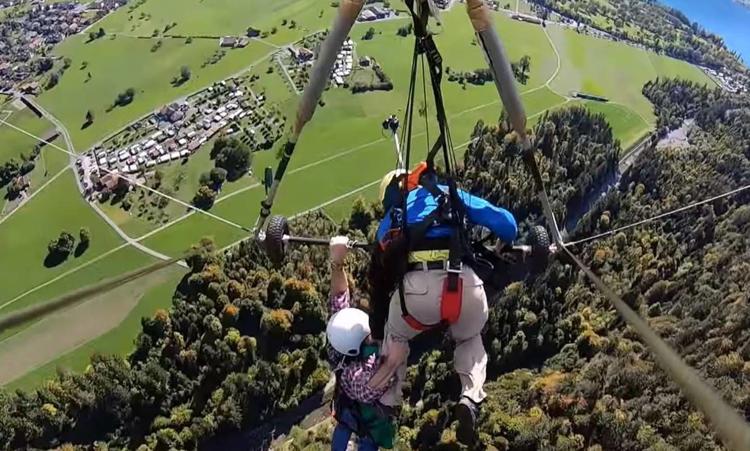 The pilot flew much of the flight with one hand as he worked to help Gursky. Nearly 3 minutes after the countdown, Gursky's body disappears from the video as his foot hits green Swiss grass and he's pulled off the glider.
"I remember hitting. I hit and I flipped a couple times and then I sat up... I didn't think we were going to make it at all. Getting to the ground was a relief," he said.
Now he just wanted to get to his wife. One more obstacle was immediate, though. He'd landed in a gun target field and the pilot had to maneuver through fences to get to him.
Gursky stresses his pilot wasn't a bad person in any way.
"He was a good guy; he made a large error — almost a fatal error. But he owned up to it. He stayed with us at the hospital until 11 p.m. that night. He showed he was a good-hearted guy."
AFTERMATH
The pilot told Gursky he doesn't think he'll ever fly again. It was, perhaps in some ways, as traumatic to him as it was to his passenger.
But not physically.
The injuries for Gursky included a torn left bicep and broken right wrist which required surgery and new titanium plate and seven screws.
Gail Gursky didn't know what exactly happened until she and Chris were alone just before he was going into surgery. Prior to that, she just thought he'd had a rough landing.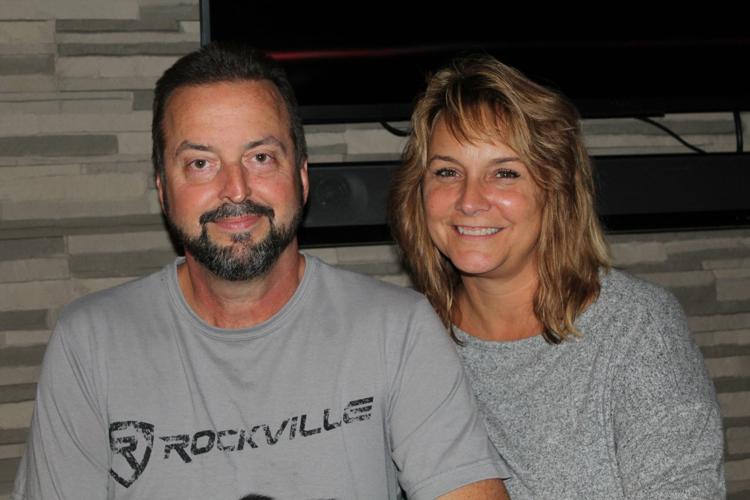 "We didn't get to really be alone until we were in the emergency room. And that's when he said that was the closest to death that he'd ever come — and I said 'What are you talking about?' ... And he said 'I don't think I was attached.'"
He knew he wasn't attached — but he couldn't quite get himself to say it at the time.
While they were in the hospital, they were informed his GoPro footage had been deleted.
Initially, he was angry — but he got over it, he said. Again, he doesn't talk about the details.
Once he returned to the United States, he was able to find a technology expert firm that was able to retrieve the deleted video, he said.
GOING VIRAL
YouTube is the best-known video site in America, but it's not the only one. Chris Gursky noted that, as of Thursday night, about 8 million people had viewed it on YouTube but another 17 million had watched it on a website based in another country.
That's about 25 million people so far — which is about the size in population of Australia.
And that's only two platforms.
"I'm taking it with a grain of salt. It's going to peak and then it's going to go down again," Chris Gursky said.
The family doesn't know how much money the situation may bring in. Already, it is being used by an obstacle course organization in a video clip saying "Just hang on" in a commercial. That may be a source of some revenue — but nobody is quitting their day jobs.
Chris Gursky did a little research, finding one clip that had gone viral a year ago ended up with a net total of about $3,000. Not bad, but he's not leaving his gig at a Sarasota car dealership to sit on mounds of cash from his newly found fame.
While some people have watched the video dozens of times, Gail Gursky said she'd avoided it.
"I was starting not to think about (the incident) as much. And then he posted the video. I didn't want to see it. And I avoided it for a few days. ...I can't watch it. I just can't do it."
He encouraged her to watch it, saying "it wasn't that bad." She indicates she's not going to view it again.
Their adult son was initially concerned when he learned about the incident.
"At first he was really freaked out. He was very upset," Chris Gursky said. Now: "He's loving all of this. He called me at 1,000 hits, saying 'this is awesome.'"
The 1,000 hits may have been about enough for the Gursky family. They did not anticipate what has happened. An initial posting of a photo of Gursky in the hospital only triggered some light-hearted family ribbing.
When he put the video up, it was nearly instantly different.
"It was just overwhelming. I've had every news channel from across the country calling ... It's a lot of fun to see everybody's reaction. And then I got home (Tuesday) and of course there's a news crew sitting outside my house. It's kind of overwhelming. ...but I'm rolling with it," he said.
MOVING ON
Chris Gursky said he tries to not take life too seriously, even looking at a situation that could have been life-ending to him.
"I'm trying to make light of the situation now. I'm here to tell the story and I'm alive," he said.
People who watch the video and use it as an excuse not to try something are missing the point of life. The couple hopes to get back to Switzerland, since many of their plans were nixed by the hospitalization.
The incident has given the couple a chance to reconnect with people — or see them in a different light as they've expressed happiness that Chris's still alive.
"Some people have been very emotional watching that video — to the point that they're crying," Gail Gursky said.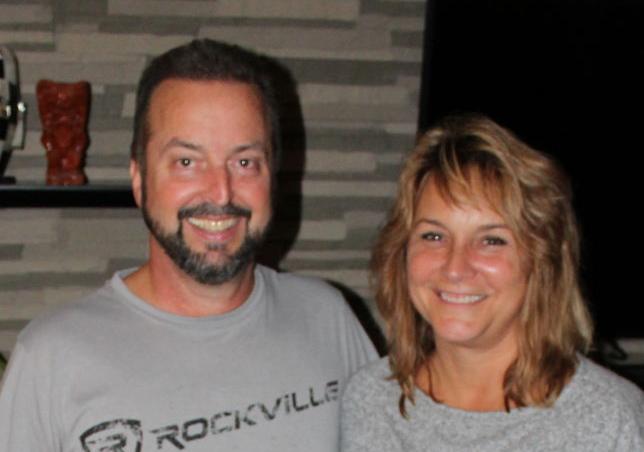 The video has spawned a meme already and will likely continue to add more. The Gursky's, who moved initially to Venice from the Chicago area and then to North Port about 16 years ago, vow to continue to "experience life."
"Just live your life," Chris Gursky said. "Life's too short to not do things because it looks scary. I've got a new start now."