In the back seat of the getaway car, Nice Guy Eddie is telling his fellow jewel thieves about a new radio station playing the super sounds of the '70s.
"I ain't heard that song since it was big," he says.
The whole gang starts talking about the plot of that song, "The Night the Lights Went Out in Georgia," a hit by Vikki Lawrence.
These guys don't even know each other's real names, but "Reservoir Dogs" screenwriter Quentin Tarantino has them connecting over pop music from their shared past.
And it's a good bet people are doing it around Charlotte, Sarasota, DeSoto and Manatee counties over the past few months, as LECOM radio is growing its audience and expanding its reach.
Grouped under the call letters WSRQ and spanning one AM and four FM frequencies, the station's format — Classic Hits of the'60s,'70s and '80s — would seem to fit right in the wheelhouse of this area's main demographic.
But it's the not-just-the-hits they play that catch your ear.
"We play the songs that other stations have forgot" is WSRQ's motto, meaning your favorite sing-alongs by The Temptations and Aerosmith may lead into a psychedelic obscurity from The Blues Magoos or a sweet song from The Bangles that isn't "Manic Monday" or "Walk Like an Egyptian." Maybe you'll get "Third Rate Romance" by the Amazing Rhythm Aces or a classic by The Kinks that will have you turning up the volume. You just never know.
Then there are the smooth and knowledgeable deejays with a few quick stories about songs and artists. Plus, the station doesn't play commercials, just a few announcements about its medical colleges, some health tips, along with weather forecasts from news partner WWSB-TV in Sarasota.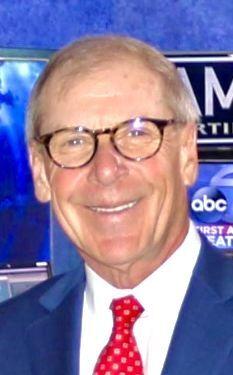 Jim Schaffner, the station manager (he's actually much more), indulged us by answering a few questions about his station, its parent company and what they're doing in this market.
Can you tell us about LECOM and the medical schools?
LECOM is an acronym for the Lake Erie College of Osteopathic Medicine. The college was founded in 1992 by a board of a community hospital in Erie. All of the credit belongs to my boss Dr. John Ferretti. Dr. John is an entrepreneur with vision and tremendous business acumen. Presently, the college has four campuses. We are also located at Seton Hill University near Pittsburgh and Elmira, New York. We are the largest medical school in the nation. We also offer dental, pharmacy and post baccalaureate disciplines.
You've been in the market how long?
We acquired WSRQ in December 2018. Management concluded, that based on the success of WMCE in Erie (Pennsylvania), it was prudent to acquire a station in the Bradenton/Sarasota market.
How do you do it without commercials?
As a non-commercial station, we are permitted to talk about ourselves. We air messages pertaining to the college and general health matters. Since 40% of our enrollment is housed at our campus in Lakewood Ranch, to continue our growth in the market as the largest medical school in the nation and to begin the expansion of the medical segment of our health system, radio made sense.
Can you explain the purchase of WVIJ in Charlotte County and what your plans are?
In July 2019, we added WSRQ-FM based in Zolfo Springs, which was also 106.9, and recently acquired 91.7 of Port Charlotte. (The signal was upgraded to 9,000 watts on July 20.) We now have scale and reach the entire market.
When we are done with buildout, 91.7 will cover from Punta Gorda north to the outskirts of Sarasota. At some point near Venice, 91.7 will intersect with 106.9. That frequency will cover off Sarasota and the heartland to south of Bradenton. We will cover Charlotte, DeSoto, Sarasota and Manatee counties.
The station is growing at a rapid pace. We connect with the listener through world-class content.
Can you please explain the business model?
I decided that a business model that featured stories behind the song would be well received by the listener. As Bill Medley of the "Righteous Brothers" told me their fans want the stories as much as hearing the song. It was the right call at the right time.
Listeners hear a lot of pop songs from the 1960s, '70s and '80s. Can you explain your format?
We play a lot of music. We are not burdened by endless six- to eight- minute commercial sets. We do air underwriting announcements of businesses who support the station. These are limited to 15 second messages, which is more than enough time to extend a brand. Most importantly, our listeners hear it.
We will always play lots of music.
Your DJs say "The songs that other stations forgot." Can you elaborate on that?
"We play the songs that other stations forgot" is a statement of fact. Presently, we have 2,500 songs in the active rotation. Our library of music is approximately 5,000 songs. The commercial stations playlist is limited. You will not hear the same song on our station on consecutive days. We play the B side of many hit records. At times you will recognize the artist or band but not the song. That is the luxury we enjoy as an independent station. We can play the music not heard in years or decades rather than just hits. Our listeners enjoy the variety of songs that we air.
What kind of response have you gotten from listeners?
Our listeners are truly entertained by the best of the best. The station has taken off, and I expect to grow our core listeners substantially from year to year.
Your Djs come across as professional and knowledgeable about the music they play. Can you tells us about them?
My DJ's are true professionals. All our experienced radio personalities have mastered their craft over many years. In my view, no other station can match up to our talent on a 24/7 basis.
Our Monday through Friday crew of Captain Dan, Rick Johnson, JJ Johnston and Dr. Denny are second to none. I am especially proud of our weekend Ladies of LECOM. Three ladies back to back to back- Nat the Hat, Terri Bohen and Julie Ellis.
You have to listen or you miss a lot.
Do they program the songs they play on their shows? (Do they take requests?)
Regarding programming, we use software that generates the playlist. We can refine the playlist at any time. The DJ's have the discretion to swap out a song for another. It just depends on the day and a theme that may be in play that day. We do take requests and in fact encourage it.
Listeners should call the station and leave a voicemail. At times, we air their request and play the song.
You guys have a lot of special features like "Motown Mondays" and "Fab Four Fridays." What else is popular?
During the pandemic, I decided to air mini-concerts that feature a band/artist and three songs. Since the artists were on the shelf due to COVID, we brought them to our listeners. I just approved our 195th concert. I will continue to air these post-COVID by just changing the imaging. These are that popular.
You have an on-air announcement about returning to the Bradenton market by Labor Day. How will that work?
We will move back to Bradenton on 95.3. We have had some difficulty with the antenna design, but we are close. The completion of the move may be in September, but I am determined to move that along quickly.