BARTOW — Slowly but surely, the St. Patrick's Un-Parade — scheduled for this Friday evening in downtown Bartow — has become a staple in the community.
Of course, each year as March comes around, it begs the question for those unfamiliar: what exactly is an Un-Parade?
"The Un-Parade was established to be an unorganized parade — we don't do registrations, there's no fee and there's no particular lineup given," explained Linda K. Holcomb, executive director of Main Street Bartow. "You just show up at the park if you're wanting to be in the parade. … we don't even have an absolute start time — we say 5:45 (p.m.)-ish."
The event has roots that go back roughly 30 years in Bartow, rooted in a parade started in the late 1980s by a trio of Irish residents who believed the town needed a St. Patrick's Day celebration. That first parade consisted of the three gentlemen, a police escort and a green pig.
The original parade went on like that for several years before it ceased. Then, in 2003, the "Citrus Cinderellas" started a parade of their own. The parade went from Main St. to Nye Jordan Park.
Eventually, through these events, the Un-Parade came to be in its current form in 2006. An event put together by Main Street Bartow and supported by other organizations, including the City of Bartow and the Bartow Chamber, it has grown — and has room to keep growing.
"I told everybody we're going to grow this parade," Holcomb said. "It's really, really a neat idea."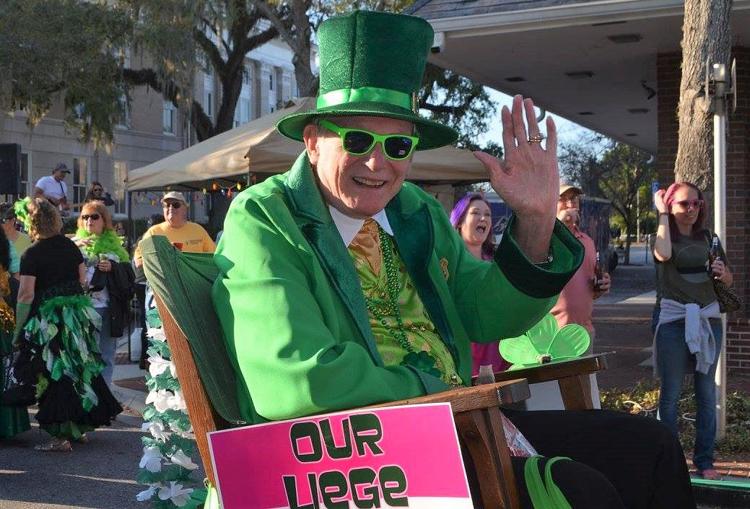 This year's event will take place around 5:45 p.m. Friday in downtown Bartow, with parade entries able to start lining up at 5 p.m. at Nye Jordan Park.
It is a free event, with live music by the Sofa Kings from 6-9 p.m. and appearances, as always at the Un-Parade, by Matt Strutt, the Golf Cart Brigade, the Citrus Cinderellas, and the Sweet Arsh Potato Queens and their liege, King S.L. Frisbie.
Residents from in and around Bartow and beyond are encouraged to come enjoy the festivities March 15, which will pour over into Bartow's monthly Friday Fest, which will run until 9 p.m. Any questions about the event can contact Main Street Bartow at (863) 5190508.
And, of course, those attending are encouraged to bring your "A" game in weird.
"The wackier the better," Holcomb said.