LAKE WALES – State Attorney Brian Haas awarded seven area law enforcement heroes for excellence, bravery and quick thinking during the Polk County Police Chiefs Association's annual meeting in the Lake Ashton clubhouse Jan. 24.
Winter Haven Police Sgt. Christine Ford trained two of the seven heroes recognized.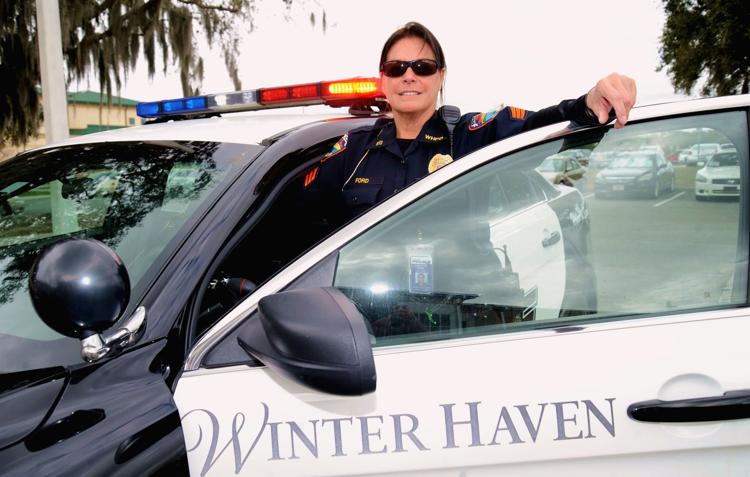 On the job for 21 years this July, Ford — the 2003 Winter Haven Police Department Officer of the Year — also earned the 2019 Police Chief Association Distinguished Service Award (Large Department) for her work as training coordinator at the Polk State College Kenneth C. Thompson Institute of Public Safety, the local police academy. Six of her classes have passed without a single failure, something no other coordinator has done in recent memory, according to her award.
"I was so proud," Sgt. Ford said. "All three of us got honored that night."
Sgt. Ford was referring to herself and fellow award winners in Lake Wales Police Officer David Black and Polk County Sheriff's Detective Briana Bolin, who she helped train at the academy. Sgt. Ford and the three other training coordinators who work at the police academy have helped approximately 157 local recruits to graduate since 2014, around 20 of which now work for WHPD.
"I'm extremely lucky and thankful to WHPD to have this position, to do something I love every single day," Sgt. Ford said.
Below are the other law enforcement officers recognized, as well as the context for their recognition.
No surrender
On April 16, 2018, just after 10 p.m., Lake Wales Police Officer David Black was conducting a traffic stop when he saw a man riding a bike without a headlight near the corner of State Road 60 and 12th St. Black asked the man to wait while he completed the traffic stop. He did not know that his suspect, an undocumented immigrant, had an incredibly violent criminal history.
A few minutes later, the suspect took off on his bike through the Orange Grove Shopping Center. After crashing, the suspect fled on foot and eventually wound up on top of Black, beating him with his own radio and baton. A witness stated that the suspect bit the officer twice.
Black withstood the beating, refusing to let go of the suspect or to allow him to escape.
"Had it not been for his level of fitness and will to survive, this incident certainly would have ended in tragedy," stated the award nomination. "This officer never gave up the fight."
The incident took Black out of action for two weeks. For his heroism, he earned Officer of the Year from the PCPCA for a small department.
Brown said Black recently agreed to speak to her class of recruits and that he somehow managed to work humor into his presentation. Court records reveal that the suspect had previously been convicted of beating an Alturas woman in 2017.
Digital detective work
The other award winner trained by Ford earned the Distinguished Service Award for the Polk County Sheriff's Office.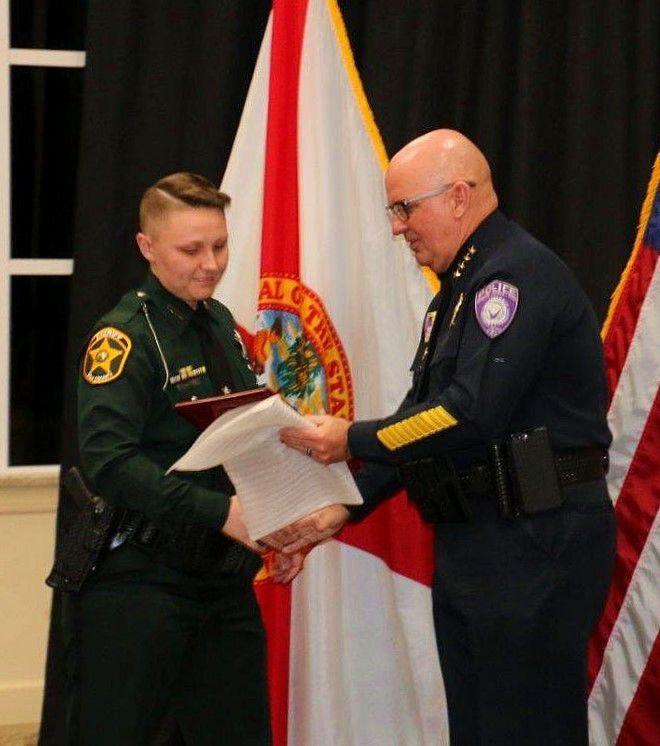 On March 27, 2018, Detective Briana Bolin was dispatched to a call in reference to a missing 10-year-old girl. While other deputies "pinged" the young girl's phone to get an approximate location, Bolin received permission to search the girl's electronic devices. Using her training, Bolin discovered that for weeks the girl had been exchanging graphic sexual messages with a 23-year-old Burger King manager from Miami who went by the the online persona of "El Yoni King Diaz," using the online app "Geeking," as well as Facebook Messenger.
Bolin found an image with the suspect's partial license plate number. A car matching the description she provided was found at a Motel 6 on U.S. 98 in Lakeland, where deputies found the two inside within 35 minutes of being dispatched for help. After questioning, the girl was returned home to her grandmother.
"(The suspect) is the poster child for why it's critical that parents monitor their children's activities online," Polk Sheriff Grady Judd said following the arrest.
Others recognized
The Officer of the Year (Large Department) went to Lakeland Police Officer Alex Rethwisch. On July 11, 2018, Rethwisch tried to pull over a man suspected of armed robbery. After a vehicle and foot pursuit, the suspect allegedly shot Rethwisch multiple times, but the LPD officer never gave up and eventually the suspect dropped his weapon and surrendered. Despite the injuries, Rethwisch is already back on duty, according to LPD.
Deputy Sheriffs of the Year for the Polk County Sheriff's Office were Dep. Aaron Motta and Dep. Mark Pothier. On April 4, 2018, these deputies responded to a house fire in Lakeland. Upon arrival they were told the suspect who started the fire was in the backyard, armed with a knife. According to court records, the suspect was seen running back into the burning home while drinking a beer. The deputies forced entry, went inside and found the suspect unconscious, after which they brought him out to safety. Immediately after, a bystander said her puppy was inside the burning home. The deputies went back inside and rescued the puppy.
The Distinguished Service Award (Small Department) went to Florida Polytechnic University Officer Tommie Jackson III. On Oct. 1, 2018, Jackson was first on the scene after a driver crashed into a pond. Jackson jumped into the water, rescued an infant in a car seat and the mother in the driver's seat, dragging them to safety.
"As a direct result of this officer's courageous intervention, a mother and a young child were saved," stated his award.
Also at the event, State Attorney Brian Haas installed the following officers for the PCPCA for 2019: Lake Wales Police Department Chief Chris Velasquez is the new president, Auburndale Police Chief Andy Ray is the new vice president and State Attorney's Office Executive Director Chris Nelson is the new secretary/treasurer. Retired Florida Polytechnic University Police Chief Rick Holland, Davenport Police Chief Larry Holden, retired Lake Hamilton Police Chief Ed Freeman, retired Haines City Police Chief Gary Hester and Lake Alfred Police Chief Art Bodenheimer are the new directors.