LAKE WALES — Local elected officials, stakeholders, staff and other members of the community gathered at Polk State College's JD Alexander Center in downtown Lake Wales Thursday morning to advocate for the preservation of the recurring funding the campus receives from the state legislature.
That amount — $2.5 million annually — is critical for a campus where 44 percent of the 1,100 students served there are qualify for need-based Pell Grants.
The state legislature, which recently concluded its spring session, did include that funding in the budget it sent to Governor Ron DeSantis — but it was included as a separate line item. This, in theory, makes the item more vulnerable to veto as DeSantis and his administration seek to rein in the record-setting budget received earlier this month.
Local leaders held the gathering to function as a megaphone of sorts to make sure that DeSantis and his staff recognize the value of the campus in the largely rural area of southeast Polk County.
"What we have here is invaluable — not only to the development of our economy, but to the lives of the students that we are changing," said Polk State College President Dr. Angela Garcia Falconetti.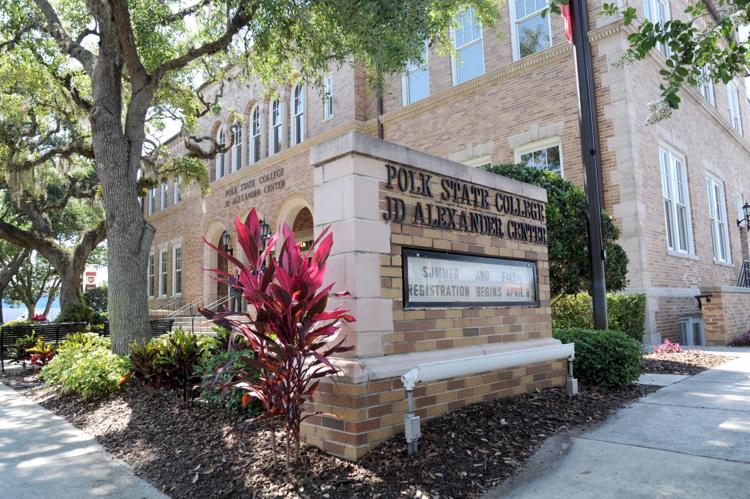 Falconetti spoke to the crowd along with Lake Wales Mayor Eugene Fultz and Marcus Walker, a student at the campus. She cited several eye-opening statistics about the 1,100 students that attend classes in at the Lake Wales Campus, including that 53 percent are ethnic minorities, that the majority of students are women and that, among those women, 20 percent age 18-24 are living below the poverty level.
In short, one of the recurring themes Falconetti has heard in talks with students who attend JD Alexander is that, if the campus were not there, transportation challenges would keep them from attending college at all.
"The students told me 'Dr. Falconetti we just can't get there — we can't get to Winter Haven and we can't get to Lakeland,'" Falconetti said.
It was a sentiment that Fultz, who knows the demographics of his city and surrounding areas well, reinforced when he spoke.
"Polk State College offers that opportunity for (our citizens) to come here and really better themselves," Fultz said. "As representative of the City of Lake Wales and its citizens, I can tell you now that we support Polk State College's JD Alexander Center."
Fultz also cited the campus — located prominently on Central Avenue — and its students as vital to the City of Lake Wales' efforts to economically reinvigorate its downtown corridor.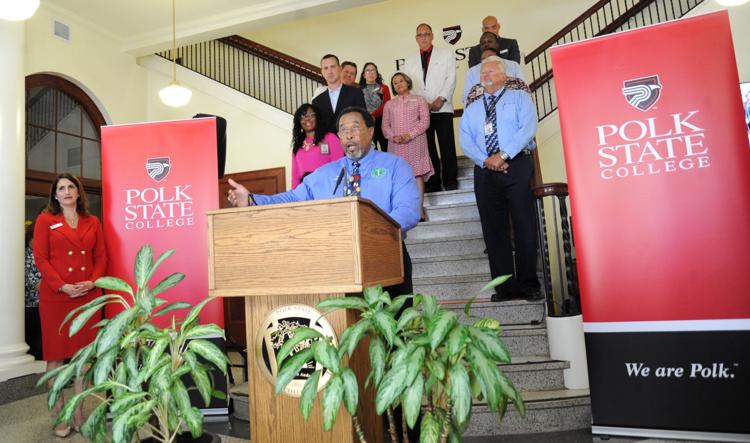 "We are right in the middle of revitalization of the downtown area," Fultz said. "We're thinking of the students here at Polk State when we start talking about coffee shops and we start talking about evening functions, because you know you have a lot of students that come here for evening classes. Those businesses are going to be patronized by these students here at Polk State College."
The final speaker was Walker, a student at Polk State who shared his own story of how the campus has helped him. Walker, who is 39 and married with a family, was previously a truck driver. He said the proximity of the campus and the availability of night classes enabled him to, as a working adult, go back to school.
"It was so convenient here," Walker said. "I began college because I knew I was a teacher at heart and I wasn't getting any fulfillment driving a truck."
Polk State's Lake Wales Campus has been a family institution for Walker, as his wife recently graduated from there and his daughter, who attends the University of North Carolina, dual-enrolled there when she was a student at Lake Wales High.
"My daughter dual-enrolling here helped her tremendously," Walker said.
Falconetti, who served on DeSantis' transition team, expressed confidence that the governor would preserve the funding — but nevertheless urged the community to be vocal about supporting it.
"I'm just hopeful that the governor will preserve our facility — and I believe he will," she said. "So we turn to him in this time for his continued leadership."