BARTOW – It wasn't everything Drew Davis wanted, but he walked away from a recent Bartow Board of Adjustment meeting with approval to offer tours of his historic Wonderhouse during the weekends.
"I'm not totally satisfied — but I'm happy," Davis said after the four-hour public hearing March 25.
The meeting saw 23 people speak on the matter, including attorney Ted Weeks, representing Harriett Harris, who spoke of problems with the application, noise, traffic and parking problems and ultimately encouraged the board to deny the application.
Weekend tours with on-site parking only were approved, but there will be no weddings or small gatherings allowed at the mansion.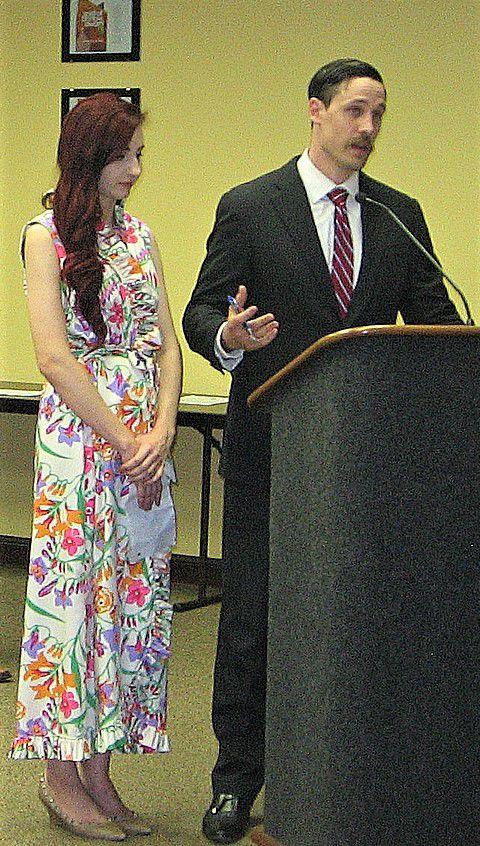 Drew Davis and Krislin Kreis bought the house in 2015 which – for the second time – was in a state of disrepair. They bought it not only to live in, but also to restore. The couple paid $162,000 for the house and so far has spent more than $200,000 remodeling it.
To help to pay for the reconstruction, the couple thought to host tours and other small events. The idea of the house as an attraction has its roots in the structure's history.
Originally constructed in 1926, the Wonderhouse, at different times also called "The House of a Thousand Gadgets," was a popular tourist attraction from the 1930s to 1950s.
Later, Lucy DuCharme bought the Wonderhouse and converted it into a luxurious home. She frequently threw lavish parties at the residence. The house was featured in a 1990 movie called "Judgement."
To be able to host such events, the couple had to get an okay from the city to operate as such. The building at 1075 Mann Road is on a 24-foot street in a residential area within the Mission Oaks neighborhood.
Despite two meetings with neighbors in which no serious objections were raised, the Board of Adjustment meeting brought in a full house of people — both for and against tours. On top of that, Bartow City Planner Bob Weigers said he had received 52 emails beforehand concerning the matter.
"I would love to tour it and so would my wife," Earl Jones, a resident of nearby George Street, said. "But I don't want the noise. Property values will go down."
Other residents also spoke.
"I have no problem with the tours under guidelines," Kathy Hatch said. "(But) not an event aspect and turning it into an event venue with noise and traffic."
Hatch added that her grandchildren walk and play in the area and the traffic could make it more dangerous for youth.
The protests took the couple by surprise as both have said they had not heard previously that people were against their effort.
Davis and Kreis had twice previously appeared before city committees, as well as the city commission on two other occasions.
"This is not going to have an impact on them," Kreis said before the hearing. "We don't want to make their lives bad. This is my house where I live."
But Weeks said the application is full of flaws. Weeks said the application is not complete and that there are questions about the parking and noise.
"It seeks an introduction of non-resident (activity) into a residential neighborhood," Weeks said. "It will have a negative impact on this quiet, residential neighborhood."
Weeks pointed to what he considered to be at least a half dozen items that were wrong with the application, including his description of the application as a commercial project in a residential neighborhood.
Davis replied to some of the charges, saying at a recent party he held at his house he fit 20 parked cars in his yard and none had a problem getting out. Davis also mentioned that tours could only be booked online and would be by appointment, making the likelihood of heavy traffic less.
Ultimately, Davis offered to run tours only on Friday, Saturday and Sunday.
He also took issue with the suggestion that property values of neighboring homes would be impacted negatively.
"In terms of the real estate value — what if I abandon the house and the weeds grow again to four or five feet high?" Davis asked, referencing one of the prior occasions when the house had become unkept. "With this, people's property values will go up."
The three-story Wonderhouse has its main living area on the second floor. Some features include a pool in front, resembling a moat, concrete foot-bridges, studded mosaic tiles set in concrete, 16 porches, hallowed walls that allow for water-flowing air conditioning before air conditioning was common in Florida, flower boxes that could be watered from one location and a mirror system that allowed residents to see who was at the front door.
The house was recently featured in a Netflix documentary.
In a final attempt to get some help in being able to cover the reconstruction costs, Davis made a final pitch to the board.
"I understand the slippery slope, but this (home) has historical value to Bartow," Davis said. "If we can't get some help from the community, this (reconstruction) won't happen at all."