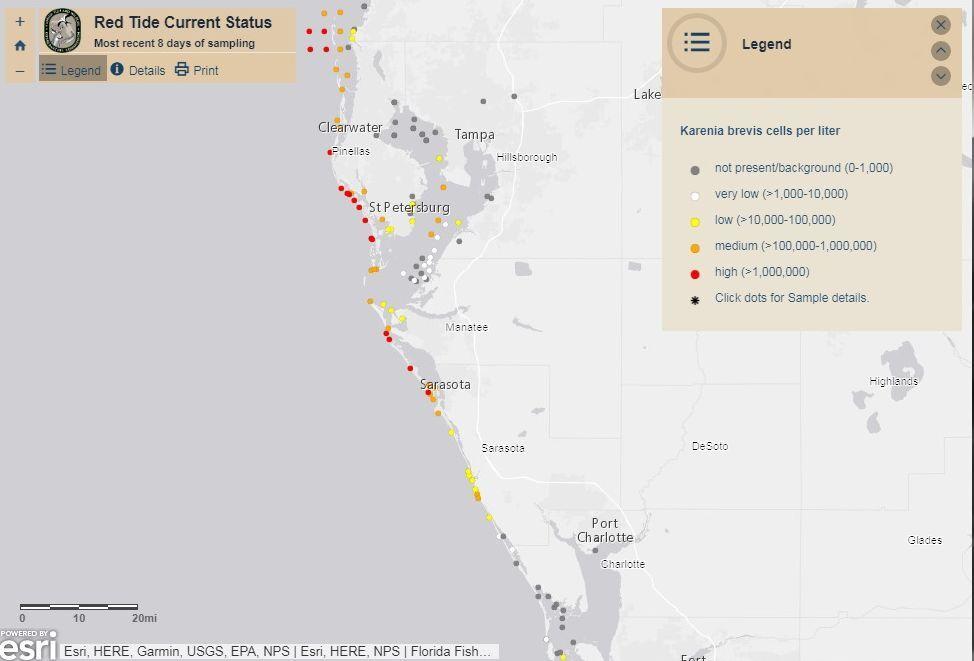 ENGLEWOOD — The best beaches to visit this weekend — with the least chance of running into red tide — are south of the Venice Inlet.
Mote Marine Laboratory on Friday at visitbeaches.org urged caution anywhere from North Jetty Beach on Casey Key in Nokomis to Indian Rocks Beach in Pinellas County.
Not only did beachgoers complain about scratchy throats, an obvious sign of airborne toxins, people also saw dead fish floating in the water or washed up onto beaches.
Higher concentrations or red tide, more than 100,000 cells per liter of water, can kill fish and other marine life.
Last week Florida Department of Health officials in Sarasota County issued cautionary warnings in Gulf waters. Sarasota County is now posting links to its Red Tide Dashboard on its website, www.scgov.net, and encourages residents to sign up for an online red tide newsletter.
The website habforecast.gcoos.org posted a cautionary warning for those people, especially those with respiratory or other chronic ailments, who intend to visit Venice Beach today. However, the warnings are even more insistent for anyone who decides to go to Longboat Key or any other beach in Manatee or Pinellas County.
The Florida Fish and Wildlife Conservation Commission posts on myfwc.com a map showing results of water samples collected in the last eight days and how much, if any, red tide cells turned up.
Most of the water samples taken in Venice and Englewood turned up more natural background counts.
On July 19, samples taken from Blind Pass Beach on Manasota Key in Englewood turned up very low counts. Another from Manasota Beach was a bit higher.
North of Manasota Key, water samples taken July 19 from Caspersen Beach and other beaches in Venice registered medium concentrations.
Further north near Sarasota, the counts were higher.
Tampa Bay may be seeing some relief. Last week, the majority of water samples were thick with red tide, but the cell count has been dropping this week.
Not so lucky for the Gulf shorelines of Pinellas and Pasco counties, where high counts and fish kills were reported.