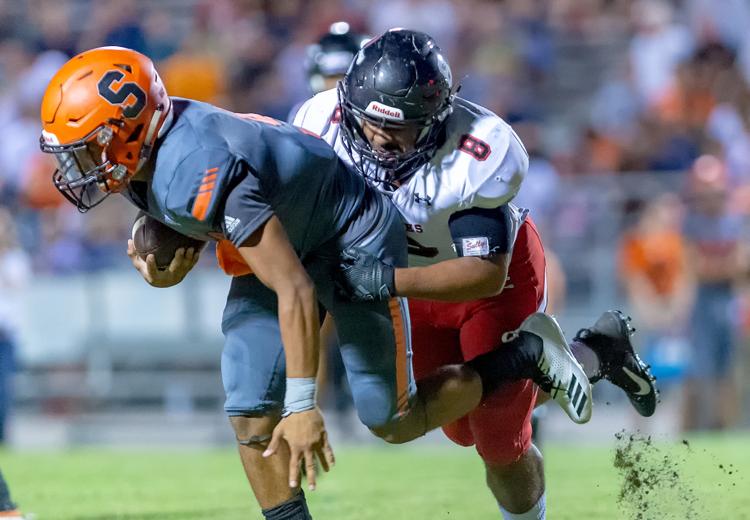 There's plenty to do on a road trip — talk with teammates, get into a musical groove or get some rest.
With no local team winning their district, all four area playoff teams will play on the road in the opening round tonight. Charlotte has the longest trek with a 126-mile hike to Fort Pierce-Westwood. Port Charlotte and Lemon Bay each travel to Tampa for matchups with Hillsborough and Tampa Catholic respectively.
Venice gets the shortest drive as the Indians travel to Lehigh.
"Most of us will be sleeping on the bus or having a good time ," Port Charlotte linebacker Devin Hunter said. "We'll be locked in. We treat every game like it's the same, especially those on the road."
Most teams would certainly prefer to play within the comfort of their home turf, but the area teams have proven they can have success on the road.
With the exception of Lemon Bay, which had four road losses, the area teams were 14-1 on the road this season. The lone loss was when Charlotte fell to Braden River. Venice and Port Charlotte both went undefeated in away games.
They've been able to quell crowd noise and shake the intimidation of opposing stadiums.
"It's always exciting, not everyone gets to keep playing this time of year," Charlotte coach Binky Waldrop said. "Everybody would love to play at home, but we didn't win our district so we have to do it on the road."
As much as teams say, "It's just another game," some teams take measures in practice to simulate a tough environment.
Expecting a challenging setting in Tampa, Port Charlotte has tried its best to distract the team during practice this week in an effort to minimize its effect.
Previous games also help in this scenario. The rocking, sold out crowd for the Pirate-Tarpon rivalry game earlier this year is arguably bigger than what they should expect tonight.
"It's pretty typical," Port Charlotte defensive coordinator Jarret Debus said. "We've gotten pretty used to going into hostile environments this year. We always try to play music, we always try and create a distraction to prepare them for something like that. That Charlotte game was huge to have. It really helps the kids personally to say, 'I'm prepared for this moment.'"
The Indians, who played three games against nationally ranked teams, one of which came on the road, are no strangers to noisy stadiums and have found ways to put it out of their heads.
"I'm alright with it," senior linebacker Zach Younts said. "We may be 5-4, but we're undefeated on the road this season, so it might be an advantage for us."
Here's a look at each of the matchups:
No. 5 Port Charlotte (9-1) at No. 4 Hillsborough (8-2)
The Pirates draw a team similar to themselves in Hillsborough, a team that likes to run the ball and control the clock.
The matchup features two running back looking to eclipse 1,000 yards in Port Charlotte's Ja'Nyrein Washington (887) and Hillsborough's Jordaan Bailey (914).
Hillsborough has overaged 33 points per game offensively, while only giving up 10 on average.
But Port Charlotte's rush defense has been fairly solid so far this season. They've been a bend-but-don't-break unit so far that has been able to make stops in the red zone, but the coaching staff is looking for a complete game against the Terriers.
"We haven't put together a complete game yet and that's the goal this week," Debus said. "You're living on borrowed time. If you don't prepare properly, you won't have a meeting next Monday. Your season's over. I'm really excited to see the product the kids put on the field (tonight)."
Players to watch: Port Charlotte — QB Logan Rogers, LB Devin Hunter, RB Ja'Nyrein Washington. Hillsborough — QB Caleb Pierce, RB Jordaan Bailey, LB Joseph Sipp Jr.
Potential Round 2 matchup: At Palmetto or home vs. Braden River
Predictions: Jacob Hoag, Port Charlotte 21-14; Vinnie Portell, Hillsborough 28-21; Scott Zucker, Port Charlotte 21-17.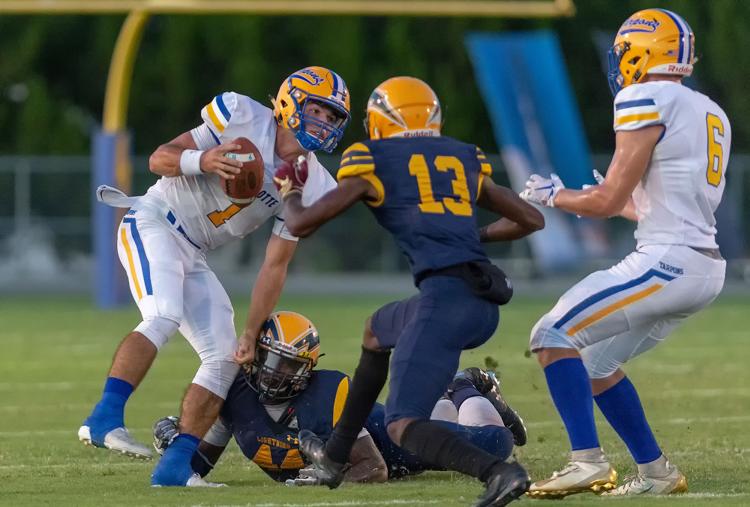 No. 6 Charlotte (7-3) at No. 4 Fort Pierce-Westwood (7-2)
The Tarpons drew the long straw as far as distance goes. They will make the 2.5 hour drive to Westwood tonight in hopes of reaching the second round for the second straight season.
The Tarpons enter the game with two decisive wins against Southeast and Island Coast to end the regular season and are feeling confident as the postseason arrives.
They will lean on the dual-threat ability of quarterback John Busha and the stingy nature of a Tarpon defense that capped the season with a shutout last week.
Westwood averages 27 points per game, but is giving up 17 points. The Tarpons have averaged similar numbers.
"It presents an opportunity for this team to do something special," Waldrop said. "(Westwood) is very athletic, has a quarterback that throws the ball very well and a big offensive line. What you would expect to see out of a playoff team. Not a Palmetto, but very good."
Players to watch: Charlotte — QB John Busha, ATH Jeremiah Harvey, LB Josh Pitts-Torres. Westwood — QB Jake Montgomery, RB Jenard Jones, DB Kemari Wilson.
Potential Round 2 matchup: At Lake Gibson or home vs. Auburndale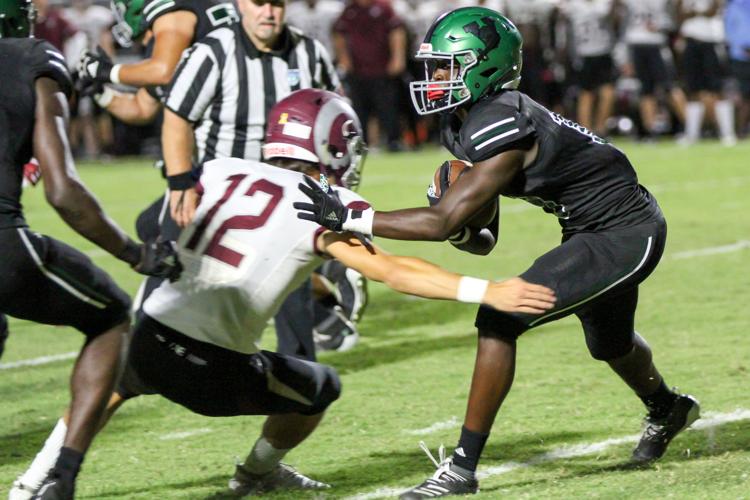 Predictions: Hoag, Charlotte 31-17; Portell, Charlotte 28-24; Zucker, Charlotte 35-28.
No. 5 Venice (5-4) at No. 4 Lehigh (4-5)
After losing to Manatee, 30-13, on Oct. 25, the Indians lost the district, but finished as the top non-district winner in their region thanks to a brutally tough schedule.
Coming off a bye week, Venice (5-4) has the advantage of traveling roughly an hour south to take on team that had a losing record and the lowest RPI in the region in the Lehigh Lightning (4-5) in the regional quarterfinals.
But despite playing on the road, the Indians have the added motivation of overcoming the blowout loss to the Hurricanes.
"It definitely stung," senior linebacker Zach Younts said of losing the district championship. "That's the first time I've lost to Manatee. I think the whole season, our losses have pushed us farther and have brought us together as a team. Last week's practice was great."
Despite Lehigh's unimpressive record, the Lightning feature an athletic team and a tough defense that came alive over the second half of the season. After opening 1-5, Lehigh has allowed just 12 total points across three blowout wins over Riverdale, Gulf Coast and East Lee County.
One of those athletic players the Lightning lean on is running back Richard Young — a freshman who's already receiving interest from Power 5 schools. Young has run for 854 yards on 111 carries (7.7 yards per carry) and six touchdowns as he powered the Lehigh offense to its first district title in 14 years.
Players to watch: Venice — RB Da'Marion Escort, WR Malachi Wideman, CB Charles Brantley. Lehigh — DB Tar'varish Dawson, RB Richard Young, LB Jake Chaney.
Potential Round 2 matchup: At Palm Beach Lakes or home vs. East Lake
Predictions: Hoag, Venice 35-21; Portell, Venice 35-14; Zucker, Venice 28-17.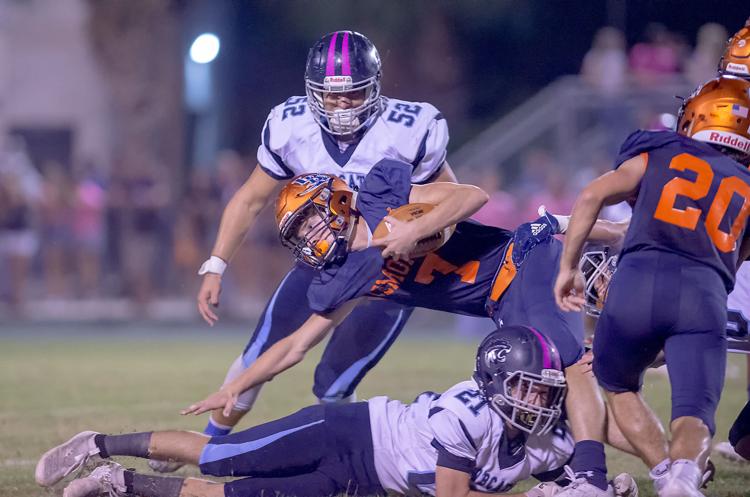 No. 6 Lemon Bay (3-7) at No. 3 Tampa Catholic (5-5)
The Mantas fought their way back from 0-7 to win their final three games and reach the playoffs.
Though they face a daunting Tampa Catholic team that beat North Port by 67 earlier this season, they're not going up there with a "just happy to be here" mentality.
Lemon Bay wants to take advantage of the opportunity and see what happens.
But the Mantas will have their hands full will a dynamic offense that has put up 32 points and 400 yards of offense per game against a tough schedule.
"We certainly have a big task ahead of us," Lemon Bay coach Don Southwell said. "We're not going up there to put the bat on our shoulder and watch pitches come by. We're gonna swing and if we swing long enough and hard enough, maybe we hit it out of the park."
Players to watch: Lemon Bay — QB Austin Andrle, LB Aiden Moore, K John Moore. Tampa Catholic — QB Dylan Mccain, RB Antoine Hill, WR Marcellus Crutchfield.
Potential Round 2 matchup: at American Heritage (First round bye)
Predictions: Hoag, Tampa Catholic 49-7; Portell, Tampa Catholic 35-14; Zucker, Tampa Catholic 41-10.