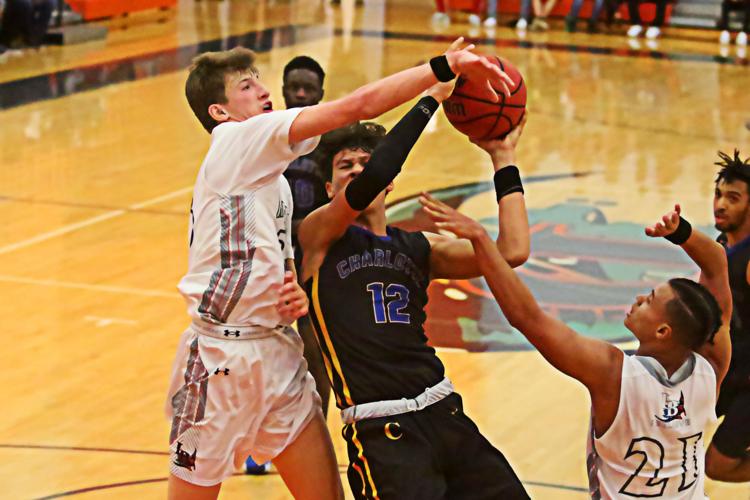 Charlotte's win over Lemon Bay on Monday kicked off another season of thrilling prep basketball.
Many teams made additions to their squads — whether through incoming freshmen or transfers — that will certainly electrify area games.
Guys like Venice's Malachi Wideman and Charlotte freshman John Gamble have already generated plenty of hype and will look to elevate their respective teams this year.
On the girls side, two-time Sun Player of the Year Emani Jefferson of North Port is on a hunt for 2,000 points and, of course, a third straight year of taking home the hardware.
There's that and plenty more to watch this year. Here's a couple players to watch out for in the 2019-20 season:
1. Malachi Wideman, Venice, Forward: When a player's dunks steals the attention of LeBron James, they will most likely do the same for local fans. Wideman, a 6-foot-5 senior committed to Florida State, is known for superior athleticism and insane dunks playing above the rim with ease. Though he hasn't made his way onto the court for the Indians just yet with the football team still in the midst of a deep playoff run, he's done plenty to wow the crowds on Fridays so far. The Indians hope that translates to the hardwood.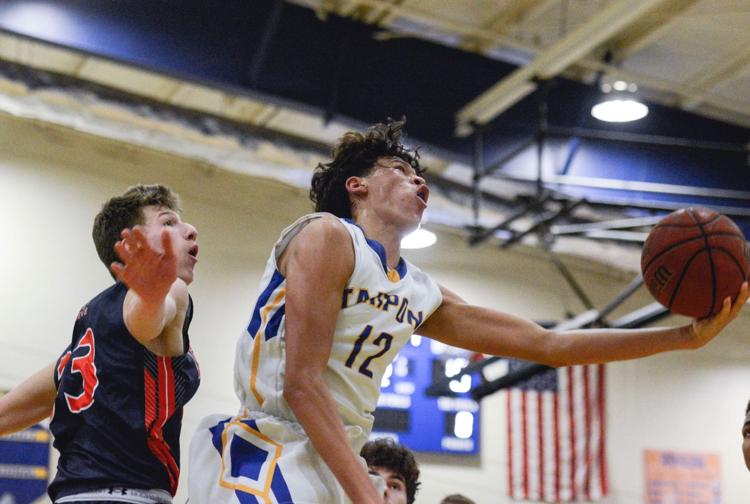 2. Tre Carroll, Charlotte, Wing: Carroll excelled alongside Sun Player of the Year Ahmad Johnson last year, setting career highs in points (14.3) and rebounds (9.1). But this year, he won't get the benefit of getting a team's second best defender with Johnson now graduated. The 6-foot-8 junior turned a lot of heads over the summer, picking up offers from FGCU, USF, FAU and other Division I programs. He has the ball handling to run the offense, a smooth jumper and plenty of hops. Though the Tarpons have plenty of other talent, some on this list, the offense should go through Carroll this year.
3. Caleb Geisendorfer, Lemon Bay, Center: At 6-foot-8, few teams will be able to match up with Geisendorfer, who looks to build on a strong junior year. Lemon Bay's big man will be counted on more this year with the departure of much of the starting five, but the projected uptick in outside shooting should open up the paint for him. Like many of today's big men, Geisendorfer has the ability to step out and shoot if needed as well. Playing a tough AAU schedule over the summer, he seems ready for a breakout year for the Mantas.
4. John Gamble, Charlotte, Wing: Charlotte coach Tom Massolio said Gamble is one of the best young players he's coached — he's been with the school for over two decades. Coming in with that much hype can breed plenty of pressure, but much like Carroll did last year, Gamble will benefit from a talented supporting cast. He's 6-foot-4 as a freshman with a similar skill set to Carroll though maybe a bit quicker on the break. The two have played together in AAU and already have a strong rapport, which should put other teams on alert.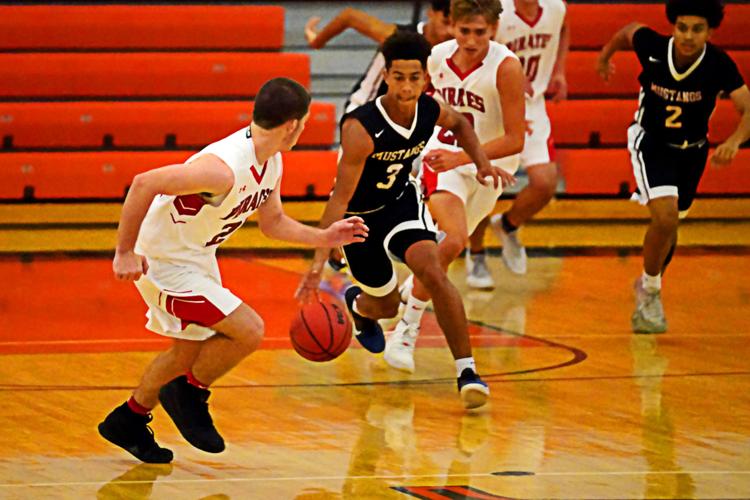 5. Ethan Bray, Community Christian, Guard: Bray is one of the better area defenders for his size. With the departure of all-area player Sam Battle, Bray enters as the leader of a team looking to repeat a historic district-runner-up season. Bray is called upon to run the offense, has a good outside shot and good on-ball defense. He will be a big reason why Community Christian will have success again this year.
6. Logan Rogers, Port Charlotte, Guard: Rogers took a giant leap on the football field as a junior and Port Charlotte coach Kip Rhoten is hoping he gets the same uptick in production. Rogers has primarily been an outside shooter coming off the bench with five seniors starting last year. But this year he will be relied upon heavily to help run the offense and of course pick things up on defense. He's not big, but he has tons of energy and doesn't mind diving into a pile for a loose ball.
7. Keimar Richardson, DeSoto County, Center: Coming off a double-digit sack season with the football team, Richardson is a size mismatch for most teams. He's 6-foot-4 and a solid 205 pounds. DeSoto coach Darrell Nicklow is looking for a more aggressive mindset from the big man this year with the loss of Nate Maybell. If Richardson throws his weight around like he did on the defensive line, he's in line for a big year.
8. Jaylen Brown, North Port, Forward: The Bobcats bring back just one starter from last season in Nick Passamonte, leaving the door open for plenty of new faces to step in. Though it's early, Brown looks to be the guy that might see the most improvement from last year. In preseason practices, Brown consistently leads and pushes the tempo, according to coach Ryan Power.
9. Alex Perry, Port Charlotte, Forward: Older brother Tyler Perry was the leading scorer for the 26-2 Pirates last year. He already sees his not-so-little brother Alex eclipsing him by the time he's a senior. Pushing 6-foot-5 as only a sophomore, Alex is one of the few Pirate players who can play above the rim and possesses above average athleticism. He'll need some more time to develop, but is poised for a breakout season, taking over where Tyler left off.
10. Tyrik Gainer, Charlotte, Guard: Charlotte will be dominated by its bigs this season, but Gainer steps into the void left by Makai Reaves and is a proven scorer. He can facilitate the offense and step in to lead the attack if Carroll is out of the game for a stretch. He was the fourth or fifth option last year, but should make a leap in his senior year after averaging 5.8 points and 2.3 assists last year.
Girls players to watch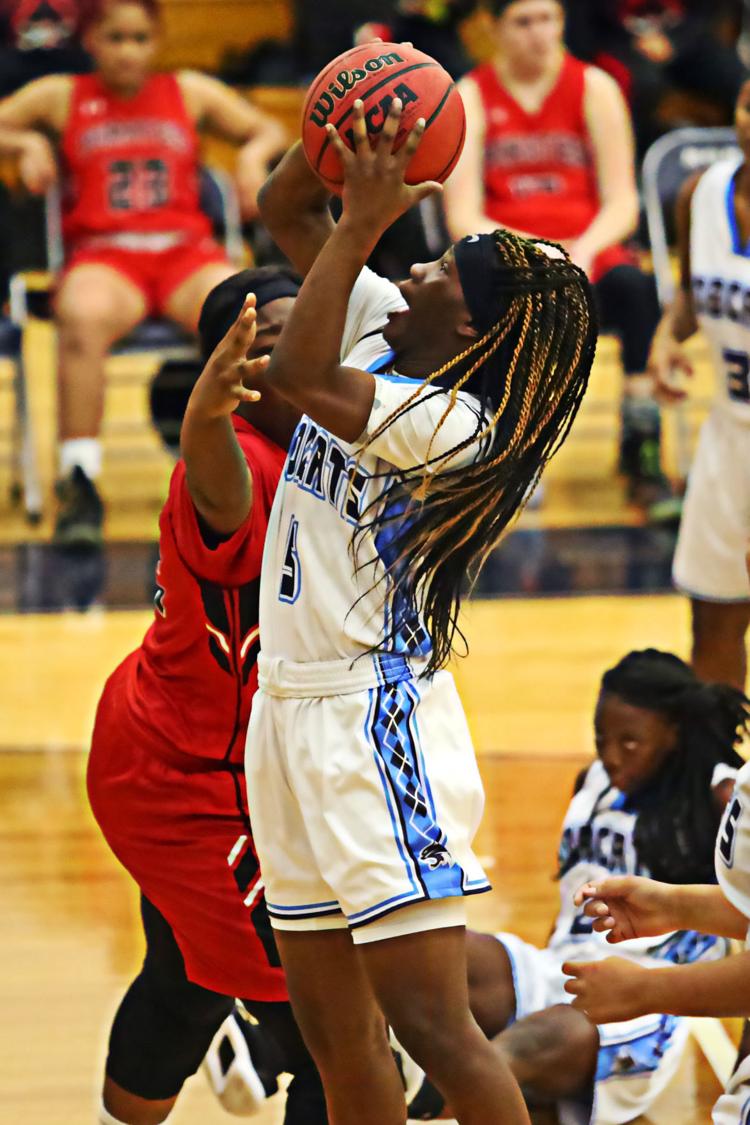 1. Emani Jefferson, North Port, Guard: Jefferson was unguardable at times last season. Midway through the season she broke the school's single-game scoring record. Within two weeks, she then broke her own mark. She averaged 28.7 points per game and 13.1 rebounds while standing 5-foot-5. This year, she loses her counterpart Katelynn Hall, but gained transfer Sade Romain, who was one of Port Charlotte's top players last year. All signs are pointing to another elite scoring year for Jefferson.
2. Bella Desjardins, Charlotte, Forward: The Lady Tarpons reached the Elite 8 for the first time in school history last year and are poised for another run. As just a sophomore, Desjardins was second on the team in scoring and help spark an offense that averaged 53 points per game.
3. Katelyn Ziarnicki, Lemon Bay, Guard: She's not a freshman any more and will no longer catch teams by surprise. Ziarnicki broke out last year in a bunch of sports, making states and cross country and nearly led the Lady Mantas in scoring with 9.5 points per game. She also added over three rebounds a game. With just four returners from last year, she will be counted on much more as a sophomore.
4. Ary Hicks, Guard, Charlotte: Hicks was able to come in and contribute as just a freshman last year, averaging 8.5 points and nearly six assists per game. This year she steps in as the second option behind Desjardins as Charlotte tries to get back to the Elite 8.
5. Katie Klein, Imagine, Guard: Klein surpassed the 1,000-point mark as a junior last season and continues to be a strong scorer. Klein has been in the Imagine system since eighth grade and will continue to lead the Lady Shark offense.