The North Port boys 4x800 relay team had a clear-cut goal heading into last year's state meet. They wanted to break the school record of 8:06.
However, a late lineup change due to a migraine caused the unit to miss the mark, finishing 23rd with a time of 8:15.63.
With a new year kicking off on Thursday, all four members of the relay team — Alvaro Amaya, Joseph Smith, Nicard Labossiere, Rueben Rodriguez and alternate Teage Elsey — and return and are looking far beyond the school record.
"Those boys have set their goals," North Port coach Phu Nguyen said. "They want to be state champions, which is very lofty, but they are capable of doing it.
"Losing last year may have been the best thing for them. It crushed us, it sucked, but that poor performance did nothing but motivate them."
It's all about timing with relay teams, not only during the event, but when building a team as well.
North Port got lucky in that regard. Entering their second year as a unit, getting four of the area's fastest distance runners together at the same time is purely chance, but it's worked out well for the Bobcats who get another year intact.
"We're all on the same page," Labossiere said. "A lot of groups aren't mentally there as a team and I think we have that. We're at the right place at the right time. A lot of teams will have that one guy, but he doesn't have talent around him. Since we have a group of talented guys all at one time, it gives us the chance to do something special."
The 4x800 expects to break that school record early on in the year. Knowing what to expect this year with a year of state experience under their belts, they're expecting a breakout year.
"We know what it takes to get there, it's just about performing when we do get there," Amaya said. "We know the feeling of defeat and we use that to fuel us as the season moves on."
The 4x800 relay might be the marquee event this season, but North Port features one of the deepest rosters in the area.
For the girls, state qualifier Daham-shel Jean returns after reaching the podium in the long jump at states last year. Kylah Buckle also returns after a breakout freshman season, reaching states in the 400-meter dash.
Other returners include Wendy Renoit, who has been out with a neck injury he suffered during football two seasons ago and Teagan Sabo, who reached states in the 200 meters last year. Basketball star Emani Jefferson also plans to run this year to defend her school record in the 100 meters as well as high and long jump.
Here's a look at the other area high school track teams:
Charlotte
Key losses: Alexa Roughton, Kaitlyn Chavarria, Natalie Jen
The Tarpons had one of the deeper girls squads last year and return a good amount of their state qualifiers — most notably, reigning Sun Runner of the Year Eunice Noel.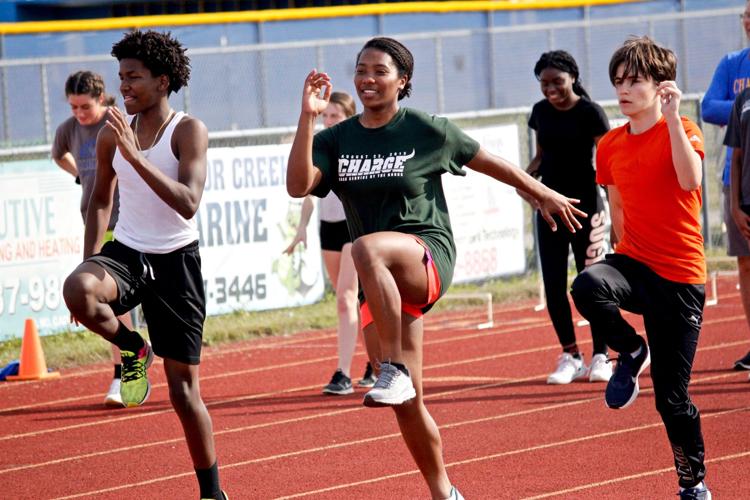 Noel qualified in four events last year — 100 and 300 hurdles, 4x100 relay and long jump — and is aiming to get back on the podium.
The hurdles were her best event, finishing sixth in the 100 hurdles and 16th in the 300. She picked up the long jump late in the season out of necessity, but still managed to get to states.
"I'm excited and ready to give it all I got," Noel said. "I was drained last year, but if the coaches ask me (to do four events) I'll probably say yes because it's my last year."
Noel was also a member of the 4x100 relay team that finished sixth. That team returns all but one member with Kaitlyn Chavarria graduating. Noel, Annabelle Anderson-Prater and Kariene DeJean all return.
The Tarpons also return all but one member of the state-qualifying 4x800 relay, which features Aleecia Collins, Hannah Piacitelli and Mackenzie Flowers.
On the boys side, pole vaulter Jacob Danielle returns after reaching regionals last year and Biston Lawes looks to breakout in the sprints and hurdles.
"It comes in waves," co-track coach Cory Menzer said. "You'll have great underclassmen that you just have to build and work up. This year we're definitely senior dominant so hopefully the underclassmen can learn from there and next year we just have to keep the ball rolling."
Port Charlotte
Key losses: John Perez-Dunn, Brandon Leacock, Isabella Coogan
The Pirates' biggest losses come in the distance events with Sun Runner of the Year John Perez-Dunn and Cross Country Runner of the Year Isabella Coogan graduating after reaching states last year.
They have also run out of members of the Leacock family with Brandon graduating after qualifying for states in the discuss.
But that's not to say Port Charlotte isn't reloading.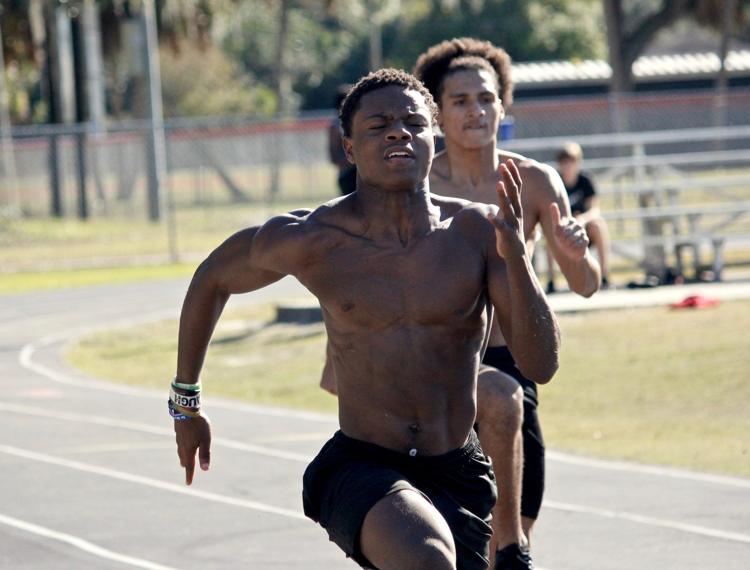 Solomon Luther just missed a chance at states last year and is returning motivated in the 100 and 200-meters. Joe Bishop, a Cross Country Runner of the Year finalist this year, looks to continue his breakout year with hopes of duplicating Perez-Dunn's success.
Other early standouts include Chandler and Kaughner Mault, Celine Fleurilus and Haley Welgan in the distance events.
"The majority of the people that were here last year came back," coach Quintel Perkins said. "Joe Bishop and Solomon are the big two that I think have the best chance of qualifying for states."
Venice
Key losses: Gabby La Rock, Marlem Lewis, Michael Trapani, Carson Skillman, Aja Jones
The Indians sent the most athletes to the state meet last year, but has lost most of those at the top.
Gabby La Rock was a versatile weapon for Venice on her own and with the 4x400 relay team that just missed the podium last year. Michael Trapani placed in the triple jump and Marlem Lewis, Carson Skillman and Aja Jones also reached states, but have since graduated.
One of the bigger bright spots was freshman Juliana Courville, who reached states as a freshman in the 800 meters and the region champion 4x400 relay. She returns with eyes again set on reaching and placing at states.
The Indians could get a big boost if multi-sport athlete Malachi Wideman decides to come out as well. He is currently a member of the basketball team that as of Wednesday was still in playoff contention. He would be a major addition in the jump events.
Lemon Bay
Key losses: Sarah Cote, Liam Johnson, Elijah Houser
The big three of Sarah Cote, Liam Johnson and Elijah Houser have moved on after strong senior seasons. Cote was the highest area placers last season with a third-place finish in the high jump. Johnson and Houser didn't reach the podium, but competed well in the field events.
Sophomore Katelyn Ziarnicki returns after another successful cross country season and looks to turn heads in the distance events. Depending on how long soccer season continues, Lauren Ragazzone could return after reaching regionals last year in the long and triple jump.
On the boys side, Thomas Blem excelled in the 1600 last year and Craig Conlon joined him at regionals in the 110-meter hurdles. The 4x800 boys relay team also reached regionals.
DeSoto County
Key losses: Nate Maybell, Aleaha Richardson
The Bulldogs lose both their top girl and boy athletes from last season. Nate Maybell qualified for states in the high jump and Aleaha Richardson qualified in the sprints.
DeSoto County will look to replenish its ranks with a group of underclassmen, who hope to duplicate the success of Richardson and Maybell.