The second half of senior year is traditionally one of many memories for high-schoolers.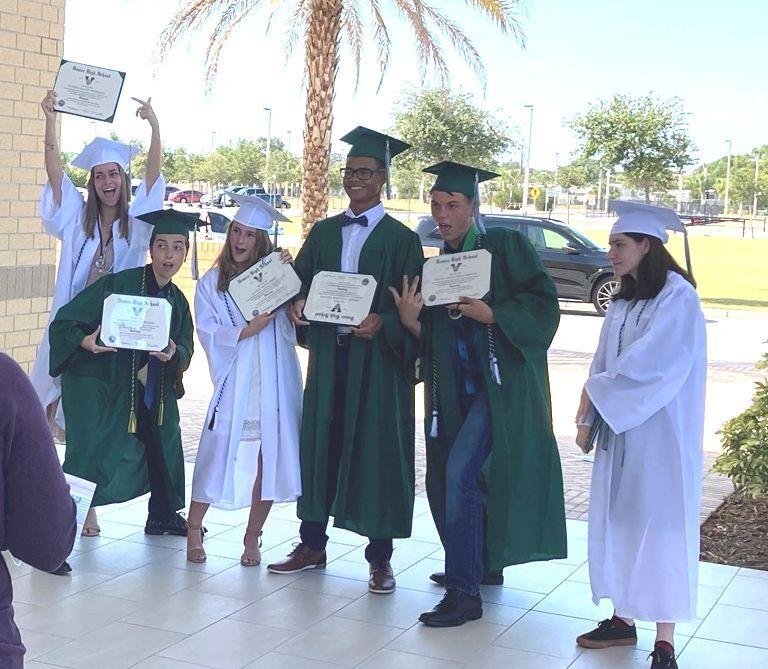 For the Class of 2020, many of them were slowly — and in some cases, repeatedly — canceled, then rescheduled, then canceled again.
On Thursday, Venice High School held a Caps and Gowns ceremony for its senior class.
Overall, most seemed to appreciate the event.
"It was all very nice and very safe. It was the best that we could to get to a normal graduation during this time," Class of 2020 President Adrienne Martin said. "It honestly turned out better than we thought it would … It's finally done."
Martin said there were many challenges for everyone at the school.
"I appreciated their effort into trying to get us something as normal as possible," she said of Venice High educators. "The teachers have never experienced this either. And our principal also took this into his hands … Everybody was appreciative of the opportunity given."
Class of 2020 adviser and school counselor Nicole Wolfe said 99% of those who provided feedback were positive in what was said.
"They were pleasantly surprised with how it felt," Wolfe said. "We had each of them having their names called and 'Pomp and Circumstance' playing."
It was an all-day slow procession of graduates arriving to the Venice Performing Arts Center to have their time to walk across the stage and receive a diploma cover from Principal Eric Jackson, then pose for a few photographs with family.
Only four students were allowed in the center at a time, with about a dozen waiting in small groups outside throughout the day. Once inside, the rule specified they needed to wear a mask except for the photos when they could remove it for that moment.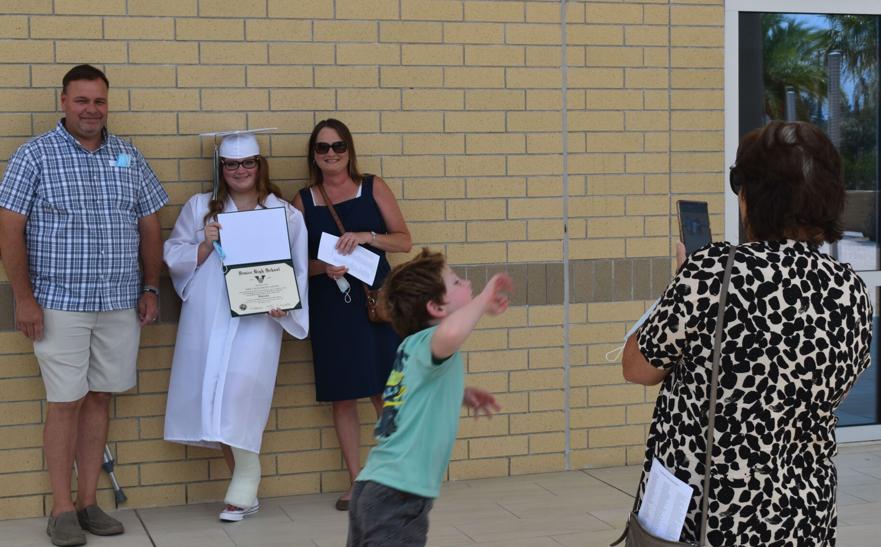 Along with a picture holding the diploma with the graduate and Jackson by the official photographer, there was a moment for the family to take pictures, then off to the left for an official family portrait.
It was all strategically timed to maintain social distancing. The auditorium seats were empty except for a few photographers. There were no speeches. Applause for each graduate came from a handful of family members and educators onstage.
After exiting the auditorium, families were able to pick up school photos and year books in the foyer, before heading outside for family photographs and a chance to re-connect with classmates and their families.
Parent Kim Stephenson stood outside the Venice Performing Arts Center cheering on twin daughters Victoria and Veronica as they stood with other friends for photographs commemorating the graduation ceremony.
"I'm glad they did the ceremony," she said. "It does create memories for us and for their friends."
Parent Barry Zahnd and family stood nearby celebrating Lucy Zahnd's graduation.
"It was great," Barry Zahnd said. "It gave us some finality. … Now, I fell like Lucy graduated."
Graduate Julia Ferrari said it was "good to be back at school," and earn her diploma.
Her father, John Ferrari, called the ceremony "very well done."
"I was very impressed. The students were very excited this morning. They did a nice job," he said.
Graduate Aaron Prosser said he was happy to get his photos with friends and family. There was no limit to the people who could be with a graduate as long as they had face coverings. Some had large groups cheering them on as they walked the stage.
Prosser admitted the strangeness of the spring and summer.
"It's certainly a year I won't forget in my life," he said.
His father, Whitney Prosser, said many parents talk about "a lack of closure" this semester and Thursday's ceremony gave a bit of "accomplishment closure."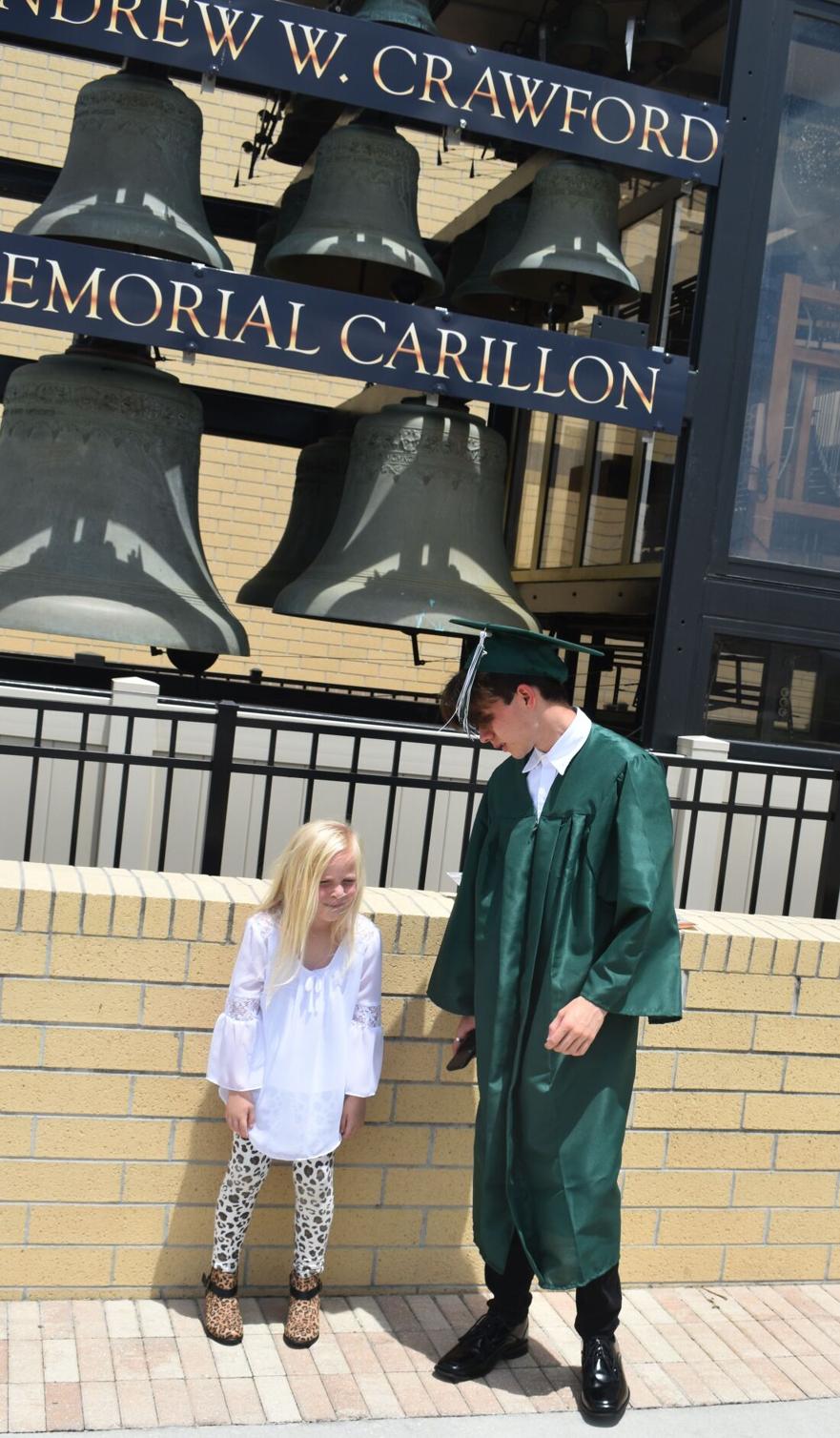 Graduate Emily Carter said she was more upset about missing out on Grad Bash and prom.
"But we have this," she said.
Her mother, Lara Carter, said Emily was "more affected by missing," those other events.
"We're just thankful that they did this for them," Lara Carter said. "They needed some kind of closure."
Adrienne Martin said it was also a good chance to see friends in person again.
"We talked about how much we missed each other and all this crazy time," she said. "And it was nice to see that we did it all together … It sets us apart from the rest and this is going to put us in a ready-position for real challenges that others haven't gone through."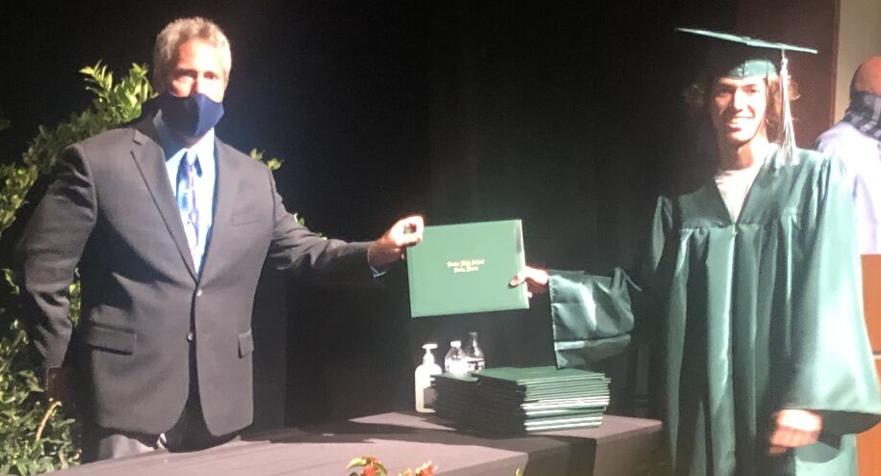 And, had there been a graduation ceremony, that was going to be a part of her class president speech. The Class of 2020 went through a rare experience — a pandemic that rocked their senior year.
"We are different and we are supposed to make a difference," she said.
Wolfe said she was pleased with the event.
"Considering the circumstances, it went well," Wolfe said. "I was obviously very anxious to see how it was received by the families and the students. I would say 99% of people who came through were appreciative and happy with how things went."
One of the earlier graduation concepts was a night event on July 16 at CoolToday Park, outside. As a lightning storm and torrential rain came down about 5 p.m., Wolfe said an inside event worked out well.
As the Sarasota County Schools looks to start the 2020-21 school year, she is wondering what might happen with the Class of 2021 graduation.
"It'll be interesting to see how the next few months play out and what it plays out for next year."