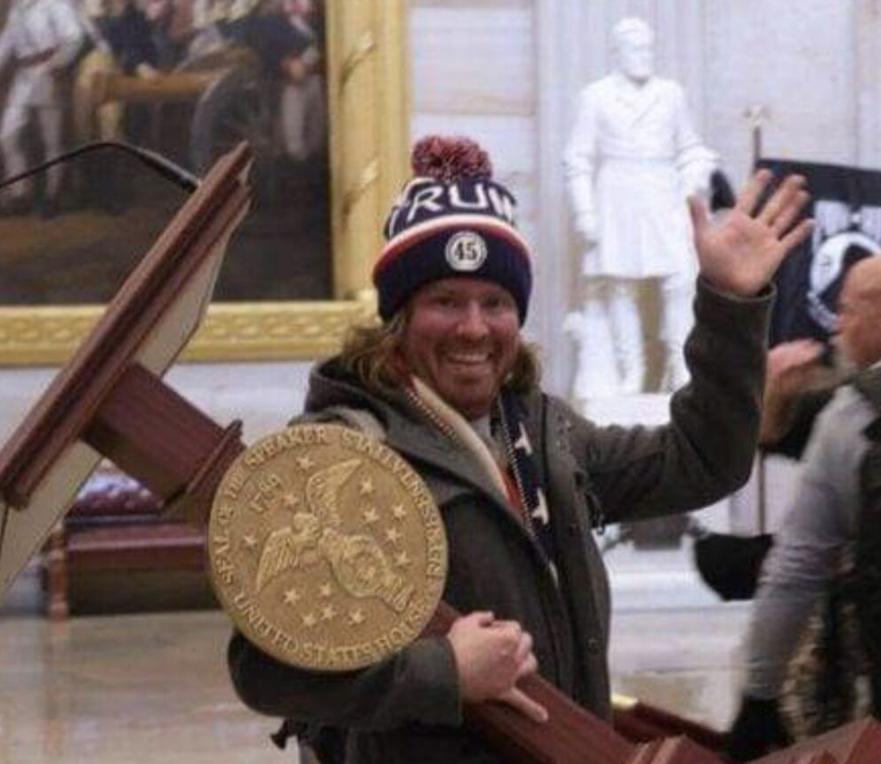 WASHINGTON, D.C. — Some area residents took part in peaceful protests in the nation's capital Wednesday while others from the region launched into a riot that ransacked portions of the nation's Capitol.
At least five people died as a result of the melee that began after President Donald Trump encouraged his supporters to show their strength in a march to the Capitol where Congress was certifying the win of President-elect Joe Biden. Trump was angered when Vice President Mike Pence sent out a notice that he would not "accept or reject electoral votes unilaterally."
At the "Save America" rally nearby while Congress was getting underway in a joint session, former New York Mayor Rudy Guiliani called for "trial by combat" while Donald Trump Jr. told the crowd: "This is Donald Trump's Republican Party."
"It should be a message to all the Republicans who have not been willing to actually fight — the people who did nothing to stop the steal," Trump Jr. told the crowd.
President Trump also told the crowd "We will never concede."
"We will stop the steal. We're going to walk down Pennsylvania Avenue, and we're going to the Capitol," Trump said. "We're going to try and give our Republicans, the weak ones…the kind of pride and boldness that they need to take back our country."
A short time later, while Congress was debating electoral votes from Arizona, the entire building was placed on lockdown when rioters breached the doors in an apparent attempt to stop the process.
One woman, a California resident who was an avid Trump supporter, was shot and killed as she started to enter a broken interior window. A Capitol police officer died later from injuries while three others died because of health issues brought on by the riot inside.
Residents who attended the "Save America" rally but didn't take part in the breaking of Congress said they were aghast by the damage and violence.
Sarasota County Commissioner Christian Ziegler said there were two very different scenes happening.
"We were all like-minded people who were there," he said. "It was peaceful and there were no issues. What a lot of people don't know is there was another rally happening with a different crowd, people who were more aggressive at the Capitol."
According to the Washingtonian, a D.C. magazine, there were at least four events taking place Wednesday, including The Proud Boys who said they would "be incognito" and "spread across downtown DC in smaller teams." It noted that a QAnon website also inviting its supports to D.C. saw Jan. 6 as a "final stand" on a nearly religious scale to keep Trump in power.
Among the people inside the Capitol captured in video and photography was a smile Parrish man, Adam Johnson, who was seen stealing a lectern normally used by Speaker of the House Nancy Pelosi.
His wife is a former Port Charlotte resident.
He even posted a photo of himself at the Capitol, then shortly after he deleted his account — but not before his posts were screenshot. His wife also deleted her social media account shortly after. Johnson, 36, is registered as non-party affiliated. The last time he voted was in 2016.
Ziegler said people like Adam Johnson are "bad actors."
The commissioner, a longtime vocal Trump supporter and vice chair for the Florida GOP, took pictures at what he called the peaceful protest of about 200,000 Trump supporters and their families near the White House.
Ziegler said he doesn't know Johnson, but says he's one of the people who hijacked a peaceful day.
"I don't recognize Mr. Johnson from any of our Florida rallies," Ziegler said. "A small percentage of people were involved in destruction of the Capitol building. Peaceful protests and rallies are fine. When there's destruction of property by Antifa or Black Lives Matter, we get upset because we are the law and order party. We complain about it all of the time, so it's hypocritical for us not to get upset about people breaking windows, threatening police and walking through the Capitol, some with Trump flags."
U.S. Rep. Greg Steube, an avid Trump supporter, released a statement Thursday condemning the violence and rioting "of any kind, by any group or organization."
Steube represents Florida's District 17, which includes much of Sarasota County, and all of Charlotte and DeSoto counties along with a large part of inland Florida.
"I witnessed our law enforcement officers being injured, gassed from their own tear gas and afraid for their lives as they attempted to hold the line. I and 3 other Members were barricaded in a room surrounded by demonstrators until the hallway was clear for us to get out," he wrote. "The violence and lawlessness we saw today was completely unacceptable, and as a nation, we must do better. As I condemned the violence we saw in our nation's capital from BLM and Antifa, I condemn violence and rioting of any kind, by any group or organization."
Despite his condemnation, Steube did object to the certification of electoral ballots from Arizona — sticking to a mantra there were severe irregularities in voting. More than 50 court cases were heard and thrown out due to lack of evidence. No state governors nor secretaries of state — who would have had standing to object to electors — spoke against certification. A handful of state legislators in Pennsylvania did, essentially objecting to a state law that they themselves passed in 2019.
Other congressmen are facing backlash for keeping the objections alive after the deaths of four people that day and a fifth the next. U.S. Sen. Josh Hawley is being urged to resign and went to social media to complain about a book deal being nixed because of his unsubstantiated complaints about the election and his apparent egging on of rioters at the Capitol on Wednesday.
U.S. Rep. Vern Buchanan (R-Longboat Key) noted in a statement that millions "expressed legitimate concern over voting procedures that were changed by several states."
"But after witnessing the sad spectacle that occurred (Wednesday), I voted to certify the results of the Electoral College because it's time to move past this election. I supported President Trump and publicly backed his legal right to challenge the Nov. 3 results."
Buchanan said Trump was right in saying "some states engaged in bad faith by improperly changing election laws."
That, he said, needs to be addressed in the future.
"What is clear, however, is that we need to begin healing as a nation after today's horrific event and move forward as a beacon for freedom and democracy around the world," he said.
As of Friday morning, 82 people had been arrested in connection to the riots inside the Capitol, including at least five from Florida — although Johnson was not among the names listed, yet.
"It makes me angry when we work hard, knock on doors and rally and the bad actors with their cheap activity steal the show," Ziegler said. "They become the story. They ruin it for everyone."
Ziegler admitted that Joe Biden is the next president.
"We have to be productive," he said. "If we want the next four years, we have to beat them at the ballot box and do it peacefully."