SARASOTA — A Southwest Florida congressman wants to change the official designation of manatees from "threatened" back to "endangered" after hundreds of sea cow deaths this year.
U.S. Rep. Vern Buchanan wrote to the U.S. Fish and Wildlife Service on Monday seeking the upgrade under the Endangered Species Act, his office said in a news release.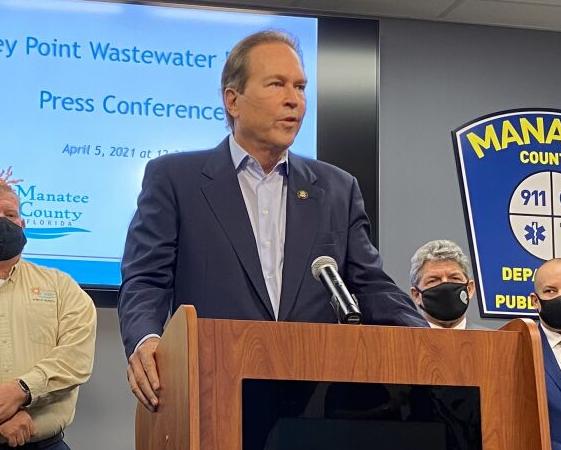 "Manatees are beloved, iconic mammals in Florida, and we should be doing everything in our power to protect them and ensure their continued survival," Buchanan wrote. "Considering the number of manatee deaths so far this year, redesignating the manatee as endangered, which provides for the highest levels of federal protection and conservation efforts, is critical."
The Florida's Fish and Wildlife Conservation Commission stated 761 manatees have died in 2021, so far. There are only about 6,500 Florida manatees in the U.S. Previously, the worst death rate for the manatee was 804 in 2018 — but Buchanan's letter notes 2021 is "on pace to shatter" that record.
"When a species becomes extinct, it is lost forever," Buchanan said. "We cannot afford to let that happen to these iconic residents of Florida and the state's official marine mammal."
In the news release, Buchanan's office noted he objected to the downgrading of the manatee's situation in 2016. It has been listed as endangered going back to 1966.
Threats to manatees include being struck by boats and watercraft, habitat loss and red tide damaging its food and water quality.
"It was very ill-advised for the Fish and Wildlife Service to weaken the Manatee's protections in 2017," Buchanan stated. "Given the alarming surge in manatee deaths this year, upgrading their ESA designation is critical."
Area advocates for manatees were pleased with the move from Buchanan.
"We are in favor of anything that helps manatees," said Remi Gonzalez, director of communications for The Bishop Museum of Science and Nature.
The Bishop runs the Parker Manatee Rehabilitation Habitat in Bradenton.