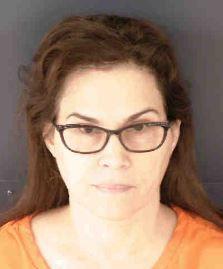 A Sarasota woman was arrested Tuesday on a felony count of exploitation of the elderly, accused of having stolen more than $1.1 million from a Nokomis woman for whom she was a caregiver.
Anna Bullinger, 55, was taken into custody at her home in the 4400 block of Meadow Creek Circle and was released after posting $50,000 bond.
According to a probable cause affidavit, an attorney reported concerns about Bullinger in September, about three months after her 94-year-old client had passed away.
The day after the woman's death Bullinger had deposited a $90,000 check with "gift" in the memo line into her daughter's bank account. The check, dated May 31, 2019, bore the woman's signature, according to the affidavit, but the rest of it was made out in a different handwriting.
While working on the woman's estate, the attorney also learned that a $650,000 trust in her son's name had been dissolved in January, with the money put into Bullinger's daughter's account, also as a "gift." At least some of the documents show handwriting that is "inconsistent" with the woman's, the affidavit states.
Subpoenaed bank records showed that from Jan. 1, 2015, through the woman's death in June, Bullinger cashed 126 checks totaling $353,612.19 and 21 checks made out to "Cash" for more than $176,000.
Sixteen of the checks made out to cash were written just below the $10,000 limit at which they must by law be reported; they were cashed every two weeks.
The affidavit states that all of the endorsements matched Bullinger's writing and several included her driver license number, added by a bank teller.
Collectively, the amount allegedly stolen from the victim totals $1,102,307.
Both Bullinger and her daughter invoked their right to an attorney when asked to speak to investigators.
According to a Sheriff's Office news release, Bullinger has prior arrests for petit theft, grand theft and violation of probation.