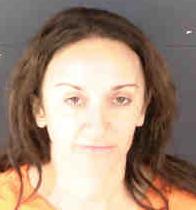 VENICE — A local business owner allegedly falsified a profit and loss statement that was submitted in a CARES Act application, according to authorities.
Dana Lopez-Rodriguez, 38, 4300 block of Via Del Villetti Drive, Venice, was charged with larceny and perjury.
The CARES Act provided financial aid to residents and business owners that were affected by the pandemic.
Lopez-Rodriguez owns Chicano's Mexican Restaurant and submitted a CARES application looking for financial assistance in Sept. 2020, according to a probable cause affidavit.
Lopez-Rodriguez stated her business was forced to close during the pandemic, resulting in revenue loss.
She included 2019 and 2020 profit and loss statements which allegedly did not look alike, stated an affidavit.
The 2020 statement was allegedly made in Microsoft Word, appeared fraudulent and had an accountant's signature. However, the accountant denied the company provided the statement, stated an affidavit.
After the application was reviewed, it was denied by the county with audit notes suggesting a "fictitious" profit and loss statement, according to a probable cause affidavit.
Lopez-Rodriguez was released with a $9,000 bond. Her arraignment is Sept. 24.