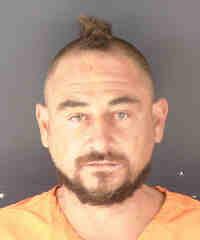 VENICE — A Venice man allegedly yelled obscenities at a victim while holding an ax, according to authorities.
Joseph Bryant, 39, 200 block of Palmetto Road, Venice, was arrested Thursday and charged with aggravated assault.
The victim heard yelling and whistling outside her house and allegedly saw Bryant "acting irate," according to a probable cause affidavit.
He also allegedly had possession of a bicycle belonging to someone at the victim's house.
Before authorities arrived, Bryant fled the scene on the bicycle, according to the affidavit.
Bryant's former girlfriend was with the victim. Bryant allegedly thought his ex-girlfriend took his bicycle and was at the house to recover it, stated the affidavit.
"Scared as hell. I have never seen anything like that," the victim stated in the affidavit.
Bryant has many prior arrests, including aggravated assault, fraud, battery and trespassing.
Bryant is currently in custody with a $10,000 bond. His arraignment is Sept. 24.