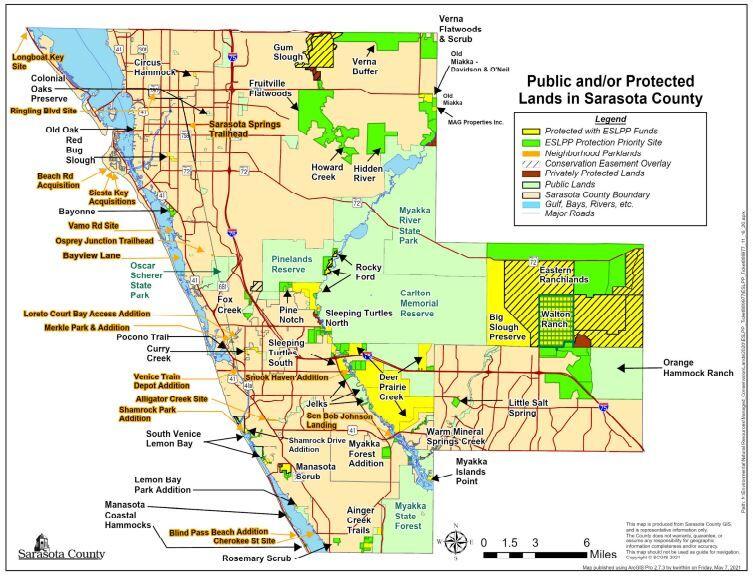 OSPREY — Less than two weeks after acquiring 228 acres in Old Miakka to protect it from development, Conservation Foundation of the Gulf Coast Inc. has sold the Osprey land to Sarasota County.
The Foundation had used its dedicated land fund and $3.9 million in short-term loans to buy the land from MAG Properties Inc. According to a Foundation news release, it's the third deal between the two parties to conserve land.
"We took a risk in purchasing the land using short-term loans without having a conservation buyer lined up and are thrilled that Sarasota County has now voted to purchase the land as an addition to their Old Miakka Preserve," Foundation President Christine P. Johnson said in a news release.
The County Commission voted unanimously on Oct. 26 to buy the land from the Foundation for $4,335,000 from its Environmentally Sensitive Lands Protection Program.
"These efforts are very important to the community, which makes it a priority for our board," Commission Chair Al Maio said in a news release. "We value the partnership we share with the Conservation Foundation and their efforts to preserve these lands for future generations."
Voters approved ESLPP in 1999 and six years later extended it through 2029. It authorizes the collection of up to 0.25 mill of real property tax to acquire, protect and manage environmentally sensitive lands, including neighborhood parkland.
County Commissioner Ron Cutsinger said he had recently visited the Old Miakka area and found the residents to be very enthusiastic about the county's purchase.
The acreage will become part of its Old Miakka Preserve, 251 Myakka Road, Sarasota, more than doubling its size. It already offers opportunities for bird-watching, picnicking and hiking on unpaved trails.
It will also connect the preserve with the Foundation's Tatum Sawgrass Scrub Preserve, a 38-acre tract the Foundation bought in 2019, also from MAG Properties, at a discounted price.
More than 120,000 acres of county land connecting to the Myakka River is in conserved or protected status.
The county's purchase includes a variety of Florida habitats: scrubby flatwoods, mesic hammock, blackwater stream, depression marsh, rangeland and about 30 acres of wetlands, according to the news release.
Resident wildlife includes gopher tortoises, turkey and quail, and potentially other species.
"This project is a great example of what's possible when you have dedicated supporters, a conservation-minded seller and organizational assets in place," Johnson said.
The county's purchase is expected to close by the end of the year.