VENICE — A banyan tree being removed has led to onlooker opinions, alleged vandalism and — eventually — a home for a disabled veteran and his family.
The tree, on a small lot in the 400 block of Harbor Drive South, stretches high into the sky and over the entire property from 80-90 feet in each direction.
Social media and passersby have firmly planted opinions on the work underway, although there are no legal issues with it.
"It's not a protected tree. I don't have any authority to do anything for that tree," said Jim Yelverton, Tree Program administrator and city arborist for Venice. "It's a lot that's smaller than one-half acre. It's an exotic tree, so we don't require a permit for that."
The property on which the tree stood was for sale for about five years. It was purchased by Venice resident Mike Kowalski from Grigore Wren.
While Kowalski appreciates the sentiment, the reality is the situation will be better with the tree gone.
"It is a beautiful tree. I'm not happy it's coming down — but it's necessary," Kowalski said. "And it's going to provide a nice lot for my home."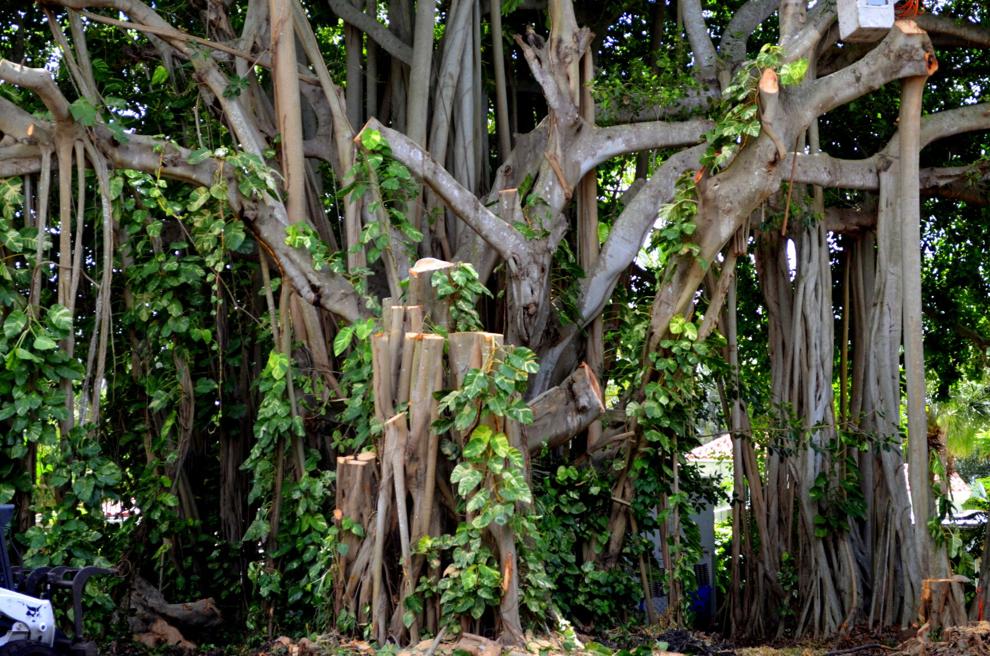 Kowalski said he is a disabled veteran who is building a home that will have accessibility for himself and other family members who also have disabilities. He said he served in the Navy on USS Nimitz, taking part in operations during the Iranian hostage crisis. He is a member of Veterans of Foreign Wars and Disabled American Veterans.
Ultimate Landscape Company out of Nokomis is doing the work. And, allegedly, some of its equipment has been vandalized with hydraulic lines cut overnight.
A police report has not been filed on the allegation, but Kowalski said flip-flops found in the mud at the scene probably fit a suspect in the damage.
"(They're) just trying to make everything difficult," he said.
The owner of the firm did not want to go on the record, only giving his first name.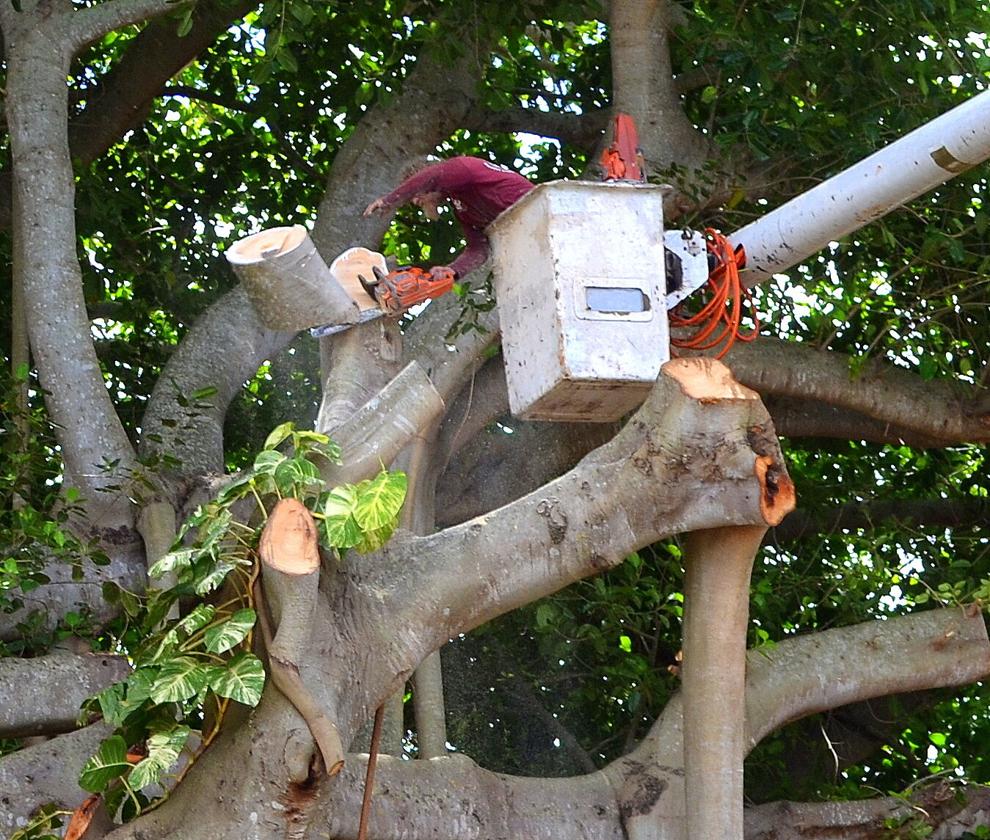 Yelverton said the city has received several calls to his office. The Venice Police Department has also been called about the work.
"Most people are just sad to see it go, which I agree with," Yelverton said. "I am, too."
He noted new state laws limit what local governments can say or do, and iterated the fact it is on private property. The law, signed in 2019, make it so a city can't demand a homeowner replant a new tree for an old one taken down, if the tree was deemed a potential hazard.
Kowalski notes the branches — large, heavy and still growing — were starting to creep toward neighboring properties. And that doesn't even begin to consider deep roots and where they might be heading underground, he said.
The work, which began last week, is expected to take up to two weeks to finish. About one-third of the tree has been cut down thus far. Ultimate Landscape Company is not working on the project this week.
Kowalski would not say how much it cost for him to have the work take place, but said it was "very expensive."
And the tree itself, he believes, was becoming "dangerous."
"One big wind and it's going to come down," he said.
While certainly different in their look, banyans are not native to Florida. They are mainly found in India and Pakistan, brought to the state through cultivation, according to the University of Florida Center for Aquatic and Invasive Plants.
University of Florida Professor Stephen Enloe, a professor of invasive plant and extension specialist, noted that while they are not native, they are not considered invasive nor "a problem species."
But that doesn't mean the trees can't cause trouble.
"Individually, they can get relatively large — and rootwise, they can become overwhelming to some surrounding structures," Enloe said.
He said people sometimes decide to fight for trees like it when they are being cut down.
"With charismatic trees like it, there can be a perception and interest — even when they're on private ground."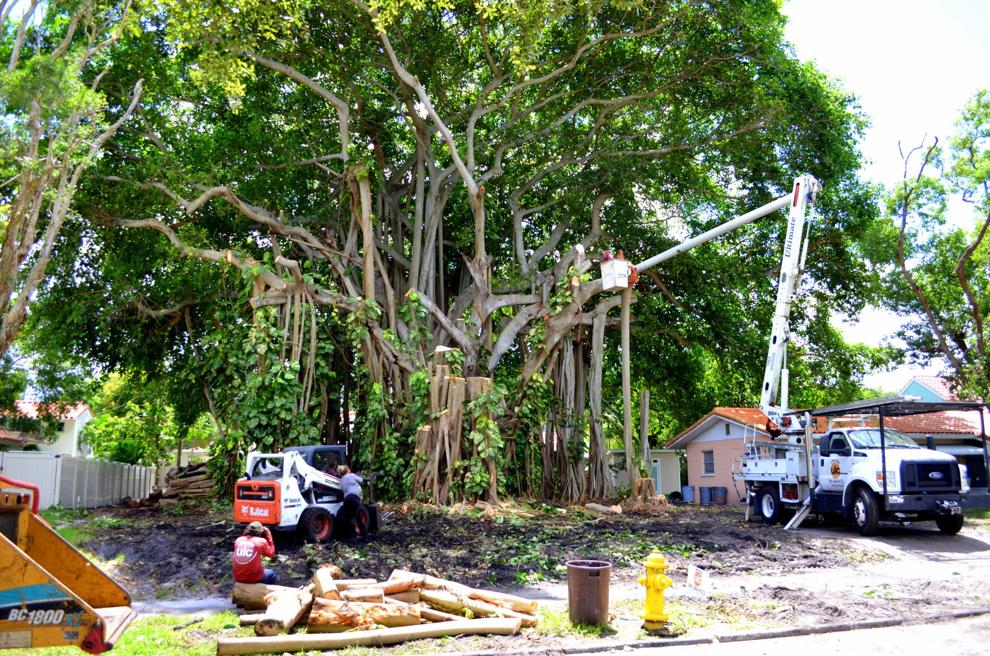 Kowalski notes the property was for sale for five years with little interest in it. Anyone had the ability to buy it. But the property has become overgrown during that time.
"It does hurt me to take it down, but it's going to make room for a home," he said. "The lot's a beautiful lot, and it's going to be my home."