MARSH HARBOUR, ABACO ISLAND, BAHAMAS — Less than a mile from the coast stood the community of The Mudd.
Barely a name — more a moniker — The Mudd was made up primarily of undocumented Haitian refugees, fleeing chaos in their country, seeking peace in another.
Before Hurricane Dorian, Google Maps showed it as hundreds of little homes built nearly wall-to-wall. An estimated 7,000 people lived in small homes in the shadows of cargo shipping containers at the Marsh Harbour Government Port dock across a barely two-laned street.
Nobody knows how many evacuated the community for higher ground.
Nothing much is left aside from broken plates, clothing and the slab bases of a few of the nicer homes.
As Hurricane Dorian stalled near The Mudd in the first days of September, it created a biblical-type storm surge, loosening and then launching dozens of heavy steel storage containers into the community.
The fates of many were divided between those who were pulled out to sea and drowned, and those who were crushed to death in their own homes as the shipping containers barreled through The Mudd.
One survivor of the disaster, Mark Pierre, lost everything but his family.
"The raindrops felt like bullets," he said.
As he and his family walked through the floodwaters after Dorian, he said it was nightmarish.
"Bodies, I saw bodies everywhere as I held my daughter and walked through the streets," he said.
Estimated death tolls vary. It's said rescuers pulled out dozens of bodies in a few days following the devastation of Dorian, but those efforts were quickly called off as rescue turned to recovery. The process of picking up the pieces, large and small, remains underway.
Pierre sent his family to an evacuation center near Nassau. He and about 10 others are sleeping in a church to help distribute donations coming in mainly by prop planes onto the airport where every building sustained heavy damage — if it wasn't outright obliterated.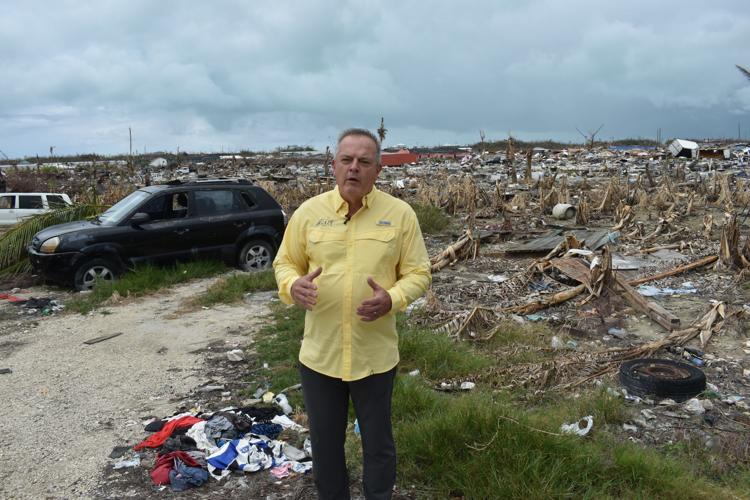 The population of the island was about 17,500 before Hurricane Dorian. Nobody knows how many people remained, died or will never be recovered. Officials with rescue groups give a very rough estimate that about 1,700 are on the island today — but that is a guess.
Dorian struck the area with sustained winds of 185 miles per hour - with gusts up to 225 mph - and stayed in the region for more than 24 hours.
T.J. Heitz, an assistant mobilization director for Mission of Hope, was among the first Americans to arrive in Marsh Harbour a few days after Dorian moved through.
Heitz, a native of Bethany, Missouri, said the island looked "kind of like a ghost town."
"Most everybody had evacuated at that point. The few who were hanging around were hunkered down in homes that were still intact," Heitz said. "Kind of the Wild West. It was barren."
It was a place where there seemed to be little hope.
"The worst part was seeing the amount of destruction. It's kind of an overwhelming sense of 'that-is-that,'" he said.
Mission of Hope, based in Cedar Park, Texas, is working with Agape Flights out of Venice, along with Convoy of Hope from Springfield, Missouri, to do what they can in what's being called "Operation Restoration."
Mission of Hope's ship, North Star, has docked at a harbor near The Mudd. Every day, they go out to offer help to what leadership is left on Abaco.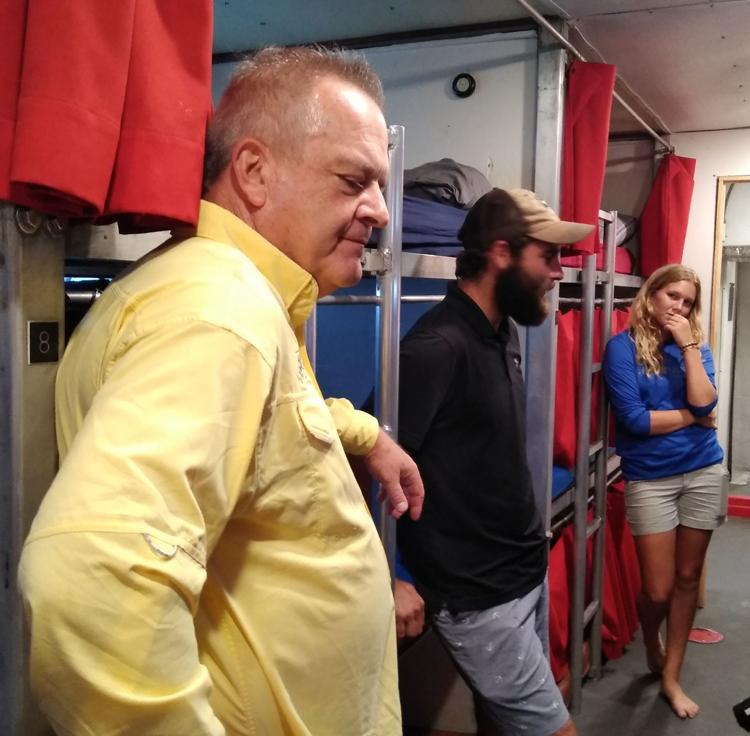 "It's a slow-moving process right now. In the last week, they've started removing the debris," Heitz said. "Things are starting to move — we're starting to think and move toward bringing people back. But I think we're a ways away from that. You look around and there's nothing here for people to come back to."
Mark Pierre has remained behind to help at New Vision Ministries as it distributes donations to those still living in the communities around Marsh Harbour. He stayed behind to, somehow, help.
He apologized for his breath having a hint of alcohol Monday morning. He's trying to help, but he's also trying to cope. People in and around Marsh Harbour, the largest city on Abacos, are desperate for essentials. His job, insofar as he has one, is to organize the donations from Agape and other relief organizations, so his church can distribute them as best as possible.
He wants to do something, anything. He fears being told the work is over.
"I have nowhere to go. That's the main challenge," he said.
He broke down a little bit speaking to the Sun.
"I leave everything to God, but you know, it is a challenge all over, man. It is a challenge. But with good heart I come here and Lord, I try to help as best I can."
Talking to media and Agape officials a short time later, he said he felt lucky to be alive.
"It was tragic but thank God for life. Now that I'm alive I should move on to help my brothers and sisters. Our job here it to help one another, especially with a good heart. … we've got to be strong," he said, breaking down again.
Elisson Belvis also stayed and survived. Like most of the rest, he has no access to power nor fresh water, relying on donations from international agencies, many from religious organizations.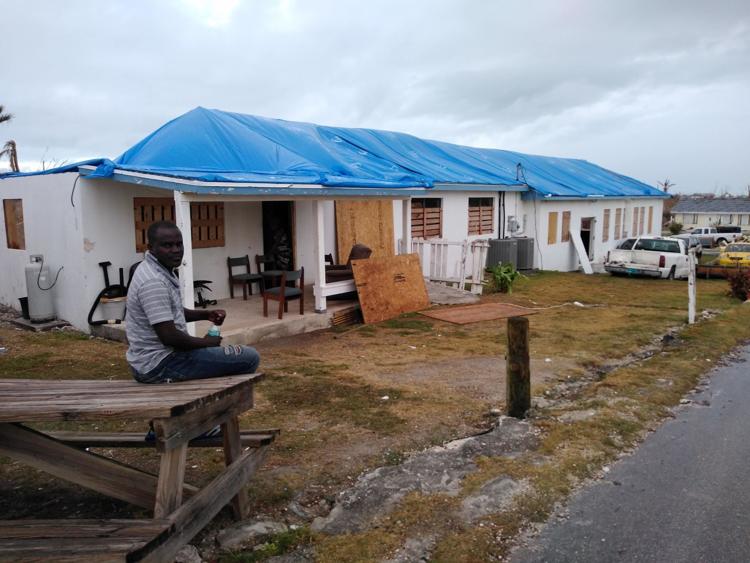 "I don't have any place to live right now and so I live by the church. No house. Where I was living by the beach, everything was damaged. I don't know what I can do now," Belvis said.
But he said he doesn't feel ignored.
"The people in the United States have been helping when they came here. Some of the Haitian people, we can't even find them. God bless those people who helped those Haitian people."
Agape Flights CEO Allen Speer toured The Mudd on Monday, touching base with Heitz and meeting ministers he'd heard about through others, praising their work for the community and happy to hear Agape donations from Southwest Florida had made their way to the area of Marsh Harbour.
He stood on the road that once separated The Mudd and the docks. While some cargo containers remain crumpled in The Mudd, the road is now clear. That's not how it was on Sept. 1.
"Those containers, when the storm surge hit, folded over and just leveled their whole neighborhood," he said.
Heitz said the storm surge was estimated to have been about 20 feet. Some say higher. He said rescue officials spoke of pulling bodies out of the area in the days following.
But because many were undocumented Haitians, their deaths likely will never be officially recorded.
Most agree the number of people missing in the Bahamas is somewhere between 1,200 and 1,500.
While the country's overall official death toll is 61, it is likely hundreds of one community may still be buried in the shallow graveyard of The Mudd.