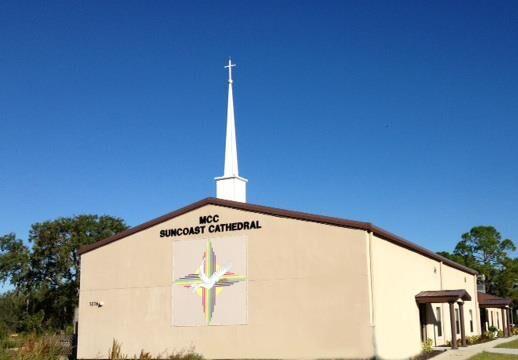 SunCoast Metropolitan Community Church continues to serve the LGBTQQSA community in greater Venice with exciting opportunities for worship, as well as for socially distanced and virtual experiences.
As the holiday season approaches, we are excited about our Advent series, "The Inn: Housing the Holy."
In preparation for the Christmas season and the celebration of the birth of Christ, we asked ourselves these questions:
What can SunCoast MCC do to make room for all?
What can we do to support those in need?
What can we do to help bring awareness to injustices and to those who are marginalized?
How are we modeling God's love for all?
"SunCoast MCC opens our doors to all," the Rev. Vickie Miller, senior co-pastor, said, "As a welcoming, diverse and active community, we share God's love in a spiritual environment offering truth, trust and transformation."
• Saturday, Dec. 4, 9:30 a.m.-1 p.m. — Churchwide Advent Retreat. Call the church office to register at 941-484-7068.
• Friday, Dec. 10, 7 p.m. — "What Songs Were Sung: A Christmas Renewal," a Christmas concert and caroling. Come for a night of music and fellowship featuring SunCoast musicians and local artists, including Linda Jones, who received undergraduate and graduate degrees in piano performance from the University of Central Florida and the University of South Florida.
She taught piano in Largo and was a member of the Florida State Music Teachers Association as well as the National Guild of Piano Teachers. She was the staff accompanist at the Unitarian Universalist Congregation of Clearwater for more than 20 years.
Linda enjoys gardening, making mosaic art and tending to her five parrots. She and her husband, Doug, live in Seminole and have two adult children.
Also performing will be David Katz, who received graduate degrees from The Peabody Conservatory of Music and undergraduate degrees from Ohio Wesleyan University in voice and piano. He has served a variety of faith communities including Unitarian Universalist, United Methodist and Jewish.
He is an active singer, choir director, pianist and organist in the Tampa Bay area. He is passionate about blending various facets and styles of music and worship to meet the spiritual needs of a community. He is the music director at SunCoast MCC.
Park Showalter was a voice major with a piano minor in college and has enjoyed singing with many choral groups. Before moving to Venice, he sang in the Opera Colorado chorus, the Colorado Symphony chorus, the Columbine Chorale and the Denver Gay Men's chorus.
Julie Waters is a writer and musician who relocated to Sarasota in July 2020 after studying, teaching and performing in Ithaca, New York, for more than three decades.
During that time, Julie performed with ensembles throughout Central New York. She was founding member of the Cayuga Brass Quintet and performed with the Franklin Brass Works, a brass quintet based in Northeast Pennsylvania from 1984 to 1989.
From 2004 to 2020, Julie was principal trumpet of Ithaca's community Concert Band, serving as board president from 2017 to 2020.
• Friday, Dec. 17, 2 p.m. — Venice Sun Coast Wind Ensemble's Christmas Concert. Contact the church office for tickets at $5 per ticket. Call or visit the Church Office during office hours to purchase a ticket. Office hours are Tuesday-Thursday 10 a.m-3 p.m. and Friday noon-3 p.m. Visit the website to purchase tickets online.
• Friday, Dec. 24, 4 p.m. — Christmas Eve Worship Service, in person, outside on the church grounds. Celebrate the birth of Jesus in a powerful worship service that will touch hearts and inspire holiday cheer with festive songs.
• Saturday, Dec. 25,10 a.m. — Christmas Day Communion Service.
"We not only open our doors to all, we are taking our mission to the community," Miller said, "We are collecting $10 Walmart gift cards for CHAPS and working with a local school to provide for families in need."
CHAPS (Charlotte HIV/Aids People Support) serves to provide food and hygiene items at cost to those persons in need who are living with HIV/AIDS and their dependents.
Supported by partnerships with the Harry Chapin Food Bank, United Way in Charlotte County and in Sarasota County, as well as other community-based organizations, donations of gift cards allow those experiencing financial challenges to acquire items not usually covered through assistance programs, such as hygiene items and non-FDA food items.
SunCoast MCC sponsors five children through a partnership with a Sarasota Title I school.
To support either of these programs, contact the church office at info@suncoastmcc.com or call 941-484-7068.
SunCoast MCC is at 3276 E. Venice Ave., Venice.