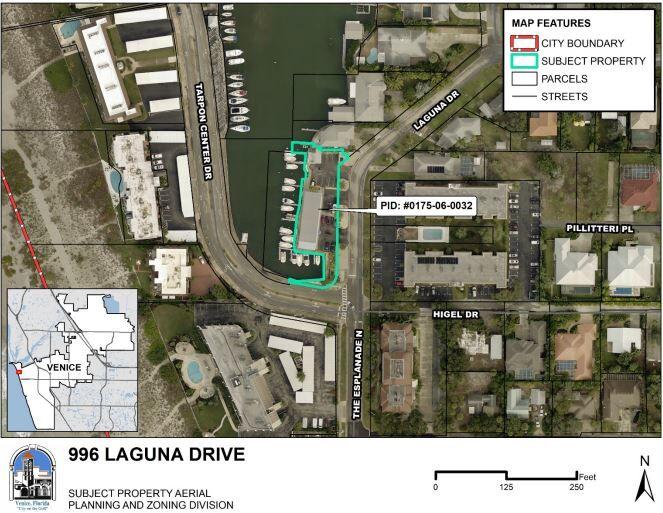 VENICE — The prospect of condos replacing the marina at 996 Laguna Drive on the island has neighbors of the property upset.
The property, which is the Venice office of Freedom Boat Club, is zoned Commercial, General, under which multi-family housing can be allowed by special exception.
The maximum density is 18 units per acre, so the 0.32-acre property could support no more than six units.
But no residential uses are permitted under the future land use designation for the property in the current comprehensive plan. So attorney Jackson Boone will ask the City Council to find that his client has a vested right to seek to develop the property that predates the change to the comp plan.
Owners of a dozen units at Casa Seville, a condominium complex across Laguna Drive to the east, have submitted letters opposing any development of the property, raising concerns about congestion and flooding, among other issues.
Also on Tuesday the Council is scheduled to:
• Hear a presentation on the city's property and liability insurance renewal for Fiscal Year 2022.
• Consider directing staff to research methodologies to charge food establishments for the use of public space in downtown.
• Determine city participation in the upcoming legislative forum.
• Consider approving a pre-annexation agreement with FNG Holdings-Land LLC.
• Consider a resolution regarding access to group health insurance to prevent employees receiving a raise from moving into a higher contribution bracket.
• Consider an ordinance implementing the final year of a five-year rate increase for solid waste. The increase would be 1%.
• Vote on an ordinance adjusting wholesale sanitary wastewater monthly rates charged to Sarasota County.
• Vote on an ordinance closing beach and athletic parks to vehicles between 10 p.m. and 6 a.m., to match the hours set by Sarasota County.
• Vote on an ordinance repealing regulation of retail gas pumps, to conform to state law.
• Vote on an ordinance resolving inconsistencies in the city code regarding business zoning districts.
• Vote on ordinances to resolve inconsistencies between existing uses in several properties and their future land use designations.
• Vote on an ordinance creating new standards for mobile food vending.
• Consider the preliminary plat for Vistera at Venice.
• Decide whether to apply for cooperative funding with Southwest Florida Water Management District for an aquifer storage and recovery well and to continue the toilet replacement project.
• Consider accepting an easement from the Sarasota County Public Hospital District.
• Approve a memorandum of understanding with the International Association of Firefighters for pay for Fiscal Year 2022.
• Consider reappointing Kevin McGrath to the Police Pension Board of Trustees and appointing Bruce Miller to the Environmental Advisory Board and David Auxier to the Parks and Recreation Advisory Board.
• Proclaim the week of Sept. 17-23, 2021 as "Constitution Week."
• Swearing in Fire Chief Frank Giddens.
The City Council meets Tuesday, Sept. 14, at 9 a.m. in Council Chambers at Venice City Hall, 401 W. Venice Ave.
The complete agenda, with instructions on connecting to the meeting, is at VeniceGov.com under the "Meetings" header.