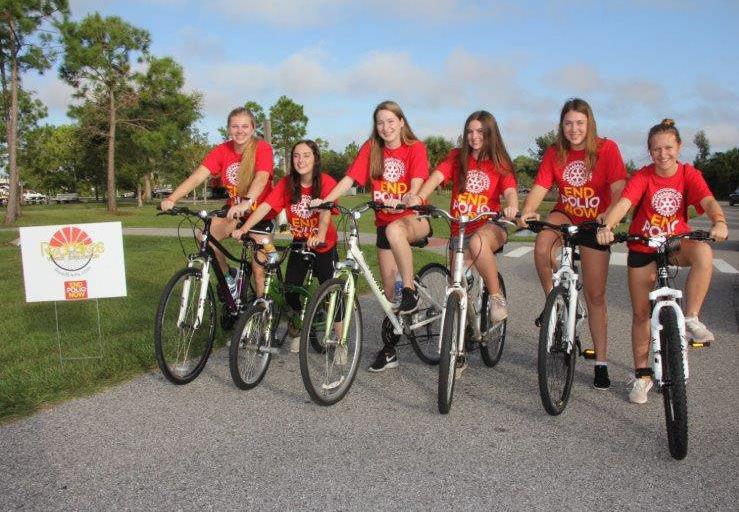 VENICE — Enthusiasts, individuals and families who ride bicycles are encouraged to participate in the third annual Venice Nokomis Club's Ride for Rotary on Oct. 23.
This year's event is designed to raise money for polio research.
Riders begin and end at the Historic Venice Train Depot, 303 E. Venice Ave., alongside the Intracoastal waterway. Open to all ages, the event celebrates World Polio Day, Oct. 24, raising funds to eradicate polio.
Participants and supporters are encouraged to obtain per mile donations; pledge sheets are available. Participants can start and finish at their chosen times. Families, kids and friends riding less distance can sign in any time after 9 a.m., starting and finishing any time. Parking is free.
Rider registration for a 20-, 10- or 5-mile course starts 7:30 a.m. at the Train Depot, and rides start at 8 a.m., 8:30 a.m. and 8:45 a.m. The closing date for entries is midnight, Oct. 22. Directional signs will be posted along the route.
Riders contribute $35 to enter; children 12 and under ride free. Adults receive a souvenir Venice Nokomis Ride for Rotary event shirt and goody bag; children's shirts are $12, including a goody bag. A limited number of shirts will be available for purchase.
At the conclusion of the ride, all participants can enjoy free food at Auntie Anne's pretzels, post ride beverages from Bikes and Brews, plus live music by Geoff Ramsey.
Tickets are on sale to win one of the most popular Attitude Cruiser bikes, The Straight 8. Blacked out with red spokes and custom 8-ball valve caps, it has a hydroformed aluminum frame, Flat Foot Technology and Fatti-O tires, providing a relaxed, comfortable ride.
The prize is provided by Bicycles International at 1744 Tamiami Trail S., Venice. Tickets are $20 each or 3 for $50 and are on sale before and at the event.
Event sponsorship and donation opportunities available. Participant and donation checks should be made payable to Venice-Nokomis Rotary and mailed to P.O. Box 8, Venice, FL 34284.