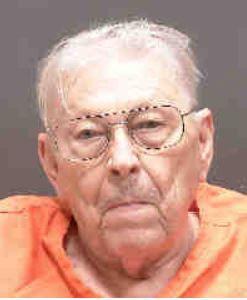 VENICE — Homicide charges were dropped during the middle of the COVID-19 pandemic against a Venice man accused of killing his wife.
Wayne S. Juhlin, now 95, lived with his wife in an independent living facility in Venice in late 2019.
On Oct. 14, 2019, Juhlin called 911 after allegedly shooting and killing his wife, and attempting to die by suicide himself, according to police and court documents.
Jacqueline Ghislaine Juhlin, 89, had Alzheimer's disease, he told police when they arrived, and wanted to end "her suffering." The officer's report stated Wayne Juhlin told them he had moved his wife into their bathroom and shot her in the head while she was facing away from him.
Wayne Juhlin told police he intended to kill himself but the gun jammed. According to the probable cause affidavit, he sat for a while, then attempted to reload the gun and considered shooting himself, but did not.
During his 911 call to officers, he didn't disclose he had shot his wife. He insisted she was dead, without a pulse, and her body needed to be taken to a funeral home.
He was initially Baker Acted because of his intentions of suicide, then taken to the Sarasota County Jail. Venice Police arrested him on an initial charge of premeditated murder.
That was later changed, with the State Attorney for the 12th Judicial Circuit in late November 2019 charging Wayne Juhlin with manslaughter with a weapon, still a first-degree felony.
He bonded out in February 2020 on $25,000 bond and went to live with his daughter in St. Charles, Missouri.
About four months later, the case against Juhlin was abandoned without comment through a notice of Nolle Prosequi in late July 2020.
"It's a very tragic story," Venice Police Chief Tom Mattmuller said at the time of Jacqueline Ghislaine Juhlin's death, noting Juhlin had written "a very lengthy" suicide note and was cooperative with detectives.
A message to the 12th District State Attorneys office was not returned Tuesday, nor were messages with Juhlin's defense attorney Gino Lombardi, nor a message at the home in St. Charles, Missouri, where Wayne Juhlin was last living.