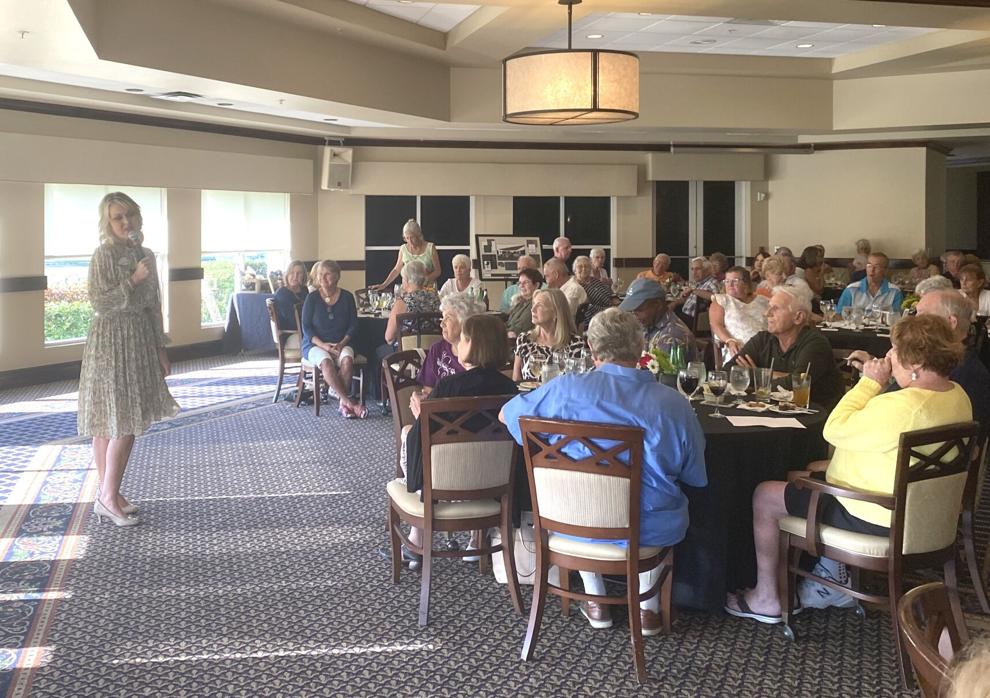 VENICE — Three restaurants, a theater, a library, a saltwater pool, a business center, a fitness center and a sports bar.
It reads like a list of the features at a resort but those are some of the amenities that The Goldton of Venice will offer when it opens in January.
The new senior living community off Laurel Road will have 167 studio, one- and two-bedroom rental units divided among independent living (114 units), assisted living (38 units) and memory care (15 units).
Prices will start at $2,600 a month for a single-occupancy studio apartment but that price is all-inclusive, said Jacqueline Kennedy, Atlas Senior Living Senior Sales and Marketing Director of New Construction.
Her maiden name was "Royalty," she told an overflow audience at the Plantation Golf & Country Club Thursday evening, joking that she "went from being Royalty to being a Kennedy."
The crowd had been invited to get an introduction to The Goldton while enjoying appetizers and beer and wine.
She said The Goldton will be the fourth community Atlas has developed, in addition to 28 it has acquired. The other three are in Lexington, Kentucky, Columbus, Georgia, and Simpsonville, South Carolina.
"Venice is up next," Kennedy said.
A sales trailer is on site now and reservations for units are being taken. She said that all the units are typically reserved within a month or so of the introductory event, and a reservation for a two-bedroom unit had been placed that evening.
Units have kitchens but the rent includes a continental breakfast and lunch or dinner every day, Kennedy said.
"But our community is about so much more than the apartment," she said, adding that residents can be as active or inactive as they want.
More than 100 activities will be offered every month, she said, and people who have reserved units will be invited to some gatherings in the months leading up to the opening.
Carol Brinegar, executive vice president of Construction & Design, said that one outing in Kentucky was to a horse farm at which a Kentucky Derby-winner bit Kennedy and a future resident got sneezed on.
"We work hard and we play hard," she said.
Laura Blakeman, The Goldton's executive director, was the third member of the team at the introductory event. She left a similar position at the Columbus community to come to Venice.
"I'm a beach bum," she said, "so they didn't have to twist my arm."
Kennedy said that a certificate of occupancy is expected in December but a January opening will accommodate people in the process of selling their homes to relocate.
For more information on The Goldton, visit bit.ly/3shGRO3 or call 941-259-6412.
The community is being developed at 108 Bella Verde Drive, Nokomis.