SARASOTA — Proof of Florida residency is now required to get a COVID-19 vaccination in the state.
Florida Surgeon General Scott Rivkees issued the public health advisory, making official what some counties had already implemented.
Gov. Ron DeSantis had said earlier in the week that he wanted to cut down on "vaccine tourism" — people coming to the state to get vaccinated because they aren't yet eligible at home.
The residency requirement only applies to people getting their first shot. If they're a full-time resident, they can easily satisfy it, Health Department Public Information Officer Steve Huard said.
"For most people that just means you're going to show us your Florida driver's license, which we were going to ask you for anyway," he said.
A state-issued ID card is also acceptable.
People who don't have a license or ID card can offer other proofs of residency — two are required — such as a deed, a utility bill or mail from a government agency.
The county rolled out its new registration system for appointments at noon Wednesday and by noon Friday had received more than 78,000 registrations, many of which include a second person.
That represents more than half of the 150,000 county residents who are 65 or older, some of whom have already received their first shot.
About 1,050 area residents received COVID-19 vaccinations Thursday, with another 1,800 scheduled Friday at a drive-thru clinic at Twin Lakes Park in Sarasota. The county is not sure what their allotment of vaccines will be next week.
"The process today has been very smooth," Florida Department of Health Sarasota County Health Officer Chuck Henry said at the park Thursday. "We have no reason to believe it won't continue to run very smooth."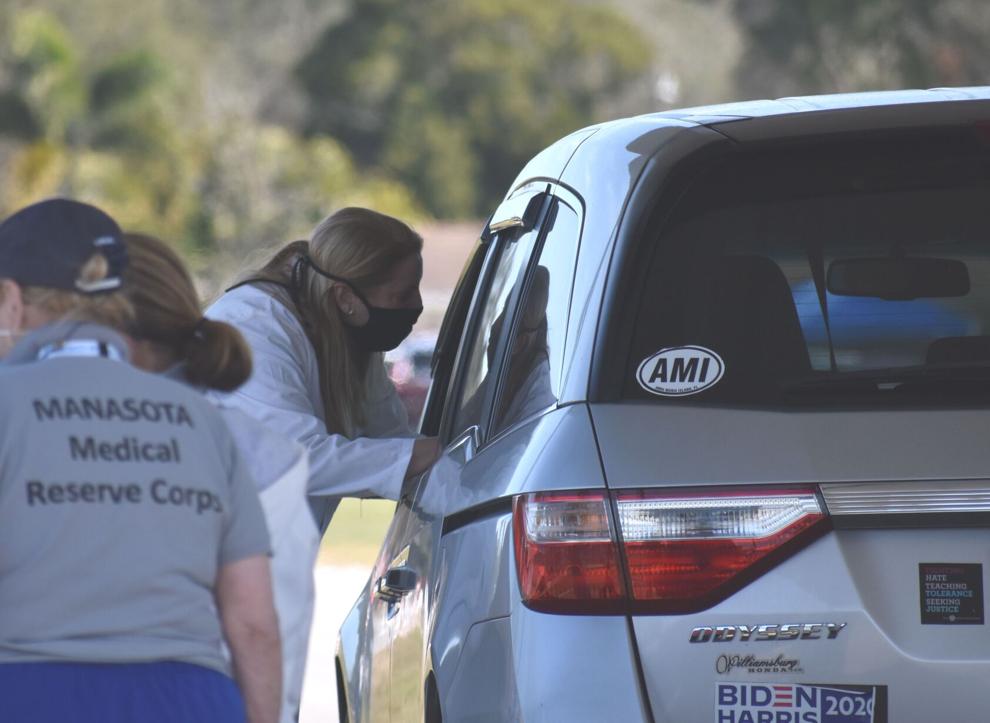 A few vehicles at a time weaved through the roads of the park off Clark Road, going through stops at which information was verified and shots were administered, and then pulling into a parking place for 15 minutes to ensure the driver had no ill effects from the Moderna COVID-19 vaccine.
"We wanted the protection — we felt that it was a valuable thing for us to have," Nokomis resident Maria McCabe said. "It gives us more options for us to go out and about without that worry."
She lives with her husband, John McCabe, in Calusa Lakes, and the couple would eventually like to get back to New York City, where they are from. Neither has been back in the past year because of the pandemic.
"We'd like to do some traveling," John McCabe said.
They appreciated how smoothly Thursday went for them.
"It went well," Maria McCabe said. "I couldn't get over how organized they were here. It was very well done."
To sign up for the Sarasota County list, call 941-861-8297 or go online at bit.ly/VAX941
Signing up by phone required patience even though most people were registering online. The wait time was about 49 minutes Thursday.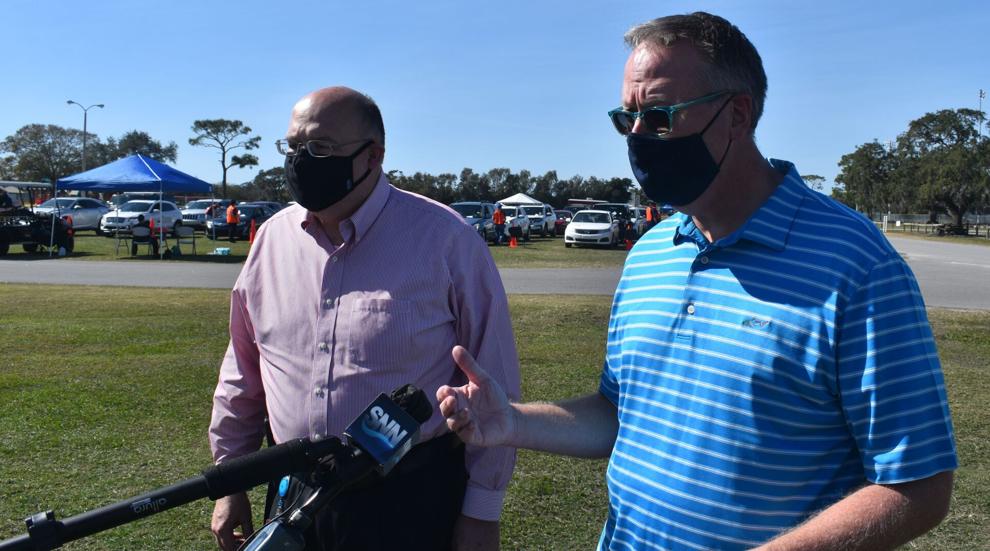 "It's a new system. There were questions on the registration," Sarasota County Emergency Services Director Rich Collins said. "We sent out confirmations via email …. Some emails have gone into spam or trash bins, so they may not have seen it that way."
Residents have the choice to be notified via text, phone or email.
"So far, it's working. A few little bumps along the way, but overall it's working very well," Collins said.
While Twin Lakes Park is the place for now, it may not be forever for vaccinations.
"We understand the travel distances," he said. "We'd like to get a site established where we could be seven days a week as the state increases the volume of vaccine and is able to support the vaccine — we'd like to be able to do vaccines seven days a week in one central place."

There is an expectation the federal government is going to make a big push forward, Henry said.
"Part of that strategy is bringing on some new manufacturing capability to bring the numbers up — so I do expect that to happen but it's probably not going to happen tomorrow," he said. "We'll probably continue about the same pace until more vaccines are in the area."
From Jan. 14-17, the state's COVID-19 case numbers dropped each day but from then through Thursday they've risen each day, to the 13,435 cases reported Friday.
At 12.37%, the positivity rate was the highest in more than two weeks, topping the 10% mark for only the second time in a week. There were 274 deaths reported.
Since March 2020, when the first case was reported at Doctors Hospital in Sarasota, a total of 604 people have died of the ailment in Sarasota County; the state of Florida surpassed 25,000 deaths in the year.
Sarasota County reported 334 new cases Friday, nearly double the 174 new cases reported Thursday, and 41 deaths.
The positivity rate was 7.03% after sinking below 5%, to 4.95%, for the first time in weeks Thursday.
Sarasota Memorial Hospital had 77 COVID-19 patients Friday, with 19 of them in the ICU.
Its seven-day positivity rate was 7.3%, down from 7.8% for the prior period. It reported no new deaths overnight.
Venice Regional Bayfront Health had 29 COVID-19 patients and six employees isolating at home. It reported one death since Tuesday.
Statewide, 6,901 people were hospitalized with COVID-19; 125 were in Sarasota County.
ICU bed availability was 15.87% in the state and 27.27% in the county.
The Sarasota County School District had 15 staff and 93 students in isolation and 27 staff and 625 students in quarantine Friday.
In the previous 48 hours, 37 people had been directed to isolate and 98 to quarantine.