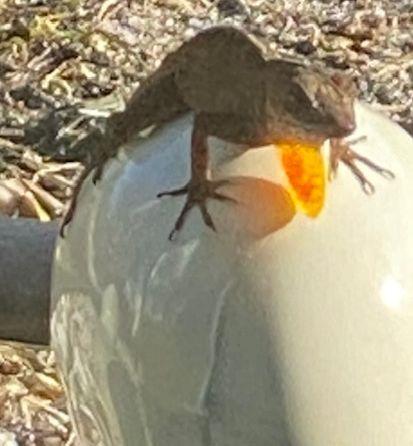 Perhaps I am too fascinated with lizards these days. My church folks were telling me last Sunday that the last column about the lizard should have been actually about a green anole.
That was the species I photographed. They told me that here in Florida, a lizard is way bigger, like the iguanas, monitors and tegus. However, biologically-speaking, small and large creatures are in the lizard family.
I will do my best to learn the actual species names, but I suspect that that will take me a while.
This week's photo is of a brown anole. At least I think that is what it is called. What was so striking to me was the way that it puffs out its throat and bobs its head when it perceives danger.
It tries to convince the perceived threat that it is much bigger and "badder" than it perhaps really is.
I know people who are like this, don't you? They have to "puff up" to make themselves appear more courageous, more important, more tough than they are down deep inside.
It gets out of hand with some, leading to bullying or worse. Why are we so afraid to be vulnerable with one another anyway? Why do we act like everything's okay, even puff up and push others away rather than admit that we are sometimes weak?
Perhaps a biblical perspective on vulnerability can be helpful.
In the second letter to the Corinthians, chapter 12, the apostle Paul shared his thoughts on weakness. He said that the Lord had given him a thorn in his flesh to torment him with the purpose of keeping him humble.
We don't know what the thorn actually was, but some have conjectured that it was a health problem, a speech problem or even a person.
I can identify with thorns like those, can't you? Instead of pretending that there was no problem, Paul approached it differently.
Let me share from God's Word: "But he (Jesus) said to me, 'My grace is sufficient for you, for my power is made perfect in weakness.' Therefore I will boast all the more gladly about my weaknesses, so that Christ's power may rest on me. That is why, for Christ's sake, I delight in weaknesses, in insults, in hardships, in persecutions, in difficulties. For when I am weak, then I am strong."
Now there's something to think about. Rather than putting on a façade, Paul is actually boasting about his difficulty.
Now I am not suggesting that we turn into braggarts, but I am wondering what relationships would be like if we not opened up about our struggles, but learned to first realize that it is through suffering that we draw closest to Christ and can count on His power, and then to understand that in sharing how Jesus is working through our difficult situations, we can encourage and strengthen others.
If we could trust that others would empathize and pray for us, then perhaps we wouldn't feel the need to puff up like our anole friend.
Just so you know, I am not good at actually doing this. However, I think I will take a chance and open up more.
May you be blessed as you consider doing the same.