With the official ceremony canceled due to CDC and city COVID-19 concerns, area residents came out to the 9/11 Victims and Fallen Heroes Memorial on their own.
The memorial, which features a girder from the Twin Towers, was surrounded by about 10 people at 8:46 a.m., the moment American Airlines Flight 11 struck the North Tower of the World Trade Center in New York City.
On Friday morning, Venice resident Ed Riley stood by himself looking up at the memorial and then looking down.
A few moments after 9:03 a.m., the moment United Flight 175 struck the South Tower, Riley stood straight, stepped forward and touched the steel girder in Patriot Park.
"When you live it, you have to feel it," Riley said.
Riley was an executive at Bell Atlantic who survived both the 1993 and 2001 WTC attacks.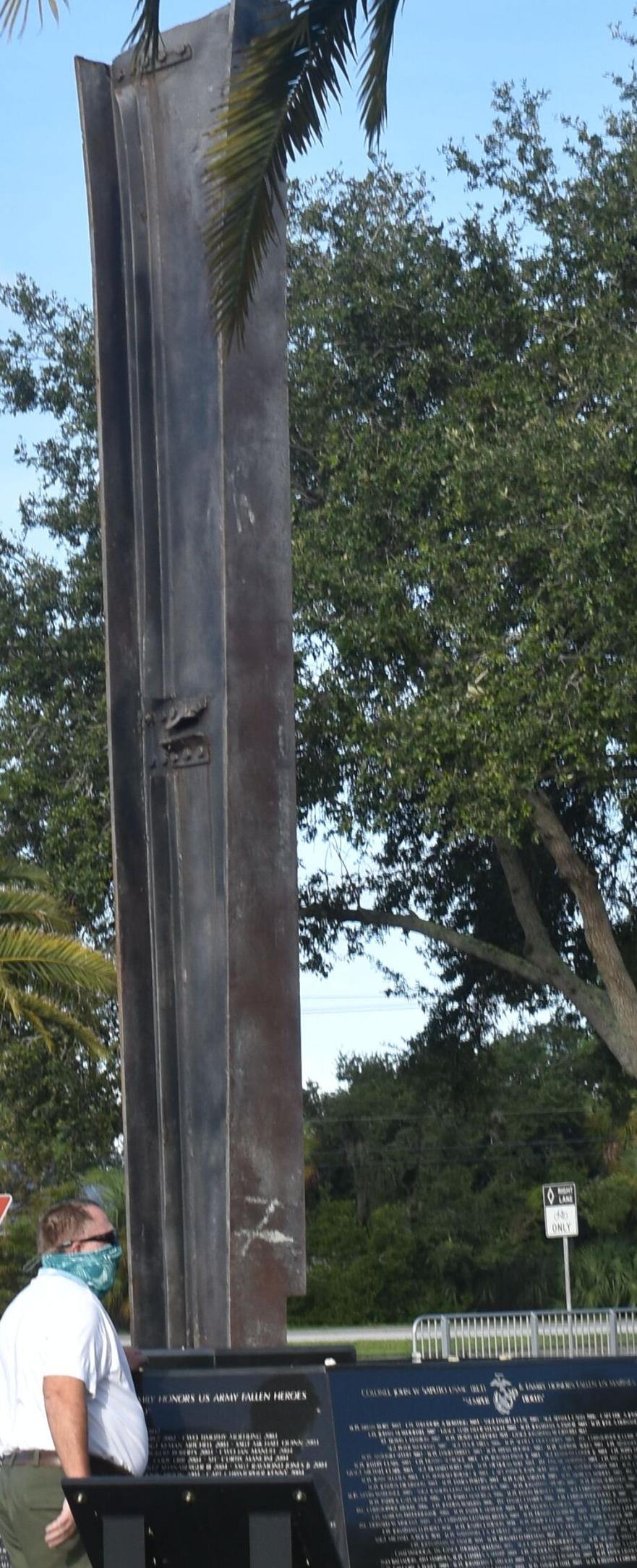 On Friday, he wasn't the only one at the Patriot Park memorial.
Nearby, Barry Neiss stood and, at 9:03 a.m., rendered a salute to the memorial.
Neiss was a New York City police officer in 2001.
"Tough day," he said, recalling that day.
He and his partner were working in the Brooklyn North Warrant Squad and as first responders. They were busy that morning with warrants.
"I'd just arrested a guy I'd been looking for for weeks," Neiss said.
That's when his partner started talking about the a plane hitting the World Trade Center. The two went to the roof of the building they were in and looked across the East River. They wanted to assess the damage — and then they watched United Flight 175 explode as it struck the South Tower.
Like others in Venice, he stood on his own Friday morning.
The day "takes you back," he said.
"It helps to remember all those we lost … police officers, firefighters and civilians … that we were sworn to protect and that we couldn't help that day," Neiss said.
Neiss ended up having a small conversation with Chase Huddelson, 20, of Osprey.
Huddelson was just a year old when the attacks happened. But he is aware of the history.
"I thank (Neiss) for his service," Huddelson said. "They went about and beyond with their tasks and duties that day and didn't give up."
Huddelson said he's been attending the ceremonies at Patriot Park for as long as the park has existed — about the last six years. It is important to him to see those who experienced and sacrificed that day.
Neiss was disappointed more people hadn't taken the opportunity to come out on their own Friday morning.
"Where is everybody?" he asked.
Neiss wasn't alone in that thought.
Mary Apostolu along with Gary and Judy Nadler were also there Friday morning. They were among the longtime organizers of the Venice event.
"People need this," Apostolu said. "We have families who live here … it's a shame it didn't happen this year."
Venice resident Gail Lawing was handing out small rocks to be placed on the memorial. She said it was a tradition in the Jewish faith. People quietly took the stones from her as about a dozen people encircled the memorial.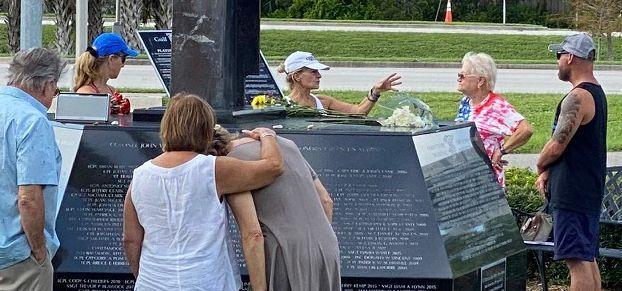 She called it "disgusting" that Venice canceled the annual memorial, saying it's one way to forget our history and wondering if someone would want to move the Venice monument next.
"It's very emotional," she said, thinking about the day. "We lost 3,000 Americans that day — and the repercussions are ongoing."
Riley wasn't upset the official ceremony was canceled, especially with the pandemic. It wasn't the first thing on his mind. He noted small ceremonies are taking place in New York City, at the Pentagon and in Pennsylvania where the jetliners were crashed that day.
"Can (ceremonies) become different over time? Sure. As long as we live by that Never Forget slogan, I'm OK," he said.
He didn't need an official event to reflect on his experience.
"I actually was coming up out of the subway onto the tower onto the promenade just after the first plane had hit," he said. "I witnessed the worst of the worst — people jumping from 80-some floors above."
He went to another nearby office for Atlantic Bell and saw the second jet strike.
"We all had friends and colleagues who we knew were there," he said. "I lost many friends in 2001; neighbors who worked (in the upper towers). For me, it's a very important day in my life. For me, I survived. But also in remembrance of all the friends and colleagues."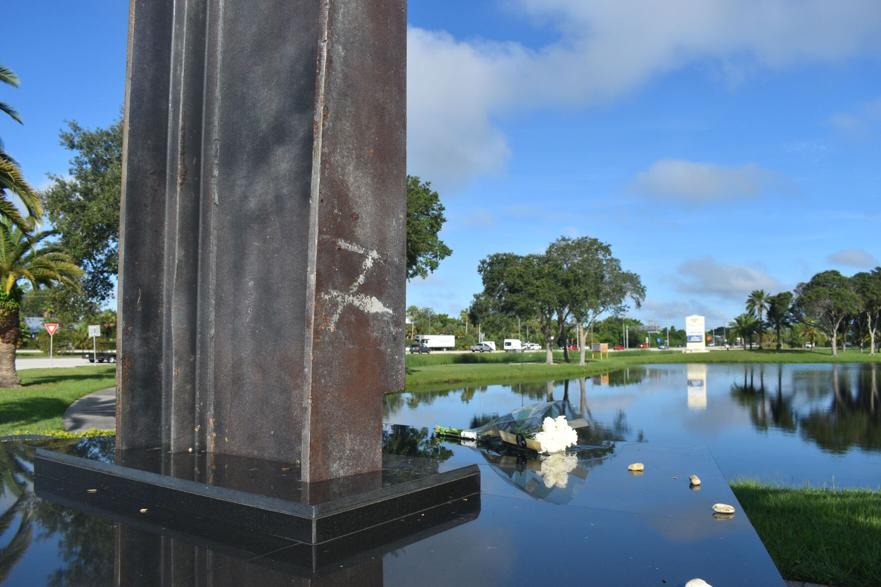 Working in telecom, he was heavily involved in fixes to what was damaged — beyond the tragedy of lives lost. He walked the grounds with them to ascertain what needed to happen to help communications for police and fire departments in the aftermath of the attacks.
He also remembers the camaraderie of the days and months and years after 9/11. He wonders if that connection between Americans has been lost in the fog of politics in recent years. But he hopes not.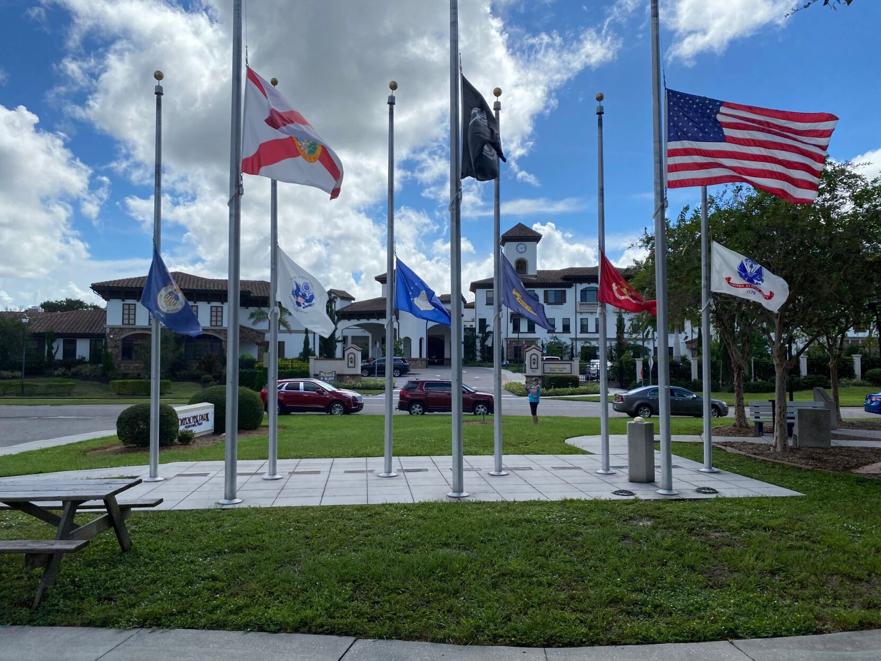 "How did we lose that camaraderie? Maybe we didn't," he said. "What you see on TV isn't, maybe, the true America. I think I believe that. The true America is much more unified than maybe we see on TV."
He said he notices people put remembering the day in a different context than politics or anything else. In his job, he is still talking to people across the country and around the world every week, he said.
"Everyone outside of the United States, they all honor the day. And unity across the country is still there," he said.